Facebook Data May Have Been Illicitly Used for Politics, and It Started With a Quiz
The case shows how widely data can spread without consumers' knowledge An emerging scandal in which Facebook data may have been used illicitly to target political messages has a lot to teach consumers about privacy on social media.
The data apparently was collected through one of those quizzes that can seem to colonize users' Facebook feeds. In this case, it was a personality quiz called "thisisyourdigitallife," devised by Aleksandr Kogan, a psychology professor at the University of Cambridge.
If you remember taking that quiz, there's a good chance your data found its way into the files that were delivered to Cambridge Analytica. But so far, Facebook has not provided a way for an individual to learn whether their data was involved.
Facebook quizzes can be fun, but they are also an open door for companies to learn about you. The privacy policy for one popular quiz company says that logging in to Facebook to use the app gives the company permisson to see your "name, profile picture, gender, birthday, internet protocol address, Facebook friends list, Facebook images, email, location, Facebook posts or any other data as delineated at the message presented to you at the time of login with Facebook."
As Consumer Reports has noted before, such quizzes and other services may not cost consumers money, but you do pay with personal information that can be used, often in combination with data from other companies, to generate revenue from advertising.
"There are some fun games on Facebook that people might want to install," says Justin Brookman, privacy director for Consumers Union, the advocacy division of Consumer Reports. "But generally you should be leery about any site or app that wants access to your, and your friends', Facebook data. If they're asking for data they don't obviously need, it's probably a good idea to not give it to them."
The data acquired by Cambridge Analytica could have been used to create "psychographic" profiles of Americans that could be combined with information on where they lived to target political messages, according to the New York Times reporting.
However, the company says the data was not used on behalf of the Trump campaign.
In a blog post, Facebook deputy general counsel Paul Grewal said the company found out about the apparent misuse of data in 2015 and pulled the app down, while seeking and receiving assurances that all the data was being deleted. However, the statement says that Facebook recently learned that the data was still being held by the parties involved and that the social media platform was therefore suspending Cambridge Analytica and its parent company, Strategic Communication Laboratories.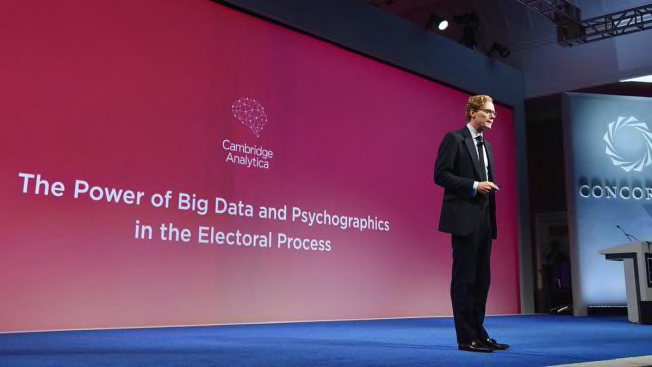 Facebook says that the personal data was collected following accepted procedures but that Kogan then violated Facebook policies by sharing the data with the outside firms. "We are committed to vigorously enforcing our policies to protect people's information," the blog post says. "We will take whatever steps are required to see that this happens. We will take legal action if necessary to hold [the companies] responsible and accountable for any unlawful behavior."
In its statement, Facebook also said that it had changed its practices to "better detect and prevent violations" of its policies by app developers.
Consumer Reports has reached out to Facebook for additional comment. The policies, which change over time, say that companies using Facebook Login must agree to include restrictions on the use of friends' data and how consumer data can be shared. For instance, they read, "Don't transfer any data that you receive from us (including anonymous, aggregate, or derived data) to any ad network, data broker or other advertising or monetization-related service."
Cambridge Analytica has been in the news as an important vendor to the Trump campaign that reportedly has come under scrutiny by special counsel Robert Mueller's Russia investigation.
Cambridge Analytica says it was misled about where the data originated. "In 2014, we contracted a company led by a seemingly reputable academic at an internationally-renowned institution to undertake a large scale research project in the United States," a company statement says. This was Kogan's company, Global Science Research, which was based in the U.K. and dissolved Oct. 31, 2017, according to the British government registrar of companies.
The statement says that when Cambridge Analytica learned where the data originated, it was deleted. "No data from GSR was used by Cambridge Analytica as part of the services it provided to the Donald Trump 2016 presidential campaign," the statement says.