How to Turn Off Smart TV Snooping Features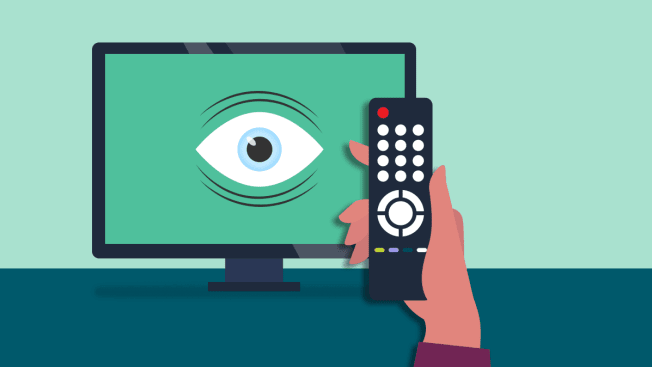 Smart TVs collect data about what you watch with a technology called automatic content recognition, or ACR.
You can't stop all data collection without disconnecting the set from the internet, but you can turn off ACR.
Each smart TV company uses a different name for ACR, and the controls can be hard to find. But CR has directions below.
Your TV may know—and share—a lot of information about you.
That's what Consumer Reports has found repeatedly since it first started reporting on data collection by smart TVs in 2015. These are sets that connect to the internet, making it easy to stream videos from services such as Hulu and Netflix. In 2018 we conducted our first extensive analysis of smart TV technology, and since then, we've evaluated all the TVs in our ratings for their privacy and security practices.
We've seen that smart TVs can collect and share significant amounts of personal data about their viewers. And so can the dozens—or even hundreds—of third-party apps that work with the platforms.
ACR: Automatic Content Recognition
Technology called automatic content recognition, or ACR, attempts to identify every show you play—including those you get via cable, over-the-air broadcasts, streaming services, and even DVDs and Blu-ray discs. The data is transmitted to the TV maker, its business partners, or both.
ACR, which goes by a variety of names depending on the TV brand, can help your set recommend shows you might want to watch. But the data can also be used for targeting ads to you and your family, and for other purposes. You can't easily review or delete this data later.
The use of ACR technology wasn't widely known by consumers until 2017, when Vizio got in trouble with federal and state regulators for collecting such data without users' knowledge or consent. The company eventually paid $2.2 million to settle cases with the Federal Trade Commission and the state of New Jersey.
A result of that case is that TV companies are more careful to get your permission before collecting viewing data, and they've revised their privacy policies and terms of use so that you can decline certain amounts of data collection when you first set up a new TV. However, you'll need to read each screen carefully, and some TV brands have several privacy policies and user agreements you need to look through.
You can also turn off ACR after you've set up your TV, though sometimes the settings can be hard to find, as we discovered in a study we published in 2020.
Below are instructions for turning off ACR in the major smart TV platforms, covering sets from LG, Samsung, Sony, and Vizio; Android TV sets from companies such as Hisense, Philips, and Sharp; Roku sets from brands including Element, Insignia, Hisense, and TCL; and Amazon Fire TV Edition sets from Insignia and Toshiba.
Even if you turn off ACR, your smart TV will continue to collect information for its manufacturer, possibly including your location, which apps you open, and more. The only way to prevent that is to avoid connecting to the internet, which means ceasing to use it as a smart TV.
Below, Consumer Reports shows you how to turn off data collection for the following TVs: Amazon Fire TV Edition, Android TV, LG, Roku, Samsung, Sony, and Vizio.
Shut Off ACR on Amazon Fire TV Edition TVs
The Amazon Fire TV Edition platform is built into several models from Insignia and Toshiba that are sold through Amazon and Best Buy. Unlike other companies with smart TV platforms, Amazon says that it doesn't use ACR technology to track all the shows you watch and that it doesn't collect data through a cable set-top box or any other non-Amazon device connected to TVs.
However, the system does collect information on programs you watch using an antenna and through streaming apps, such as Netflix, that are available through the Fire TV platform. (Of course, if you watch anything from Amazon Prime video, the company also knows those details.)
You don't have to have an Amazon account to use these TVs, but you will need one for some features. For example, without an account you have access to a more limited selection of streaming apps, and you won't be able to use voice commands with Amazon Alexa. Regardless, you do have to agree to Amazon's privacy policies and terms and conditions during the initial setup.
To turn off programming data collection, go to Settings through either the home screen or the button on the remote. Next, scroll to the right until you get to Preferences. Click that and you'll see Privacy Settings.
Under Privacy Settings there are options for Device Usage Data, Collect App and Over-the-Air Usage, and Interest-Based Ads. All these can be turned off.
Device Usage Data collects information on how you use the TV, for marketing purposes. You can opt out, but the company says marketing offers will be less relevant to you.
Collect App and Over-the-Air Usage Data, which collects info on what you watch if you use an antenna, and the frequency and duration of your use of third-party apps. Amazon says this is used to improve its services and personalize your experience. (Note: Turning it off won't affect data collection by Fire TV Recast device—Amazon's over-the-air DVR—if you're using one.)
Turning off Interest-Based Ads will affect not just your TV but also other Amazon devices, such as an Echo smart speaker. You'll still see ads—on the Fire TV Edition television, other Amazon devices and websites, and related third-party apps—but they won't be personalized.
You can find out find out more about Amazon's policies by going to Settings > Device and Software > Legal & Compliance. You'll find both the privacy policy and a privacy settings FAQ for Fire TVs and certain other Amazon devices.
We used a 2020 Insignia TV to compile these directions, but the settings should be identical on all Amazon Fire TVs. On 2018 and earlier models, the settings appear under Applications rather than Preferences.
Shut Off ACR on Android TVs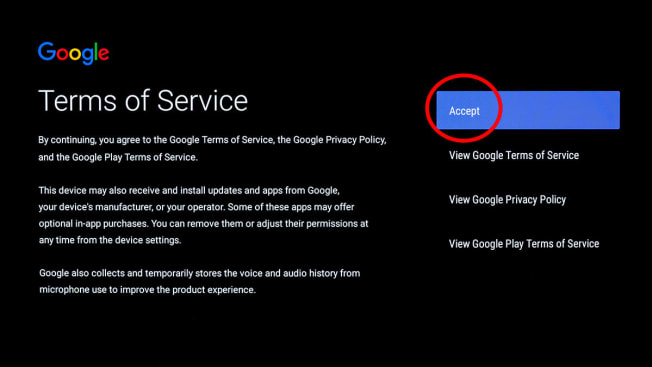 A number of television brands use the Google Android TV operating system for at least some of their sets, including Hisense, Philips, Sony (also covered separately, below), and TCL.
Google says that the Android TV platform itself doesn't use ACR technology to capture specific content that's being watched. However, the individual TV brands that use Android TV may do so, and they have their own privacy policies and user agreements that let you limit data collection.
Google might not employ ACR, but it does collect data from TVs that use its smart TV platform—and there's no opting out of Google's policies during setup.
You'll get to the Google agreements after you've chosen your language, connected to WiFi, and set up or signed in to your Google Account. Next, you'll see a page called Google Terms of Service. You can view Google's terms of service and privacy policy, and the terms of service for Google Play, but you don't have any options. You have to click the Accept button to continue. Otherwise, you can't use the television, even if you don't want to use it for streaming.
However, you can control location services and choose whether or not to let the TV collect diagnostic information that the company says it uses to improve an Android TV's performance.
Once the setup has been finalized, you can limit the data an Android TV collects that's related to targeted advertisements. Look for the Settings icon at the top of the home page, scroll down until you see About, and click on Legal Information. There you'll be able to opt out of receiving personalized ads, though you can't opt out of Google ads.
We used a 2020 model from TCL to provide these instructions. TCL has its own user agreements, found under Settings, then About. You can opt out of Viewing Information Services, which is its ACR technology, but if you do that the TV won't provide program recommendations.
Note that many TCL sets use the Roku system, described below.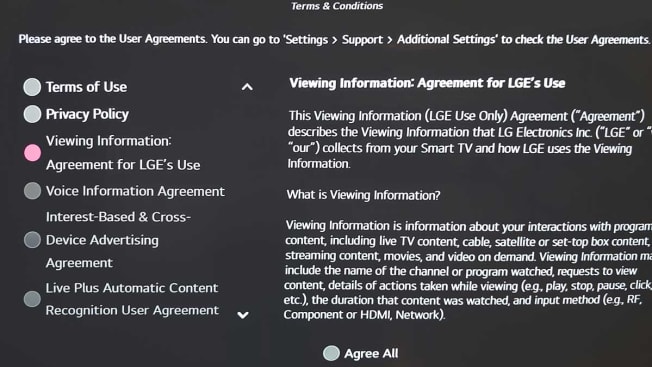 Almost all LG smart TVs now use the company's webOS platform.
Controlling your set's data collection is just a bit different on LG's 2020 sets from how it was on 2019 models. Use the Settings button on the remote control, then scroll down to Additional Settings, then General. You'll see several entries, including Live Plus, which is LG's ACR technology. You can toggle this off, or click on it to get an explanation of what it does and what happens when you turn it on.
Live Plus is controlled by the Live Plus User Agreement. LG says Live Plus is required if you want to access certain interactive services, but we don't think you'll miss anything by turning it off.
Below Live Plus, click on Advertisements, and you'll have the option to limit ad tracking. Under Advertisements is a toggle switch for Do Not Sell My Personal Information, which stops your personal data from being sold to third parties.
You'll also want to access User Agreements, which on 2020 sets is found under Support, then Additional Settings. This will bring up Terms of Use, Privacy, Viewing Information, Voice Information, Interest-Based & Cross Device Advertising, and Live Plus Automatic Content Recognition.
You can select All, or opt out of each of these agreements individually.
If you opt out of Viewing Information, you may lose access to some smart TV features, including program recommendations. This will also disable LG Channels—previously called Channel Plus—which provides almost 200 free streaming channels from companies including Pluto TV and Xumo. There's also a trade-off with Voice Information. Turn it off and you lose the ability to control certain aspects of the TV using voice commands.
On 2019 sets, it's slightly different. Press the Settings button on the remote control, then scroll down to All Settings at the bottom of the list and click General. Scroll down to get to two settings: About This TV and Additional Settings.
Start out by clicking About This TV, then scroll down to User Agreements. (On 2018 sets, User Agreements is a listing in General, located below About This TV.) This will bring up Terms of Use, Privacy Policy, Viewing Information, Voice Information, Interest-Based Advertisement, and Live Plus User Agreement.
Once again, you can select All or opt out of each agreement individually.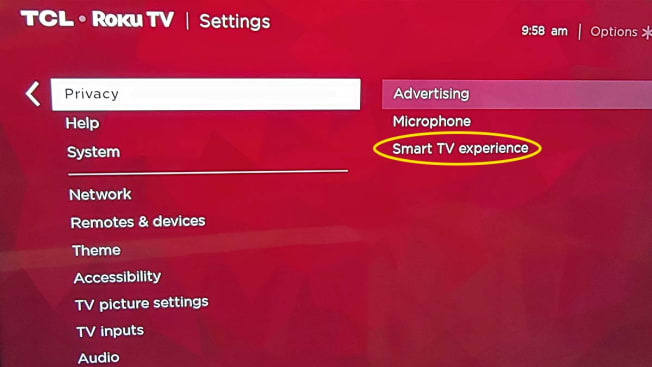 Close to a dozen TV brands now use the Roku TV platform, including Element, Hisense, Hitachi, Insignia, JVC, Philips, RCA, Sanyo, TCL, and Westinghouse.
To turn off ACR, press the Home button on the remote, then look for Settings. Scroll down until you see Privacy, click on that, then look for Smart TV experience, as shown in the photo above. You'll see listings for Advertising, Microphone, and Smart TV Experience.
Click on Smart TV Experience, and you can uncheck Use Info from TV Inputs, which will disable the TV's ACR technology. This will limit the tracking of programs you receive via an antenna or any other devices connected to the TV, but Roku may still collect and share data about the apps you use.
If you disable Use Info, it automatically shuts off Enable Auto Notifications, which uses ACR technology to power Roku's More Ways to Watch feature, which lets you watch a live show already in progress from the beginning, or see what other episodes are available.
"ACR does not apply to streaming channels on Roku," a spokeswoman told us. "Opting out of ACR does not affect collection of information about the use of Roku streaming channels."
Under Advertising, you can limit ad tracking or reset the advertiser identifier, which replaces the ad identifier associated with your Roku device.
Click on Microphone, and you'll see two options: Channel Microphone Access and Channel Permissions. These provide various options (Prompt, Always Allow, and Never Allow) for allowing or preventing channels from accessing the microphone on your remote or a mobile device if you're using the Roku app.
Under Advertising, you can also choose to limit ad tracking. You may still see ads—which could appear on Roku services or third-party channels—but they shouldn't be personalized.
We checked the Roku TV platform on a 2020 TCL set, but the settings were laid out identically on other Roku TV models we looked at.
Shut Off ACR on Samsung TVs
On newer Samsung smart TV models, including 2019 and 2020 sets, click the Settings icon in the main menu or the button on the remote control, look for Support, then scroll down to Terms & Privacy. (On some earlier models it is called Terms and Policy.)
Click on Privacy Choices and you'll see a screen where you can review all of Samsung's privacy policies. Below that there are several options, including Viewing Information Services, Interest-Based Advertising, and Voice Recognition Services.
Turn off Viewing Information Services to prevent the TV from sending ACR data to Samsung. Turning off Voice Recognition Services stops the TV from collecting voice data, such as the searches you make, the apps you use, and the websites you go to. But there's a trade-off: You won't be able to perform searches or control the TV using voice commands.
Shutting down Interest-Based Ads just means you'll get generic rather than personalized ads.
On older Samsung smart TVs, the ACR controls are found under the Smart Hub menu. Look for the icon for Settings, click on Support, and find the submenu titled Terms & Policy.
In that submenu, look for SyncPlus and Marketing, and you'll find an option to disable SyncPlus. You can also turn off Voice Recognition Services, which will disable voice commands.
All of Sony's newer TVs use Google's Android TV smart TV system. (On 2021 sets it may be called Google TV.) During setup, users have to agree to the Google privacy policy. There's no opt-out option as there is for the privacy policies for some other smart TV platforms. You can read the Google privacy policy on this initial setup screen where you accept.
However, you can accept or decline Sony's Bravia privacy policy as well as one for Samba TV, the ACR technology Sony uses. During the initial setup you'll go through a few screens before getting to the one for the Sony Bravia policy. You have to scroll through the entire Bravia policy before you'll see the options for turning off various data-gathering features, including Sony Smart TV Services, and Program Recommendations. There's also a box for agreeing to all.
Then proceed through the next couple of screens until you get to the Samba TV user agreement. You can also disable Samba TV at any time on your TV screen by going to Settings, and then Device Preferences, where you'll see Samba Interactive TV in the submenu. That will stop Samba TV from collecting your TV's content viewing history.
Last year we noticed that Samba TV wasn't on all the Sony TVs at the time we tested them. A Sony spokesperson told us that some models might not launch with Samba TV, but it could be added later. If so, you should receive a prompt giving you the option to opt out of the Samba TV service.
On 2019 Sony sets with Samba TV, this is just slightly different. Go to Settings, then System Preferences rather than Device Preferences. You'll see a listing for Samba Interactive TV, which you can toggle on or off. Below the toggle is a link for the Samba TV privacy policy. This is also where you can limit ad tracking and reset the device advertising ID.
You also get to the TV's privacy settings by pushing the help button at the bottom of the remote control.
Shut Off ACR on Vizio TVs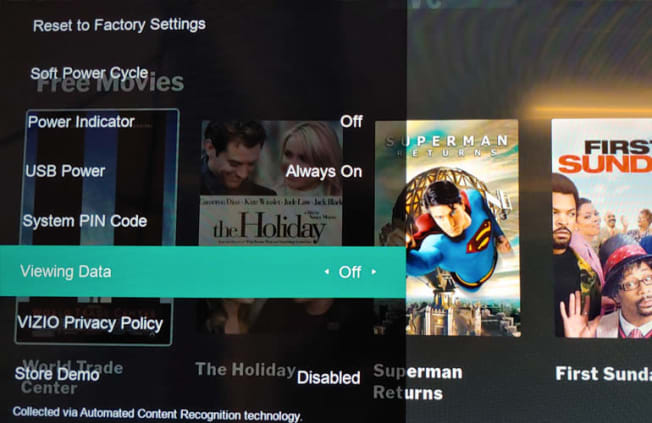 Almost all Vizio TVs now use the SmartCast smart TV system, which is based on Google's Chromecast technology. And that means you have to agree to Google's privacy policy—there's no opt-out.
On 2020 TVs, go to the main menu and look for Admin & Privacy. You'll then see an option for Viewing Data, which is Vizio's ACR technology, as well Advertising and Vizio's Privacy Policy. Click on Viewing Data, and you'll have a choice of turning it on or off. Go back and click on Advertising, and you can choose to limit ad tracking or reset the advertiser ID. You can review Vizio's privacy policy on that prior page.
Vizio's 2019 sets are just a bit different; go to the main menu, click Settings, and look for System, then Reset & Admin. You can look at Vizio's Privacy Policy or go directly to Viewing Data, which controls Vizio's ACR technology. (On older Vizio TVs, Viewing Data is called Smart Interactivity; see below.) Highlight Viewing Data, then use the right arrow to toggle it off or on.
There's also a separate SmartCast Policy, which is a supplement to Vizio's privacy policy. According to Vizio, disabling Viewing Data won't limit the Activity Data being collected via SmartCast. Activity Data collects actions such as clicking on an app or the search bar when using the SmartCast Home and WatchFree pages, but that data isn't shared with third parties.
Older Vizio models, plus just a few of Vizio's newer sets, use a platform called Vizio Internet Apps (VIA) rather than SmartCast. Vizio says that as of 2017, Viewing Data collection was turned off on these sets. To check, start with the System setting, go to Reset & Admin, and highlight Smart Interactivity, the older name for Viewing Data. Press the right arrow to disable ACR.
Do you often see online ads that relate to your likes and hobbies? On the "Consumer 101" TV show, Consumer Reports expert Thomas Germain explains to host Jack Rico what targeted ads are and how they work.