How much does your TV know about you? That's one of the basic questions we asked when Consumer Reports undertook an analysis of smart-TV privacy and security for five major U.S. TV brands: LG, Samsung, Sony, TCL, and Vizio.
What our investigation found is that all smart TVs can collect—and share—significant amounts of personal data. We also uncovered several privacy weaknesses and security vulnerabilities, which you can read about in our full report.
While many consumers may be unaware of how much data is being collected by their smart TVs, this isn't a new technology. We first reported on the use of automatic content recognition (ACR) technology in 2015. And in 2017 Vizio got in trouble with federal and state regulators for collecting this kind of data without users' knowledge or consent. The company settled with the Federal Trade Commission for $1.5 million and the state of New Jersey for $2.2 million.
The FTC has now made it clear that companies need your permission before collecting viewing data—but consumers may not understand the details, says Justin Brookman, director of privacy and technology at Consumers Union, the policy and mobilization division of Consumer Reports.
This data collection is becoming more widespread, with TV manufacturers focusing on promoting smart TVs. According to market research firm IHS Markit, more than two-thirds of all TVs shipped in North America last year were smart. And that percentage is even higher for the larger sets consumers are increasingly choosing as their primary TV.
However, there are ways to turn off ACR in every smart TV we've tested. You can deny permission for ACR as you set up the TV, but you need to read each screen carefully and make sure you don't just click "okay" to all the privacy policies and user agreements. (Note that the manufacturer will receive some information from your smart TV as long as you accept the basic privacy policy, which is required if you want to use the set for streaming.)
But, what if you've already been using the TV and now want to turn off ACR?
You can do that, but the settings can be tricky to find. Here is how you can shut down the snooping features on smart TVs from LG, Samsung, Sony, TCL Roku sets, and Vizio, the five leading U.S. TV brands.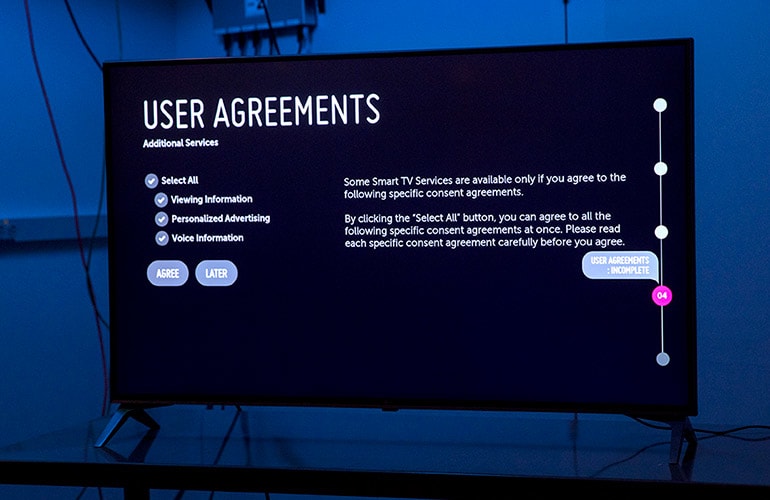 Shut It Off on LG TVs
On LG's smart TVs that use the company's webOS platform, go to the main menu and click on the icon for Settings at the upper right side of the set. (There may also be a Settings icon on the remote control.)
Next, go to All Settings, which you'll find at the very bottom of the right side of the screen, and scroll down until you see General.
Click that and you'll have to scroll down through one more screen, until you see a feature called LivePlus, which is LG's ACR technology.
You can toggle this feature off.
That does it for ACR, but you can scroll down once more for some further privacy settings. Go to the About This TV submenu and click on User Agreements. Here you'll find three more options: Viewing Information, Personalized Advertising, and Voice Information.
You can choose to opt out of each of these features individually, by unchecking their respective boxes, and clicking Agree at the bottom.
LivePlus requires Viewing Information to be enabled. If you disable Viewing Information, Live Plus will be toggled off. If you then try to turn on LivePlus, a pop-up screen will ask you to consent to Viewing Information.
However, you can agree to Viewing Information, but still opt out of LivePlus. This will enable you to use another feature called ChannelPlus that provides some internet content and a comprehensive viewing guide.

Personalized Advertising and Voice Information work separately, however. And note that if you turn off the voice option, you won't be able to use voice commands with the television.
The whole process is a bit easier on older LG TVs. Go to Settings, then Options, and click on LivePlus. You can then can toggle the feature on and off.
Shut It Off on Samsung TVs
On newer Samsung smart-TV models, click the Settings icon in the main menu, look for Support, then scroll down to Terms & Policies.
There, you'll see several options, including Viewing Information Services, Interest Based Advertising, and Voice Recognition Services.
Turning off the voice-related services will inhibit your use of voice-controlled functions with the TV, but you won't notice any difference when you simply opt out of Viewing Information Services.
On older Samsung smart TVs, the ACR controls are found under the Smart Hub menu. Look for the icon for Settings, click on Support, and find the submenu titled Terms & Policy.
In that submenu, look for SyncPlus and Marketing and you'll find an option to disable the feature. You can also turn off Voice Recognition Services, which will disable voice commands.
Shut It Off on Sony TVs
Most newer Sony TVs use the Android TV smart-TV system, and during setup you're asked to click yes to agreements with three separate companies: Google, Sony, and an ACR provider called Samba TV.
To turn off ACR, go to the Home menu, click on Settings, then go to Initial Setup.
You'll see a prompt for changing the network; click "don't change" and you'll see a screen for the Sony Bravia policy. Agree to that (unless you want to stop using smart-TV features altogether) and proceed through the next couple of screens until you get to the Samba TV user agreements.
You can opt out of ACR here by clicking "disable," which is the last option on the right side of the screen. You'll then get another prompt asking you to confirm that you want to opt out of this feature, so you'll have to click "disable" again.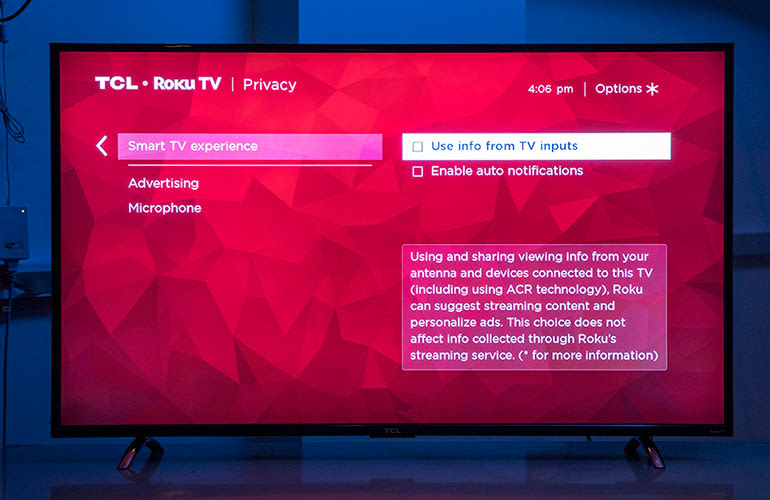 Shut It Off on TCL Roku TVs
TCL uses the Roku TV system, which is also used in sets made by Hisense, Hitachi, Insignia, Philips, RCA, and Sharp.
To turn off ACR, press the Home button on the remote, then look for Settings.
Scroll down until you see Privacy, then look for Smart TV Experience.
You can then uncheck Use Information for TV Inputs, which will disable the TV's ACR technology. Under Advertising, you can also choose to limit ad tracking.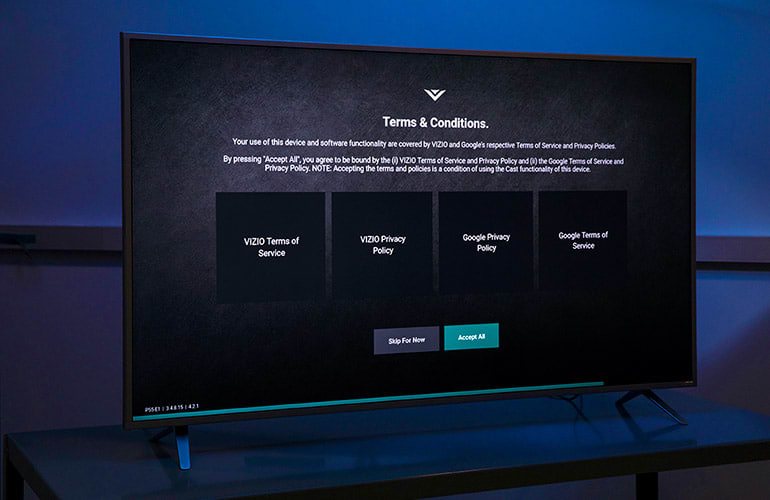 Shut It Off on Vizio TVs
Most Vizio TVs now use the SmartCast smart-TV system, which is based on Google's Chromecast technology.
To turn off ACR using the Vizio app on a mobile device or the TV's remote control, select System, then click on Reset & Admin.
Next, highlight Viewing Data. You can then press the right arrow to change the setting to off.
Older Vizio models, plus a few of Vizio's newer sets, use a platform called Vizio Internet Apps (VIA), rather than SmartCast.
If you have a VIA television, start with the System setting. In a menu called Reset & Admin, highlight Smart Interactivity—it may now be called Viewing Data—and press the right arrow to disable the ACR.
Note that Vizio's support website now says that the Viewing Data collection has been disabled on TVs using the VIA smart-TV platform.
Editor's Note: An earlier version of this article incorrectly stated that turning off LG's LivePlus automatically disables Viewing Information.
Shopping links are provided by eBay Commerce Network and Amazon, which makes it easy to find the right product from a variety of online retailers. Clicking any of the links will take you to the retailer's website to shop for this product. Please note that Consumer Reports collects fees from both eBay Commerce Network and Amazon for referring users. We use 100% of these fees to fund our testing programs.