Tesla's In-Car Cameras Raise Privacy Concerns
See our explanations below of how other automakers use in-car cameras or other types of driver monitoring systems As automakers increasingly add automation to new vehicles, they are also starting to include driver monitoring systems to help ensure that drivers still pay attention to the road. Although the majority of these systems—some with cameras pointed at the driver—are designed to protect the privacy of vehicle occupants, certain Tesla vehicles now record and transmit video footage of drivers and passengers from in-car cameras.
Last week, the automaker said it studies some footage recorded from these cameras after the fact as part of its research into self-driving technology. However, this use raises privacy concerns and also potentially undermines the safety benefits of driver monitoring, which is to use cameras and software to alert drivers when they're not paying attention to the road.
"If Tesla has the ability to determine if the driver isn't paying attention, it needs to warn the driver in the moment, like other automakers already do," says Jake Fisher, senior director of Consumer Reports' auto test center.
A true driver monitoring system with built-in protections and warnings would be an important addition to Tesla's Full Self-Driving Capability, which includes features that can assist the driver with parking, changing lanes on the highway, and even coming to a complete halt at traffic lights and stop signs. The system remains a misnomer—it does not mean that Tesla vehicles with these systems can drive themselves—and in-the-moment driver monitoring could keep drivers from abusing it.
Instead, says CR's Funkhouser, Tesla seems to be using cameras for its own benefit. "We have already seen Tesla blaming the driver for not paying attention immediately after news reports of a crash while a driver is using Autopilot," she says. "Now, Tesla can use video footage to prove that a driver is distracted rather than addressing the reasons why the driver wasn't paying attention in the first place."
The automaker may use the cameras for as-yet-unforeseen reasons, too, says Davisson. "I think there's reason to distrust that this is the whole intended purpose of the system on Tesla's part," he says. "It may later be repurposed for a system that is designed to track the behaviors of the driver, potentially for other business purposes."
Tesla currently allows drivers to opt out of sharing in-car video footage, but even drivers who opt in may not be aware of just how much information they are sharing. Although Tesla says that footage is not paired with a car's vehicle identification number (VIN), Davisson says occupants' faces appear to be visible—and those other than the driver may not have consented to being recorded. And it is clear from how the automaker responds to drivers in its Full Self-Driving beta that at least those cars are identifiable, because the company is able to cancel those customers' participation in the program. In addition, Davisson says Tesla has opened up drivers to potential privacy concerns simply by recording and transmitting the footage, because it could be accessed by malicious actors.
Ultimately, the way Tesla is using an in-car camera underscores the need for stronger rules to protect consumers' safety and privacy in cars, says William Wallace, manager of safety policy at CR. "Advanced features in cars can bring consumers enormous benefits, but it's important for our laws to make sure that automakers put people ahead of their bottom line. Automotive innovation must come hand-in-hand with strong and sensible consumer protections," Wallace says.
One example is a bill before the California State Senate that would prohibit certain uses of in-vehicle cameras, including for advertising or sharing data with third parties. Transmitting video recordings off of a vehicle would also be banned without a vehicle owner's affirmative written consent. CR's Advocacy team has expressed support for this bill with specific amendments.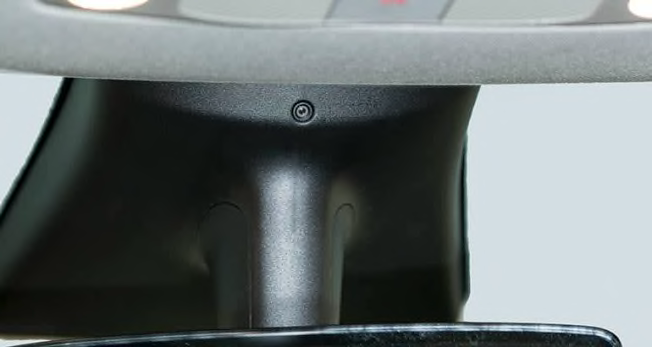 Driver Monitoring Systems
BMW
Some BMW models use an infrared sensor located in the instrument cluster to detect the driver's presence, alertness, and tiredness. According to a BMW spokesperson, it tracks head position, eyelid movement, and whether or not eyes are open. It does not record, save, or transmit any data, but it will warn drivers if they are exhibiting signs of impairment or distraction. The Driver Assistance Professional package with the driver monitor is available on the 2021 3 Series, 4 Series, 5 Series, 7 Series, 8 Series, X5, X6, and X7.
Ford
Both F-150 and Mustang Mach-E vehicles equipped with Active Drive Assist will feature a driver-facing infrared camera that will monitor the driver's eyes and head gaze, a Ford spokesperson told CR. If the driver does not pay attention, the vehicle will eventually slow down if the driver does not respond to visual and audio signals. The driver-facing camera does not record video or photos of the driver. The data it collects does not leave the camera itself, nor is it streamed back to Ford.
General Motors
A GM spokesperson says that vehicles equipped with Super Cruise driver assistance technology feature a camera that works with infrared lights to determine the driver's eye and head position. (This includes the 2021 Cadillac CT4, CT5, and Escalade, and the upcoming 2022 GMC Hummer EV.) If Super Cruise detects distraction or impairment, it will activate an escalating series of warnings for the driver to pay attention. The system does not capture images, store information, or share image information with GM, the automaker told CR.
Subaru
Certain Forester, Legacy, and Outback vehicles equipped with the optional DriverFocus Distraction Mitigation System have what a Subaru spokesperson calls a "near infrared reader" that monitors the angle of the driver's face and the driver's eye movement. It is designed to detect inattentiveness and drowsiness, and will warn the driver if it detects either condition. The system does not capture or store images, the spokesperson said.
Tesla
Tesla places a camera above the rearview mirror in the Model 3 and Model Y. It is active as part of the Cabin Camera Analytics system. In software release notes and on the automaker's website, Tesla says it will use the camera to capture and share images and video of a crash or other safety-related incident with the automaker. Tesla uses steering wheel sensors that detect weight or torque to determine whether a driver is paying attention and will disable certain features if the driver spends too long with hands off the wheel.