Best Ranges for Baking
Say so long to half-baked cakes and burnt cookies with a range that excels in CR's baking tests
When you shop through retailer links on our site, we may earn affiliate commissions. 100% of the fees we collect are used to support our nonprofit mission. Learn more.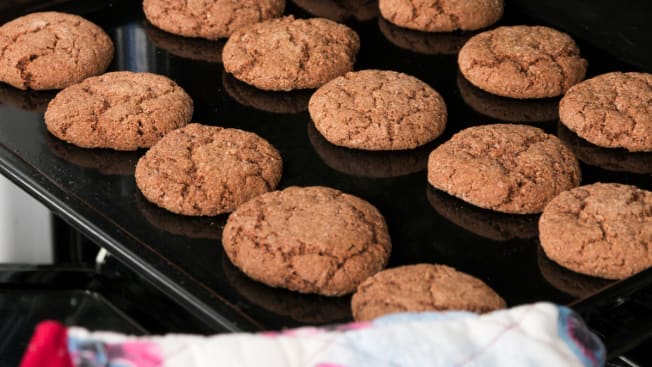 Great baking is often what differentiates the average ranges in our ratings from those that are truly exceptional. For a serious baker, the rating a range earns in our baking test should be your first consideration when shopping.
Consumer Reports continually buys and tests ranges, and pushes them to extremes both on top of the stove and in the oven, boiling water, simmering pasta sauce, and broiling burgers. But the toughest tests in our repertoire might be those we use to assess baking. We bake thousands of cookies and upwards of 2,400 cakes each year to identify the best models. The test is tough by design: Our experts don't rotate the pans or move them to different racks, as recipes sometimes recommend, during the baking process. They let the oven do what it's going to do.
"The ranges that earn an Excellent score at baking in our tests turn out evenly browned cookies and cakes when those foods are baked on two racks, simultaneously," says Tara Casaregola, who runs our tests of cooking appliances. "We insist that the cakes and cookies are cooked properly—the centers have to be done."
In other words, an Excellent rating in baking means that you won't have to turn or move pans to get great results, while a rating of Very Good means that perfect pies and lofty cakes are within reach; you might just need to occasionally rotate the foods you're baking to ensure even browning.
We test ranges of all types: gas, induction, and pro-style models, as well as smoothtop and coil-top electric. If you're not sure which type is right for you, see our range buying guide.
Regardless of type, only a handful of the nearly 150 models in CR's range ratings excel in baking, and even fewer pair that even oven with equally impressive broiler and burner performance. Here, we've curated a list of those that do. CR members can read on for ratings and reviews of the best ranges for baking—one model from each of the five types we test. They're all recommended models and tops for baking for their type.
Visit Consumer Reports' 2018 Holiday Gift Guide for updates on deals, expert product reviews, insider tips on shopping, and much more. And be sure to check our Daily Gift Guide.
CR's take: The Kenmore Elite 95052 earns the second-highest Overall Score of any single-oven smoothtop in our ratings, and ties with many of its peers as a top baker—it earns a rating of Excellent in that test. It has convection, five burners, and a warming drawer. Only the GE Café CS980STSS scores better, but its ratings are the same for baking, and it costs a whopping $1,500 more than the Kenmore.
CR's take: A CR Best Buy, the Kenmore 94142 is a basic coil-top range that delivers solid performance. None of the coil-top ranges in our ratings earn a rating of Excellent for baking, but this Kenmore rates a Very Good in that test, and offers great performance on top of the range, too. There are four surface elements, including two high-powered burners that briskly bring water to a boil.
CR's take: The LG LSE4617ST is a beautiful induction slide-in range, and the lone model of its type to earn a rating of Excellent for baking. It has loads of features, including a warming drawer, convection, high-powered burners, and even an oven that can be controlled remotely with your smartphone. Like most induction ranges, top-of-the-stove performance is stellar: It earns a rating of Excellent in our cooktop high test, meaning it can heat water rapidly.
CR's take: The GE JGS760SELSS is a gas slide-in range—so it costs a lot more than the other top picks. A slide-in model gives a custom-built look because it fits between cabinets and the controls are up front—there's no back panel. Aside from looks, this model is the lone single-oven gas range in our ratings to earn a rating of Excellent for baking and still score well enough in other tests for us to recommend it. The model's five burners prove to be superb at simmering and deliver fast heat.
CR's take: The Wolf DF304 is a lusted-after pro-style range with signature die-cast red knobs and heavy-gauge stainless construction. While no 30-inch pro-style range in our ratings earns perfect marks for baking, it's one of two to earn a rating of Very Good in that test. It slightly misses the mark on self-cleaning tests, and only earns a rating of Good for our cooktop high test—but if you can get past those deficits, it's the pro-style model to pick if you're serious about baking.