When you shop through retailer links on our site, we may earn affiliate commissions. 100% of the fees we collect are used to support our nonprofit mission.
Learn more.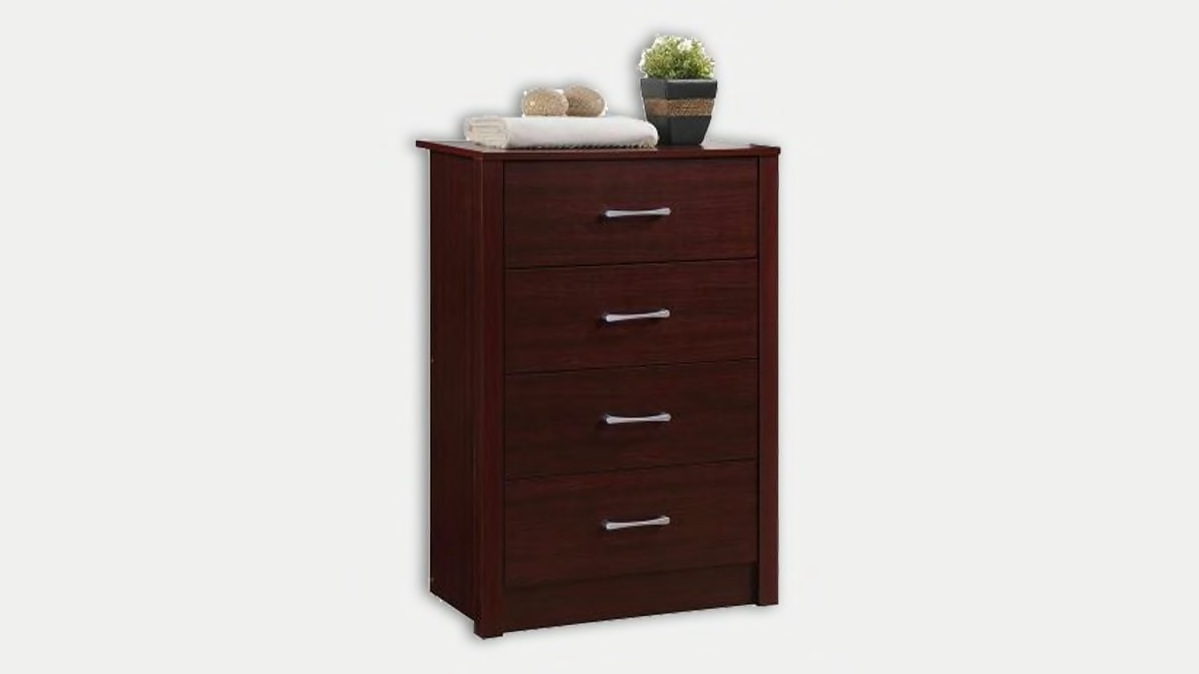 Furniture manufacturer Hodedah recalled about 26,500 HI4DR four-drawer chests today, four months after the government warned that the dressers failed safety testing and pose a serious tip-over risk that could result in injuries or death to children, according to an announcement from the Consumer Product Safety Commission.
The CPSC had previously asked Hodedah to recall the dressers, which do not comply with the industry's current voluntary stability standard, but the company refused. Because the CPSC can't force companies to recall products without taking them to court, the agency took the unusual step of issuing an official warning about the dressers in January 2020, and said it would continue to press the company for a recall.
Today's announcement is the result of that effort.
"Chairman Bob Adler, the Commission, and CPSC staff made this recall happen with an assertive, safety-first approach that the agency should always employ," says William Wallace, CR's manager of home and safety policy. "Hodedah failed its customers by not recalling these dressers months ago, but better late than never."
More on furniture tip-overs
The CPSC declined to comment on the recall and Hodedah did not respond to CR's request for comment.
The recall involves all Hodedah HI4DR four-drawer dressers, which were sold in beech, mahogany, chocolate, cherry, white, and black colors. They measure about 40 inches tall, weigh about 84 pounds, and were sold online at stores including Wayfair, Walmart, Amazon, and HomeDepot from July 2017 through April 2020.
There are no reported incidents associated with this dresser model, but the risks of tip-overs involving unstable dressers that are not properly anchored to the wall can be severe. One person is injured about every 20 minutes—and one child dies about every two weeks—when a piece of furniture, an appliance, or a television falls on them, according to the CPSC. Each year, thousands of those incidents involve dressers.
If you own one of the recalled dressers, CR advises that you immediately stop using it and place it in an area that children can't access. Then contact Hodedah—at 855-463-3324, Recalls@Hodedah.com, or through the company's website—and ask for a full refund.
That's an option CR's Wallace was glad to see as part of the recall and says should be standard.
Hodedah is offering prepaid shipping labels so that customers can remove the dresser's drawer slides and send them to the manufacturer without having to leave their homes during the coronavirus pandemic. Consumers should then discard the rest of the dresser, if possible.
Alternatively, Hodedah is offering to send consumers free anti-tip anchoring kits to attach the dressers to the wall. But CR does not recommend that solution because it does not ensure that the tip-over hazard is removed from the home. There is no way to guarantee the dresser won't be moved at a later date and used without a wall anchor.
This recall follows several other dresser recalls announced by the CPSC over the past months, after the agency tested more than 150 dressers and other clothing storage units to see whether they complied with the industry's voluntary stability standard, with the aim of getting unsafe dressers off the market.
Currently, the U.S. Senate is also considering legislation, which was passed by the House of Representatives, called the Stop Tip-overs of Unstable, Risky Dressers on Youth (STURDY) Act. The bill would require the CPSC to create a mandatory federal rule for dressers that's tougher than the industry's current voluntary standard.
To report a dangerous product or product-related injury, go to saferproducts.gov.