When you shop through retailer links on our site, we may earn affiliate commissions. 100% of the fees we collect are used to support our nonprofit mission.
Learn more.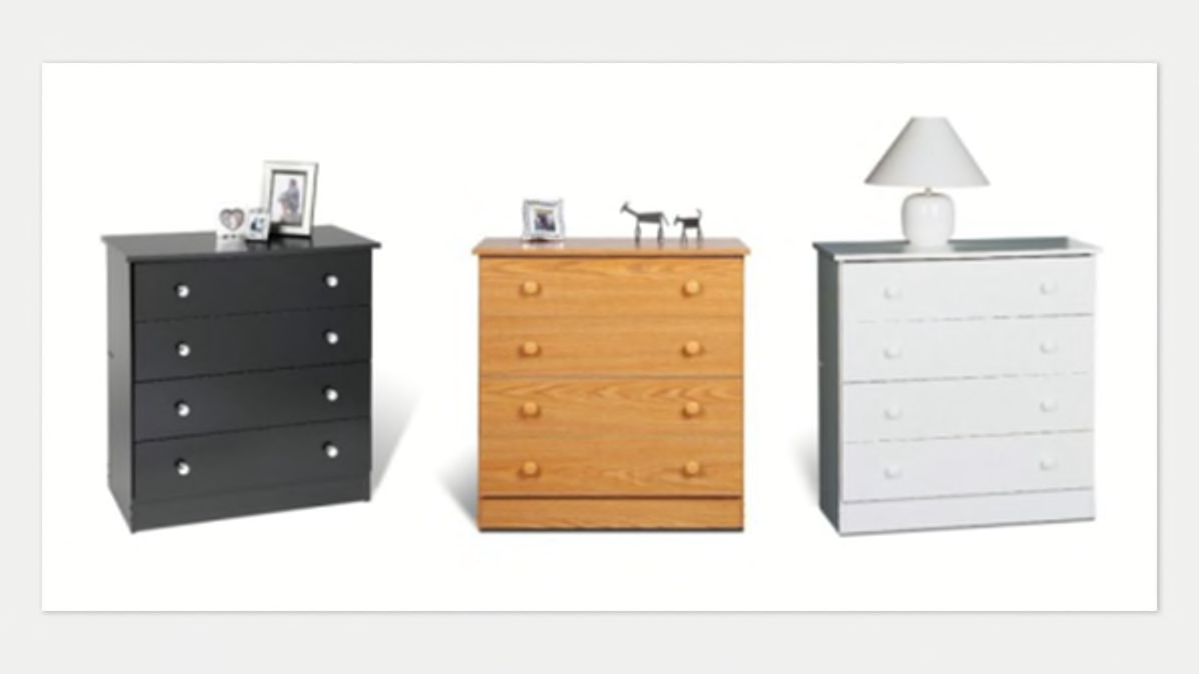 Photo: Consumer Product Safety Commission
The furniture maker Prepac has recalled about 21,000 dressers because they're unstable and can tip over if not anchored to a wall, posing serious tip-over and entrapment hazards that can result in death or injuries to children. That's according to an announcement today from the Consumer Product Safety Commission.
Consumers who have a recalled dresser should immediately stop using it and put it in a room children can't access. It's particularly urgent to do now because so many Americans are home due to the coronavirus pandemic.
The recall involves Prepac four-drawer chests with plastic drawer glides. They were sold in three finishes: black, oak, and white. The model numbers for the recalled dressers, printed on the instruction manual, are BEP-3031-4, BBD-3031-4, OBD-3031-4, and WHD-3031-4. The dressers are about 30 inches high. No deaths or injuries have been reported.
More on Furniture Tip-Overs
The products were sold online for about $75 at Overstock, Target, Amazon, and other retailers from April 2005 through September 2018.
Prepac isn't offering customers a refund for the recalled dressers. Instead, it says people who own one should contact the company to receive a free tip-over restraint kit and can request a one-time, free, in-home installation of a wall anchor strap. Customers can call 877-773-7221 or go to prepacmfg.com and click on "Recall Information."
But safety experts at Consumer Reports say the restraint kit solution doesn't ensure that the dresser won't be moved at a later date and used without a wall anchor. The best remedy for the recall of any unsafe product is to offer a full refund and for consumers to return the hazardous product to the manufacturer, says William Wallace, manager of home and safety policy for Consumer Reports.
"We welcome the recall, but why isn't there an option for consumers to get a full refund? Prepac and the CPSC should fix this right away," Wallace says. "A refund option is still a critical incentive for getting the dressers out of homes and keeping children safe, regardless of how COVID-19 might delay Prepac's work on this recall."
Prepac didn't respond to CR when asked why the company wasn't offering a refund.
Parents Against Tip-Overs (PAT), an advocacy group founded by those who have lost children in tip-over incidents, also expressed concern about the recall remedy. The group said it "strongly encourages Prepac to reconsider their inadequate recall remedy. Not offering a full refund for their unsafe product is negligent and shows a lack of care for their customers. Especially when most people are home and sheltering in place, the risk that this dresser poses to families is unacceptable."
Why Unstable Dressers Are Being Recalled
One person is injured about every 20 minutes—and one child dies about every two weeks—when a piece of furniture, an appliance, or a television falls onto them, according to the CPSC. Each year thousands of those incidents involve dressers. Dresser tip-overs alone have killed at least 212 people since 2000, mostly children 6 and younger.
There is currently no mandatory government standard requiring furniture manufacturers to test their products and prove they're stable before putting them on the market. Instead, there's a voluntary industry standard that was created via ASTM International, an organization that helps develop voluntary standards for dressers and thousands of other products. It states that a dresser 27 inches or taller should stay upright when a 50-pound weight is hung on a single open drawer while the others are closed.
The voluntary standard previously applied only to dressers taller than 30 inches. But short dressers can also be dangerous. So after substantial work by consumer safety groups including CR, the voluntary standard was revised in August 2019 to include dressers as short as 27 inches. Because the Prepac dresser is 29 3/4 inches, it's subject to the updated standard.
A different Prepac model—the Prepac Bella 6-Drawer Dresser—which is still available for sale, failed Consumer Reports' tip-over tests in 2018. At the time, that dresser wasn't covered by the industry's voluntary standard because it was under 30 inches tall.
Prepac didn't respond to CR's question about whether that dresser has been tested to the new standard and is compliant.
The Need for Mandatory Rules
If dressers were required to meet a mandatory standard vs. a voluntary one, the CPSC could much more easily initiate a recall of those that don't comply.
But with only a voluntary standard, many dressers can remain on the market without passing stability testing. For this reason, safety groups including PAT and CR have backed the Stop Tip-Overs of Unstable, Risky Dressers on Youth (STURDY) Act, which would require the CPSC to create a new rule that's mandatory and includes tougher stability requirements.
The U.S. House of Representatives recently passed the bill, and it's now awaiting a vote in the Senate.
"Congress needs to pass the STURDY Act so the CPSC can act quickly to reduce the risk of additional child injuries or deaths," Wallace says.
To report a dangerous product or product-related injury, go to saferproducts.gov.