When you shop through retailer links on our site, we may earn affiliate commissions. 100% of the fees we collect are used to support our nonprofit mission.
Learn more.
Samsung's Family Hub refrigerator was the big story among home appliances at last year's Consumer Electronics Show. The WiFi-connected French-door fridge featured in the video above generated buzz with its integrated LCD touch screen and built-in cameras that enabled you to check its contents from the supermarket. So we're expecting to see much more in the way of smart refrigerators at CES 2017, starting January 5.
"The smart home evolution will continue to take center stage and move further from conceptual ideals and closer to everyday realities," says Christine Edwards, senior analyst at Gap Intelligence. "Deep learning technology is expected to be the next iteration and focus for smart home appliances as they continue to evolve to our lifestyles, physical home space, adaptive environments, and user dynamics."
What, exactly, is deep learning? It's a form of AI, or artificial intelligence, that endows machines with "the ability to see, learn, and react to complex situation as well as, if not better than humans," Edwards explains.
We're not quite there yet, but there are signs that it's coming fast. "LG recently leaked insights to its CES 2017 home appliance showcase and is expected to incorporate deep learning technology with sensors, cameras, and computer intuition," says Edwards.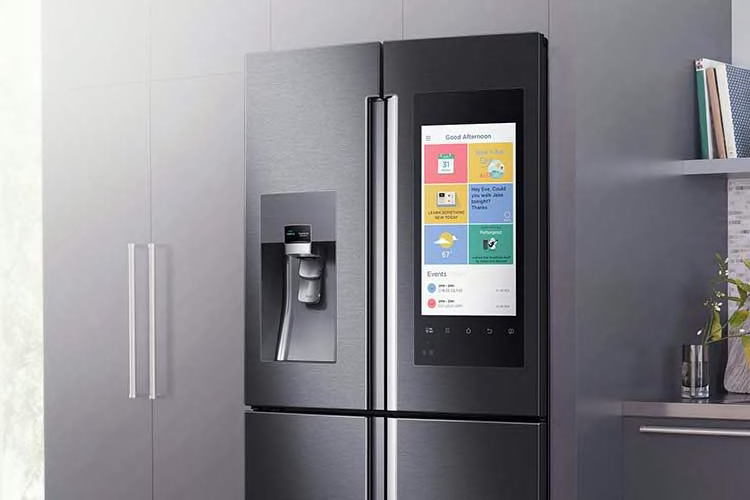 Samsung Tweaks the Family Hub
Not to be left behind, Samsung is expected to improve on the original Family Hub, which stumbled out of the gate with its official launch last spring. While it performs well as a refrigerator, Consumer Reports' tests turned up several issues with the screen, including slow response time of the touch controls. Samsung says it's already dealt with some of those glitches.
The big question is whether Samung's 2.0 version will introduce more tech or simply try to improve the performance of the existing tech. We'll find out. We'll also see how other manufacturers augment their own smart refrigerators. We can imagine a fridge with a built-in digital assistant in the form of Amazon Alexa or Google Home that would allow you to control the appliance's smart functions with your voice.
Beyond smart features, we're expecting manufacturers to squeeze more functionality into their 2017 refrigerator lines. Water filtration remains a key focus. Earlier this year, GE launched the industry's first auto-fill pitcher, which refills on its own with fresh, filtered water when you place it on the dock inside the fridge. We'll look for similar innovations from other brands.
Then there's design. Black stainless steel came on strong last year, but mostly at the premium level. As more brands embrace the matte, fingerprint-resistant finish, we expect to see it available at more affordable price points.