Is This Fancy Zojirushi Rice Cooker Worth $270?
The Zojirushi NP-GBC05 may be the best rice cooker we've tested, but it's not right for everyone
When you shop through retailer links on our site, we may earn affiliate commissions. 100% of the fees we collect are used to support our nonprofit mission. Learn more. The rice cookers Consumer Reports tests range from $20 to $40, with one glaring exception: a $270 Zojirushi induction rice cooker. It's the top-rated model in our ratings due to high marks for its convenience, easy-to-use controls, and ability to cook great grains. But can rice ever taste good enough to justify that price?
In our lab tests, the Zojirushi Induction Heating System Rice Cooker & Warmer NP-GBC05 consistently cooks up fluffy rice, scoring a Very Good rating in that test using the white rice and brown rice settings. It also earns a Very Good rating for its easy-to-read controls and an Excellent rating for convenience, an especially important consideration for anyone who cooks rice frequently.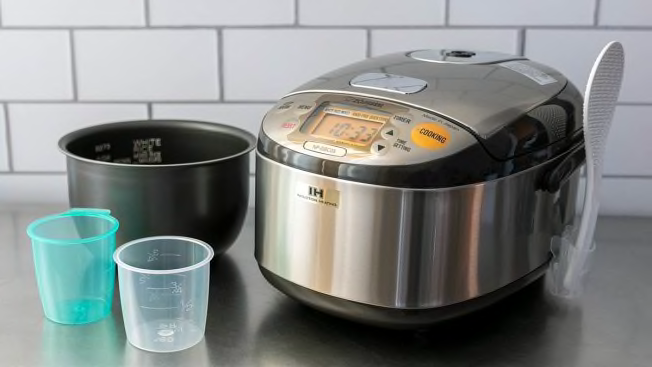 This Zojirushi rice cooker comes in brown stainless steel and has a handle that makes it easy to move from cupboard to countertop.
The nonstick inner pot has large, easy-to-read markings that indicate how much water to add for white rice, brown rice, sushi rice, sweet rice, and porridge.
The minimum amount of dry rice it can cook is one-third cup and the maximum is 2¼ cups. (The packaging materials say a half-cup and 3 cups, respectively. But that's because the measuring cup it comes with, as with all rice cookers, is actually equal to three-fourths of a U.S. cup.) Unlike most other rice cookers, it also has a slightly smaller green cup for rinse-free rice, which has been milled to remove all bran and excess surface starch.
The plastic rice paddle comes with a holder that clips to the side of the cooker, an uncommon feature that boosted the cooker's convenience score. (There are notches on both sides of the cooker to accommodate right- and left-handed users.)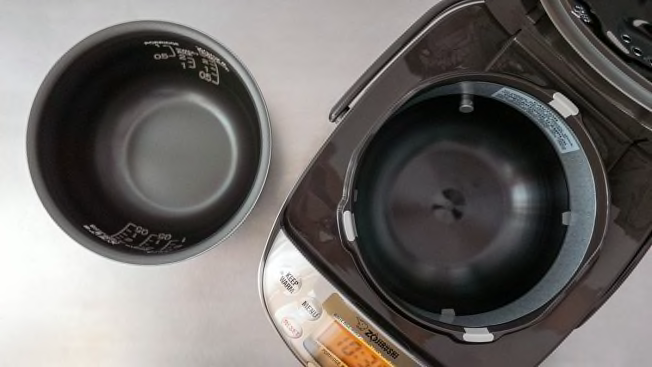 Most rice cookers have a heating element at the bottom that radiates heat upward, like a burner. The Zojirushi NP-GBC05 is the only model we've tested that uses induction heat to cook rice. It generates a magnetic field that turns the inner pot itself into the heat source. Induction technology allows the rice cooker to fine-tune the temperature and instantly adjust heat levels in case of human measuring error (too much or too little water), and it's why this rice cooker costs so much more than conventional models. The difference in performance is significant: I tested one batch by pouring in an extra cup of water and the rice still came out perfectly.
There are seven rice cooking programs: white/mixed, sushi, brown, GABA brown (that sprouts brown rice), rinse-free, porridge, and quick cooking. The rice cooker also has delayed-start and keep-warm functions. I tried them all, and here's my take on each one.
White Rice
I opted for jasmine rice and basmati for the white/mixed program because these varieties are a little trickier to cook, and I already knew based on the lab tests that this cooker did well with Carolina long-grain white rice.
All of the white rice varieties I tried took a little over 40 minutes to finish cooking. The jasmine rice was similar to the results I've gotten using other rice cookers, but the basmati was so luxuriously fluffy that it stole the show when I served it alongside tikka masala and garlic naan.
Making Thai glutinous sweet rice in a rice cooker usually requires a bamboo basket or steamer and cheesecloth, so when I read in the Zojirushi's manual that it could cook it without all that other equipment (the pot has markings for sweet rice), I was dubious but intrigued. It was the best sticky rice I've ever had. And I've had a lot of sticky rice. The grains were cooked evenly and shined like tiny gems. There were no crunchy bits or soggy bits, just uniformly tender and pliant sticky rice throughout.
Sushi Rice
I tried the sushi program with short-grain Japanese white rice. It was nothing short of revelatory. I didn't know that it could be this good—nutty and creamy with just the right amount of chew. The rice was fluffy yet clingy with no signs of the glueyness I get when attempting sushi rice on the stovetop or in a basic rice cooker.
Brown Rice
Because our lab testers use Uncle Ben's long-grain brown rice, I did my home experimenting with short-grain brown rice, which is more difficult to get right. The brown rice setting took an hour and a half—that's about 30 minutes longer than most other rice cookers—but it coaxed out a delicious nutty flavor that actually made me like brown rice (I'm usually not a fan). The grains cooked up in distinct kernels that were neither too hard nor too mushy.
GABA Brown Rice
The GABA brown setting sprouts the grains before cooking. It maintains a temperature of 104° F for 2 hours, which, according to the manufacturer, makes the brown rice's gamma aminobutyric acid (GABA) easier for the body to absorb. GABA is a compound that has been found to have calming effects. A Consumer Reports nutritionist, Amy Keating, says the GABA setting sounds logical, and there are studies showing that sprouting grains does make nutrients more available. Brown rice cooked on this setting was softer with much less chew, but we didn't measure the rice's GABA levels.
Porridge
The only program I found disappointing was the porridge setting, which is meant for Asian porridges such as congee, jok, and okayu. I used jasmine rice for this test and it came out too pastelike for my liking. The kernels lost all structure, and too much water was absorbed. Just to see what would happen, I also used the setting to cook steel-cut oats, and I did enjoy the creamy oatmeal. It was on a par with results from my stovetop but way more hands-off.
Rinse-Free
Okay, I didn't test this one because I couldn't find rinse-free rice.
Convenience Settings
The quick-cooking function delivered on its promise, cooking white rice in half the time without compromising flavor or texture. Honestly, I don't see why anyone would use the normal setting.
The delayed start, which lets you plan ahead up to 13 hours, is convenient, especially when cooking rice that needs to be presoaked.
The keep-warm function kept my rice warm for hours without drying it out. That's no surprise given that the Zojirushi NP-GBC05 kept rice warm better than all the rice cookers we tested in the lab, where testers left cooked rice sitting on keep-warm for 17 hours. "We couldn't tell the difference between the overnight rice and freshly cooked rice," says Lisa Ruiz, our lead tester.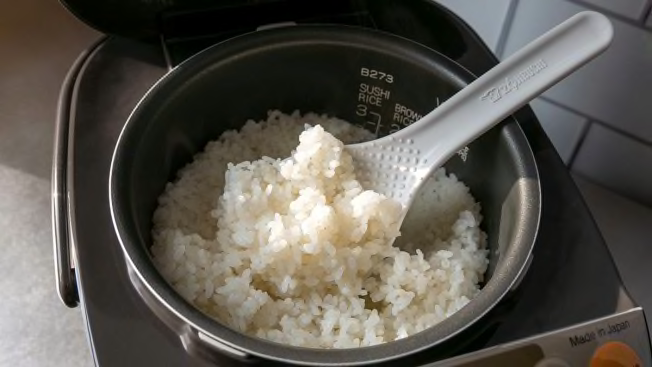 I really love rice. I eat it nearly every day, and I'm genuinely uplifted when I smell it cooking. Yet before testing out the Zojirushi NP-GBC05, I didn't know rice could taste and look this good. When I had the first bite of sticky rice from it, I semi-jokingly cried out "It's worth it!" before even trying the other functions. Weeks later, as I stockpiled my freezer with bricks of perfectly cooked sushi rice before returning the rice cooker to the lab, I realized it really is worth it . . . for me. I wouldn't go so far as to recommend it for anyone who isn't completely obsessed with rice (see other models in our ratings if this is you), but if you want the best, it'll cost you $270.