When you shop through retailer links on our site, we may earn affiliate commissions. 100% of the fees we collect are used to support our nonprofit mission.
Learn more.
Consumer Reports is an independent, non-profit organization dedicated to helping consumers. When you shop through retailer links on our site, we may earn an affiliate commission—100% of the fees we collect are used to support our mission.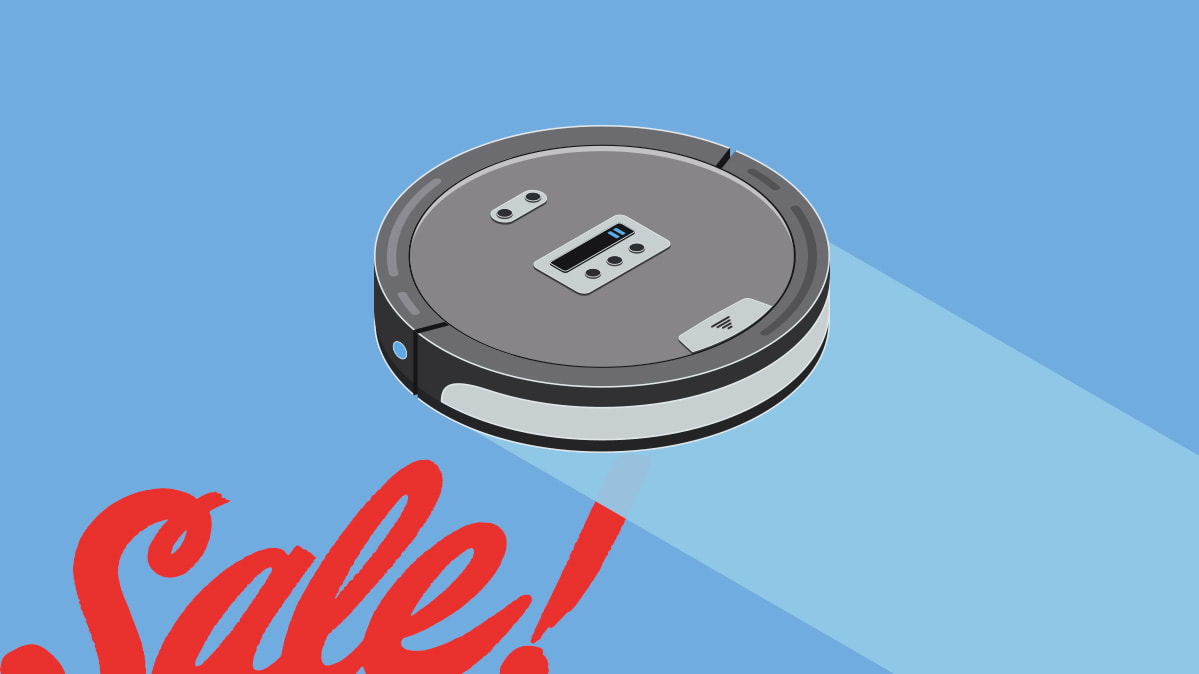 Black Friday and Cyber Monday are behind us, but the sales on robotic vacuums keep zipping along.
Most of the deals we highlighted in November are still available. In fact, we found that this month, more retailers are lowering their prices on some of the best robotic vacuums from our tests.
"December is a great time to strike a deal on a robotic vacuum as retailers shift their promotion focus to more premium-priced products in the final weeks leading up to the holidays," says Debra Mednick, director of market analysis at Consumer Reports.
So if you've been imagining yourself—or someone on your gift list—sitting with your feet up while a robotic vacuum tidies up the family room, buy now to snag some of the lowest prices of the year.

CR's Vacuum Ratings and Buying Guide
Take note that robotic vacuums are meant for maintenance cleaning only and can't compete with the deep-cleaning capabilities of a full-sized upright or canister vacuum. So you'll eventually have to haul out a larger vacuum for that purpose.
Still, if you constantly have smaller messes like spilled Cheerios or a pet that sheds, a robotic vacuum can help keep them at bay. To determine which robotic vacuums deliver the best results, we put them through a series of tough tests, including how they navigate a room and how easy they are to operate out of the box.
Here, listed in alphabetical order, are some of the best December deals we've seen. We'll continue to monitor the prices and add any new deals we find through the end of the year.
Ecovacs Deebot M88
The deal: $340 at Amazon
Savings: $50
This isn't the cheapest robot you'll find on sale, and the discount isn't huge—but the Deebot sits high in our robotic vacuum ratings. The Deebot M88 earns an Excellent rating for bare floors, and it also performs fantastically on our navigation test. As for noise, you'll barely notice this robot roaming around on your floors. If you like to program your bot, you can do so via the Ecovacs app, which also allows you to tell the bot to charge or spot clean, among other things.
iRobot Roomba 690
The deal: $279 at Lowe's, Amazon, and $349.99 at Bed Bath & Beyond
Savings: Up to $120
Though it's an older generation, the iRobot Roomba 690 is still a solid choice as a robotic vacuum. It's also available at one of the lowest prices you'll find for a robotic vacuum of this caliber. In our tests it earns an Excellent rating for carpet cleaning, and it comes with a carrying handle so that you can move this bot easily from place to place.
iRobot Roomba 890
The deal: $$399.99 at Home Depot, Best Buy, Amazon, and Lowe's
Savings: $100
The iRobot Roomba 890 is a top performer, and for just a little bit more than what the 690 (above) costs, you can have a newer-generation robotic vacuum, still at a decent price. This model edges out the Roomba 690 in our bare-floors test, earning a rating of Excellent, and it's quieter than its brandmate.
iRobot Roomba 960
The deal: $449.99 at Amazon
Savings: $249
This quiet and speedy vacuum from iRobot cleaned up most of the debris on our test floors within 30 minutes thanks to its dual counter-rotating rubber rollers that can also be easily removed for cleaning. It struggles a little with removing cat hair at first, but when given more time, picks up most of it. The bot "notices" messes and repeatedly travels back and forth to remove them before moving to another spot, earning an Excellent in navigation.
Neato Botvac D5 Connected
The deal: $379.99 at Best Buy
Savings: $200
This is the best Neato robotic vacuum in our ratings, and with this significant markdown, it costs just a bit more than the next-best Neato Botvac D3 Connected. The Botvac D5 is voice-compatible, and it earns an Excellent rating in our bare-floors test. You can download the Neato app and, as with many other robotic apps, you can start, stop, or pause your robot while it's cleaning if you need to.

Samsung Powerbot R7040
The deal: $298 at Home Depot and $299.99 at Best Buy
Savings: $200
The Powerbot R7040 is one of the best robotics on the market. It aces our carpet and bare-floors tests, and earns an Excellent on ease of use. It quietly scoots under low furniture and stops at the top of the stairs. It can be programmed using the Samsung Smart Home app on a smartphone.
Samsung Powerbot R7070
The deal: $498.99 at Amazon
Savings: $201
The Samsung Powerbot R7070 is impressive in our carpet and edge-cleaning tests and nearly perfect on our bare-floors test, earning an Excellent. It picks up most of the debris on the first pass and is gentle with our test furniture. The front of the machine is square, which makes it possible to better get into the corners, something that rounder models struggle with.
Samsung Powerbot Star Wars Limited Edition Stormtrooper
The deal: $345 on Amazon
Savings: $355
This is the deepest discount we've seen by far. Despite its menacing name, the Samsung PowerBot Star Wars Stormtrooper is very gentle on our test furniture. It attacks our test debris with gusto earning an Excellent and is also a powerful performer at cleaning carpet and edging. It's low enough to sneak under our test furniture with ease and the square front of the machine makes it possible to get into corners. And for now, you can get it for more than half off.
Shark Ion 720
The deal: $279.99 at Amazon; $299.99 at Overstock
Savings: $70
At this price, the 720 is about a third of the cost of the top two robotic vacuums in our ratings—but still offers great cleaning. As a category, robotic vacuums are fairly quiet, but if you're looking for a vacuum that you'll barely notice cleaning, this is the one for you. The Shark Ion 720 earns the highest possible percentage for quietness in our tests. It's also great on bare floors. This robotic vacuum can be programmed by downloading the Shark app to your smartphone.

Shark Ion 750
The deal: $299.99 at Lowe's
Savings: $30
This vacuum costs even less than it did on Black Friday. And like the 720, the Shark Ion 750 earns an Excellent score for noise, meaning it's super-quiet. It's terrific at cleaning bare floors, and can be programmed to clean your home using the Shark app on your smartphone.
Shark Robot Cleaning System S87
The deal: $349.99 on Amazon and $349.99 at Bed Bath & Beyond
Savings: $150
This quiet vac from Shark is a champ at navigation, earning an Excellent on that test. And it's no slouch at cleaning bare floors. It makes multiple passes across the target area in a random pattern and is able to clean up most of the test debris. Although it was roaming the room for 45 minutes before docking, it cleaned the bare floors within about 20 minutes. It eventually picks up pet hair so you'll have to be patient. It's called a system because it has a built-in hand vacuum that stores and charges on the robot's charging base.

Consumer Reports makes it easy to buy the right product from a variety of retailers. Clicking on a retailer link will take you to that retailer's website to shop. Our service is unbiased: retailers can't influence placement. All prices are subject to change. Learn more.