After Child Deaths, Ikea Recalls 29 Million Dressers
Owners of the furniture will receive a refund or free safety repair The U.S. Consumer Product Safety Commission (CPSC) and Ikea are jointly announcing the recall of 29 million chests and drawers. The move follows the confirmed deaths of three toddlers from a falling Malm Ikea dresser. In April, Consumer Reports, along with several consumer and child safety groups, urged the CPSC to secure a recall of the dresser responsible for these preventable tragedies.
"This recall is unprecedented and critically important for children in the millions of homes across the country with these unsafe Ikea dressers," said William Wallace, policy analyst for Consumers Union, the policy and advocacy arm of Consumer Reports. "Unstable, unanchored furniture can be a silent danger in your home—seriously injuring or even killing young children without warning."
In fact, a child in the U.S. is killed every two weeks in a tip-over related incident involving furniture or TVs, and hundreds more are injured. In addition to agreeing to the recall, Ikea, the world's largest furniture retailer, made a commitment to sell in the U.S. only dressers that comply with the most up-to-date performance standards for furniture stability.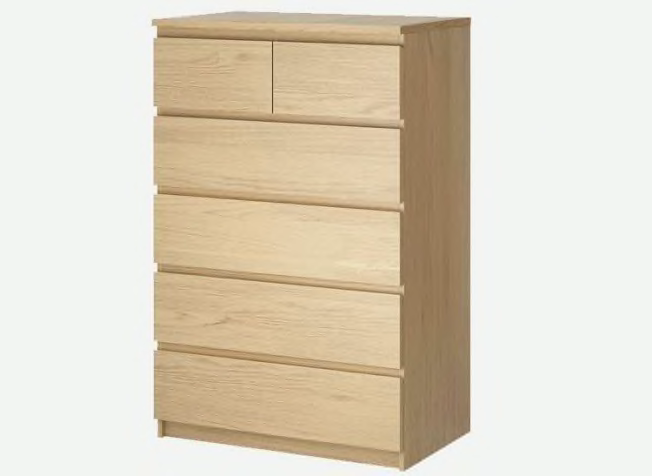 "I fully expect all furniture companies to do the same," said CPSC Chairman Elliot F. Kaye in today's news release. "Those failing to do so should pay close attention to the details of this recall, as they should expect to be hearing from us. CPSC will seek recalls of other brands that pose an unreasonable tip-over risk to innocent children."
The 29 million units of recalled chests and dressers include: Malm 3-drawer, 4-drawer, 5-drawer and three 6-drawer models and other children's and adult chests and dressers. See the CPSC's official recall notice for specific model numbers and on-sale dates. The units are unstable if they are not properly anchored to the wall, posing a serious tip-over and entrapment hazard.
If you think you have a recalled dresser and it is not anchored to the wall, stop using it immediately and keep it away from children. Then contact Ikea by visiting a retail store, going to www.IKEA-USA.com/recallchestsanddressers, or calling 866-856-4532. You will be entitled to a refund or a free wall-anchoring kit, which Ikea will install via a one-time, free in-home installation service, upon request.
"We commend the CPSC for their hard work to secure a recall that takes these dressers out of stores and gives consumers options for a refund or the assistance to make these products safer by anchoring them to the wall," says Wallace. "This recall commits Ikea to designing safer furniture, but we urge the company to do all that it can now to both make consumers aware of all the options available to them and easily take the action they decide is best to keep kids in their home safe."

Is your furniture secure?
Have you checked the tip-over hazards in your home?
Keeping Kids Safe From Furniture Tip-Overs
A danger might be lurking right in your home. On the 'Consumer 101' TV show, Consumer Reports' expert Peter Anzalone explains to show host Jack Rico what consumers need to know about furniture tip-overs.