Best Cyber Monday Deals on Amazon Devices
Find big savings on Echo smart speakers, Eero routers, Fire tablets, Fire TV streaming media players, and Ring doorbells
When you shop through retailer links on our site, we may earn affiliate commissions. 100% of the fees we collect are used to support our nonprofit mission. Learn more.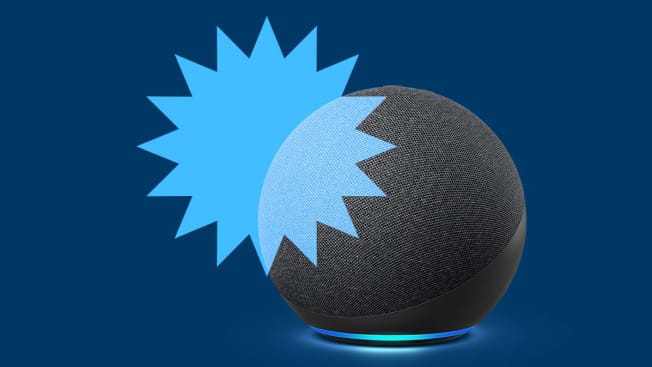 While it's best known as a retail giant, Amazon also manufactures smart devices that make for great gifts. Think Echo speakers, Eero routers, Fire tablets, Fire TV media players, and Ring doorbells.
Better yet, those devices can often be found at bargain prices on Black Friday and Cyber Monday—even at retailers such as Best Buy, Home Depot, and Staples.
Below are the best deals we've uncovered so far on Amazon's devices, but we plan to keep updating our coverage with new offers through Cyber Monday and Cyber Week, so be sure to check back.
Go to Consumer Reports' Holiday Gift Guide for info on holiday deals, expert product reviews, insider tips on shopping, and much more.
Not long ago, Amazon's Echo speakers were smart, but they weren't much good at, say, playing music. This model addresses that complaint, offering improved sound, strong but slightly boomy bass, and enough volume to fill a midsized room. It also sports a Zigbee smart home hub that allows it to link directly to many Zigbee-compatible devices—think Philips Hue smart bulbs, some Yale smart locks, and certain Honeywell thermostats—without requiring an app. At the regular price, it's a solid value, but at 40 percent off, it's definitely worth a look.
CR's test results: Amazon Echo (fourth-generation)
That's a nice price. And the Dot's smart speaker functionality rates right up there with Amazon's best options, because the processing of Alexa voice commands is done on the company's cloud-based servers. But the model's sound leaves a lot to be desired. This is not a bad choice, though, as a) a stocking stuffer; b) a speaker for podcasts and other less-than-demanding content; or c) a way to add smart speaker functionality to a higher-quality Bluetooth speaker.
CR's test results: Amazon Echo Dot (third-generation)
The Show 5 is Amazon's smallest smart screen, which makes it flexible in terms of where and how you position it. But our testers report that the sound is kind of unpleasant; "grainy," "hazy," "smeared," and "sizzly" are some of the terms they use to describe it. So unless you're very tight on money or space, you may want to spring for the larger and better-sounding Show 8.
CR's test results: Amazon Echo Show 5 (second-generation)
This previous-generation Show 8 has an 8-inch touch screen (ideal for displaying online recipes), responds to voice commands (useful when you have messy hands). The device's footprint is also significantly smaller than that of the Show 10, which needs a beach-ball-sized space on the countertop to provide clearance for a rotating screen. As with many smart speakers, though, the Show 8's sound quality is somewhat lacking, according to our testers, who note the model's strident high frequencies. The most significant feature found on the newer and more expensive second-generation Show 8 is a camera that can adjust the focus to "follow" you as you move about the room on a video call, a difference that's likely not worth the price difference.
CR's test results: Amazon Echo Show 8
For more discounts: Best Cyber Monday Deals on Bluetooth and Smart Speakers
This model comes with a thick and chunky rubber case that protects it from falls, along with a "two-year, worry-free guarantee," which means Amazon will replace your tablet if it breaks. The deal also includes a one-year free subscription to Amazon Kids+, which gives you and your family access to thousands of kid-friendly movies, TV shows, books, and apps. Amazon's robust parental controls allow you to create different profiles for different kids, setting hard limits on what each can look at, and when and how long the tablet can be used.
CR's test results: Amazon Fire 7 Kids Tablet
If you're simply looking to add another screen to the house, a device to keep you and the kids occupied, the 8-inch Amazon Fire HD 8 released in 2020 is hard to beat, especially at this Black Friday sale price. The tablet is more than powerful enough for simple tasks like streaming Netflix and Disney+, playing simple games such as Minecraft, and scrolling through social media. It weighs less than 1 pound and has a battery that lasts around 15 hours in our tests. The 32 gigabytes of built-in storage isn't a lot, but the microSD card slot lets you add more storage capacity as needed.
CR's test results: Amazon Fire HD 8
This tablet has a bright, crisp 10-inch screen. And as any comic book fan can tell you, it's spacious enough to display a full page of print at almost the same size as the original. That real estate makes the onscreen keyboard easy to use, too. And the tablet boasts an impressive battery life, delivering roughly 15 hours for browsing the web or watching movies. Once again, the 32 gigabytes of built-in storage is a bit limited, but you can always add more with an inexpensive microSD memory card.
CR's test results: Amazon Fire HD 10 32 GB (2021) Tablet
For more discounts: Best Cyber Monday Deals on Laptops, Chromebooks, and Tablets
The Fire TV Cube brings Amazon's smart speaker and streaming player technology together in one device that acts as a universal remote, allowing you to control your TV as well as other compatible devices, like a stereo, sound bar, receiver, and even some cable and satellite boxes, with voice commands. And if you don't want to use your voice, there are buttons on top of the cube to adjust the volume and mute the microphone.
CR's test results: Amazon Fire TV Cube (second-generation) streaming device
This is a highly rated high-definition model, a stick-style streamer that pops into your TV's HDMI port. The newest version has been updated with a faster processor for quicker app starts. It comes with an Alexa remote, which has TV power and volume controls.
CR's test results: Amazon Fire TV Stick (third-generation)
This 4K stick-style player has a nice array of content and features—including voice control and Dolby Vision HDR—for the price. You can control it from Alexa-enabled devices such as the Echo and Dot, and use the included remote to control power and volume on many TVs and sound bar speakers.
This is an updated version of the player, which has an Alexa remote control with dedicated buttons for Amazon, Disney+, Hulu, and Netflix. Note that Target is selling an earlier version of the same streaming player, which is the one we tested in our labs.
CR's test results: Amazon Fire TV Stick 4K
For more discounts: Best Cyber Monday Deals on Streaming Devices
This well-rated router system has one base unit and two secondary units that you place strategically around your home to create a mesh network, eliminating dead spots and improving WiFi coverage throughout the dwelling. The model supports automatic firmware updating (which helps keep your data safe) and the latest WiFi 6 standard, which delivers faster speeds than WiFi 5, especially as you add more and more devices to your WiFi network. 
CR's test results: Eero Pro 6 three-pack
This mesh router three-pack scores nearly as well as the Pro 6 at less than half the price, so may be the better value for most people. It supports automatic firmware updating and WiFi 6, too.
CR's test results: Eero 6 three-pack
The Ring Video Doorbell Wired is the cheapest model in Ring's lineup at $60, but the doorbell is now on sale for $42, making now a great time to give your front door an upgrade. In our tests, this bell receives high scores for its video quality and data security, but we find its response time and free feature set a bit lacking. The latter mainly includes monitoring zones and voice control via Amazon Alexa. And while this doorbell needs to be wired for power, it will not ring your home's existing doorbell chime. However, Amazon is selling it with a free Amazon Echo Dot (third-generation), which can act as a doorbell chime and audio intercom. Cloud video storage and additional features require a Ring Protect subscription. Existing Ring Protect Plus and Ring Protect Pro subscribers can also receive an additional 10 percent discount either at Ring.com or Amazon (provided you've linked your Amazon and Ring accounts together).
CR's test results: Ring Video Doorbell Wired
For more discounts: Best Cyber Monday Smart Home Deals
Amazon 50-Inch 4-Series 4K Fire
Amazon recently started selling TVs under its own Fire TV brand, after several years of selling Fire TVs under the Insignia and Toshiba brands. This model, the B08SVZ775L, in the company's entry-level 4-Series, is a fairly basic 4K model that supports the HDR10 and HLG HDR formats but not Dolby Vision. It uses Amazon's Fire TV system, with built-in Alexa and a voice remote for voice commands; support for AirPlay 2 is coming. We have one of these sets in our TV labs, and though our final results aren't in, it appears to be only a so-so performer in terms of picture quality
Amazon 50-Inch Omni Series 4K Fire TV
Like the Amazon 4-Series set above, this is one of Amazon's recently launched Fire TVs. This model, the B08T6F8YBH, is part of its step-up Omni Series, with a slimmer design and a few more features, though not Dolby Vision, which is available only on the larger 65- and 75-inch Omni sets. One main difference is that the Omni sets have built-in far-field microphones for hands-free operation, while you need to use a voice remote with 4-Series sets. We have a few larger Omni sets in our TV labs, and though our final test results aren't in, they appear to be only so-so performers in terms of picture quality.
For more discounts: Best Cyber Monday TV Deals