Best Deals on Coffee Makers and Other Small Kitchen Appliances Right Now
Upgrade your kitchen without overspending
When you shop through retailer links on our site, we may earn affiliate commissions. 100% of the fees we collect are used to support our nonprofit mission. Learn more.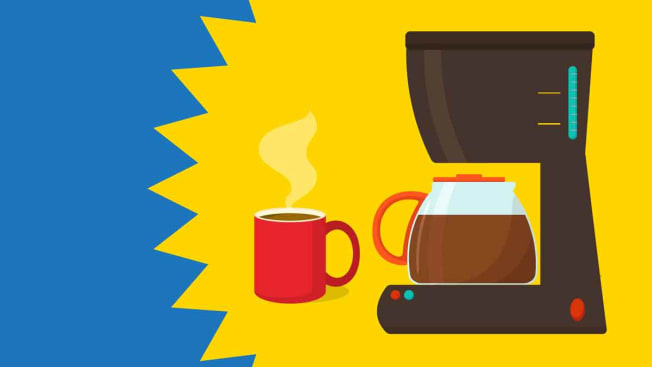 Whether you're trying to curb your daily coffee shop habit or looking to step up your home brewing game, there are plenty of great coffee makers on sale right now. In fact, as the holiday season draws nearer, we're seeing more and more deals and discounts on all sorts of other kitchen goods, too, from air fryers to cookware and more.
A good deal is about more than just the money. If the product doesn't work well, it doesn't matter how big the discount is. So we look at the quality of the product based on CR's lab test results and owner surveys as well as the price history to bring you only the best offers on the best models.
Viewing on a mobile device? Click on the links below to skip to each section.
• Coffee Makers
• Air Fryers
• Travel Mugs
• Toaster Ovens
• More Cooking Deals
Get discounts, product recommendations, and buying advice from the shopping experts at CR. Sign up for our Shopping newsletter.
Asobu Portable Cold Brew Coffee Maker
This cold brew maker is more expensive than most of the other manual models we tested, but it's a superior performer. It offers superb convenience, and it gets the best score for taste in CR's tests. The Asobu isn't dishwasher-safe, but it has a stainless steel insulated carafe (rare for a manual model) and brews in 12 to 24 hours, depending on how strong you want your coffee. The silver model is 20 percent off right now, and the copper and white models are each just $2 more.
CR's test results: Asobu Insulated Portable Brewer KB900
Black+Decker 12-Cup Programmable Drip Coffee Maker
This programmable drip coffee maker, a great value, gets top marks in CR's test for convenience and earns a solid score for brew performance. It also features brew-strength controls, allowing you to adjust for different tastes. One minor downside: The reservoir markings are a bit difficult to see, a potential problem if you tend to brew your first pot when you're only half-awake.
CR's test results: Black+Decker CM4000S coffee maker
Capresso CoffeeTeam Drip Coffee Maker
If you're an aficionado of fresh ground coffee, this Capresso is the one to buy. It was recently selling for almost $200, making this a better discount than it seems. As the name suggests, it goes that extra mile, grinding whole coffee beans just before brewing. As a result, the appliance is capable of making a solid pot of coffee. Made of plastic with stainless steel accents, this model is easy to use and clean, earning great scores in our convenience tests. It allows you to adjust brew strength, it's programmable, so you can set it to grind and brew just before you wake up, and it uses a thermal carafe to keep your coffee warm for hours.
CR's test results: Capresso CoffeeTeam TS465 coffee maker
Mr. Coffee Occasions Combination Coffee Maker
This Mr. Coffee combination coffee and espresso machine has a twist—it can brew coffee from either fresh grounds or Keurig K-Cup pods. It also features a built-in milk frother, allowing you to make lattes and cappuccinos. It earns a high scores for brew performance in our tests, and our testers find that it's fairly convenient to use. This model also comes with a thermal carafe, a removable water reservoir and drip tray, a permanent filter, and auto-shutoff.
CR's test results: Mr. Coffee Occasions BVMC-O-CT
This air fryer from Dreo earns solid scores for the ease and legibility of its controls, ease of cleaning, and relatively quiet operating noise. The basket's claimed capacity is 4 quarts, but CR's test engineers measured it at 2.5 quarts. The one-year warranty is on a par with most of the models we test. You'll need to click the on-page coupon to get the savings if you decide to buy.
CR's test results: Dreo Air Fryer
GoWise 5.8-Quart Air Fryer
A CR Best Buy, this GoWise air fryer has a measured capacity of 4.9 quarts. Its touch buttons and programmed settings are among the easiest to see and use. And this is one of the quietest air fryers we've tested. The exterior's crevices and the basket's nooks and crannies take some effort to clean, however. Make sure to select the on-page coupon before adding the air fryer to your cart to get the savings.
CR's test results: GoWise GW22731 air fryer
Takeya 17-Ounce Insulated Travel Mug
This handsome mug offers styling similar to the Zojirushi that tops CR's list of the best insulated travel mugs, but it has an extra ounce of capacity. Like the Zojirushi, you press a single button to pop the top and drink from this mug. It also excels at keeping drinks hot—for 6½ hours in our test—which helped it earn a top rating for temperature retention. The lid is easy to remove and clean, and there's a silicone pad on the bottom of the mug, which protects your desk and keeps the mug from sliding. This price is only for the mint color at Amazon, and the mint and silver at Best Buy, but other colors are on sale for $3 more if you prefer a different one.
Thermos 16-Ounce Insulated Travel Mug
This stellar mug from Thermos is a bit cheaper than the Zojirushi, which narrowly edges it out for first place in our tests. And practically speaking, it's probably all anyone would need. (It keeps drinks hot for an impressive 7½ hours.) It also has an easy-to-clean lid, but one of the three lid gaskets cannot be removed or replaced, so when it goes, so goes your mug.
The tapered design means the mug will fit in the cup holder of most cars. Bonus: It has a handy tea hook on the underside of the lid, so you can suspend a tea bag in water without losing it inside.
This sale price is available only for the stainless steel version, but a handful of other colors are also on sale for less than $25.
Black+Decker 6-Slice Convection Toaster Oven
Overall, this Black+Decker does a good job at the basics: baking, reheating, and toasting. But it also comes with a few additional functions, including convection bake and broil, as well as settings for cookies, pizza, frozen snacks, potatoes, and bagels. If you're looking for a countertop oven, here's an opportunity to get one for 20 percent off.
CR's test results: Black+Decker 6-Slice Digital Convection CTO6335SS toaster oven
Cuisinart Convection Toaster Oven
This Cuisinart convection toaster oven boasts an oven big enough to fit a 9-pound chicken or nine slices of toast. It does an impressive job of toasting. But in our test for reheating, the lasagna wasn't as hot as with the other models that rank among the best toasters we've tested, and it wasn't as evenly heated. This 1,800-watt toaster oven has a temperature range of 150° F to 500° F and four rack positions. In addition to bake, broil, and bagels, there are settings for roasting, convection, and pizza—it even comes with a pizza stone. It has been sitting at this price for a few weeks now, and previously sold for $250, so you're really saving about $50, not $100 as Walmart claims.
CR's test results: Cuisinart Chefs Convection TOB-260N1 toaster oven
The 12-piece Cuisinart Green Gourmet nonstick set aces all our key cooking tests. Pancakes brown evenly in the frying pan, and eggs slide out one after another without sticking. We were able to easily maintain sauce at a low simmer, and the 6-quart Dutch oven quickly brought water to a near-boil. This top-scoring set is made of anodized aluminum, a process that hardens the surface. One of the pieces is a steamer insert.
This set originally sold for more than $500, but typically retails for closer to $260 and rarely dips lower.
CR's test results: Cuisinart Green Gourmet Hard Anodized GG-12 cookware set
Zojirushi 3-Cup Induction Rice Cooker
This popular and highly rated rice cooker is available for a great discount right now. It's one of the best rice cookers CR has tested in our labs, consistently cooking rice to perfection. It's the best option for rice aficionados because it can cook a wide variety of recipes, from steamed rice to porridge. It can take up to 90 minutes to make brown rice (45 for white rice), but it plays a song when it's done, and it's very intuitive to use and easy to clean.
CR's test results: Zojirushi NP-GBC05 Induction Rice Cooker