Best Labor Day Sales of 2020
The final holiday weekend of summer brings sales on mattresses, appliances, and more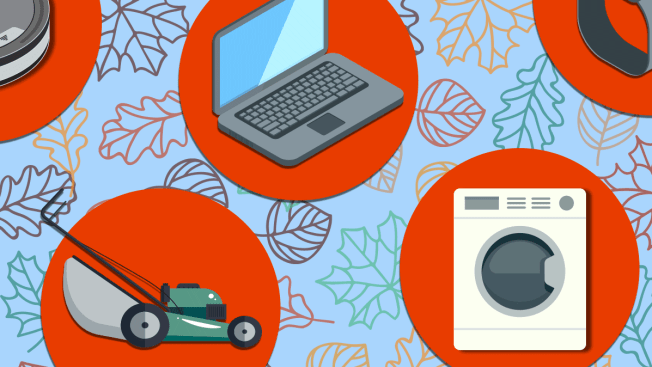 Labor Day is the unofficial end of the summer season. It's also one of the many minor holidays throughout the year when retailers offer big savings on virtually everything you could want or need, with a few standout categories.
So, if you're looking to shop this weekend, we're bringing you the best deals on top-tested products to make your search easier.
Labor Day sales are typically similar to what you'll find for Memorial Day and July Fourth: Large appliances, mattresses, TVs, and other tech devices are seeing big discounts right now. This is due, in part, to continuing back-to-school sales and seasonal shifts in inventory.
If you decide to shop in a store, consider wearing a mask, and employ basic infection control practices.
What's on Sale for Labor Day
As with any holiday, you will find an abundance of sales and deals over Labor Day weekend. Even in light of the global pandemic shifting how people live and shop, retailers haven't stopped offering sales both online and in-store. It's an especially good time to shop if you're in the market for mattresses, large appliances, and TVs.
There are so many appliances on sale for Labor Day that you can find and save on whatever you need pretty easily. We're seeing big discounts on refrigerators, washers and dryers, ranges, dishwashers, and vacuums. You can find similar savings at all the major spots, so you can save no matter where you prefer to shop.
If you want something you can pick up at a nearby walk-in location, check out Best Buy, Home Depot, Lowe's, and Walmart. If doorstep delivery is more ideal, you can still shop at those places, but you may be able to find a slightly better price at a site such as AJ Madison or Appliances Connection.
Here are a few highlights of the best Labor Day appliance sales this year.
Maytag 24-Inch Dishwasher
The deal: $530 at Best Buy and Costco, $528 at Home Depot, $529 at Lowe's
CR's test results: Maytag MDB4949SHZ
This budget Maytag model excels at drying and is relatively quiet, too. It has a self-cleaning filter and stainless steel interior. Although its 155-minute cycle time is on the long side, this model is a solid performer. It's also one of the few we tested at this price range with a self-cleaning filter.
Samsung Single-Oven Gas Range
The deal: $600 (black stainless), $720 (stainless steel) at Best Buy
CR's test results: Samsung NX58H5600SS
This Samsung is a feature-packed model with solid performance, making it one of the better deals we've seen for this holiday weekend. It has five burners, including an integrated griddle on the cooktop, as well as a convection oven and storage drawer. You get a bigger discount if you opt for black stainless ($599) over stainless steel ($719).
Hisense Bottom-Freezer Refrigerator
The deal: $799 at Lowe's
CR's test results: Hisense HBM17158SS
This Hisense bottom-freezer is almost 50 percent off its list price. That's unheard of for bottom-freezers, which usually cost at least $1,000 or more. This 32-inch model performs well in most of our tests, but it rates lower than average for temperature uniformity, meaning it's more susceptible to warm and cold spots in its fresh-food and freezer cavities. Still, if you're interested in a bottom-freezer, this model is worth checking out.
LG HE Top-Loader Washer
The deal: $1,165 at AJ Madison and Appliances Connection, $1,170 at Sears
CR's test results: LG WT7900HBA HE top-loader (and LG DLEX7900BE electric dryer)
Do a lot of laundry? This LG has a claimed capacity of 5.5 cubic feet, allowing you to do more laundry in one load, including a king-size comforter with room to spare. Wash time is 70 minutes using the normal wash/heavy-soil setting. (The normal-soil setting and the TurboWash options will speed things up.) This WiFi-enabled washer lets you start or stop your washer from your smartphone and receive alerts when it's time to transfer the laundry to the dryer.
Dyson Cyclone V10 Motorhead Vacuum
The deal: $400 at QVC, $430 at Amazon
CR's test results: Dyson Cyclone V10 Motorhead cordless stick vacuum
The Dyson Cyclone V10 Motorhead is superb on carpets and bare floors, and it's great at getting rid of pet hair. It makes a bit of a racket as you work, but you'll appreciate the clean emissions. Like many other cordless stick vacuums, this model takes a hit because of subpar reliability ratings due to battery problems with cordless vacuums.
This is just the tip of the iceberg. Check out our full list of the best Labor Day appliance deals on CR's top-tested models.
Labor Day is one of the best times of year to shop for a new mattress, and there are loads of deals on all the top brands right now. You can find savings on popular brands like Serta and Sealy, as well as new, highly rated brands like GhostBed and Tulo. Here are a few of our favorite Labor Day sales on mattresses:
GhostBed Mattress (Queen)
The deal: $859 at GhostBed
CR's test results: GhostBed The GhostBed mattress
This online-only bed-in-a-box retailer is offering a discount on its namesake mattress, the GhostBed. Though this isn't the cheapest price we've seen for the mattress, the company is throwing in two free pillows on top of the 25 percent discount off the original $1,059 price.

The queen-size GhostBed does well in our tests for supporting petites who sleep on their back, and it earns top marks for durability, which means it shows little change in performance after eight to 10 years of simulated use in our tests.
Serta Perfect Sleeper Hybrid Mattress (Queen)
The deal: $899 at US-Mattress
CR's test results: Serta Perfect Sleeper Hybrid Standale II Luxury mattress
The Serta Perfect Sleeper mattress combines innersprings and gel-infused memory foam, and based on our tests, is a decent choice for almost any type of sleeper. This mattress typically sells for around $1,000, so you're getting $100 off.

Tuft & Needle T&N Original Mattress (Queen)
The deal: $536 at Amazon, Lowe's, Mattress Firm, and Tuft & Needle
CR's test results: T&N Original mattress (queen)
There's a sale at Tuft & Needle, which is offering a 10 percent savings on all the brand's mattresses, including the original, the Mint, and the Hybrid, as well as accessories like sheets and mattress protectors for its Labor Day Staycation Sale. You can find the same discount at other retailers as well. CR's tests show that Tuft & Needle makes decent mattresses all-around. But the original may be softer than advertised, so be sure to read up on each model before you buy.
See all the best Labor Day mattress sales on models that aced CR's tests.
As the new school year begins across the country with varying degrees of virtual learning, there has been a rush on laptops, making it tricky to find good models at good prices. However, there are still some back-to-school and Labor Day sales on top-rated laptops and computers. To help you find them, we've been scouring the internet for price drops and other offers to help you save on a machine that will suit your needs, whether for work, school, or fun.
Acer 17-Inch Nitro 5
The deal: $791.99 at Best Buy
CR's test results: Acer Nitro 5 AN517-51-56YW laptop
If you're into gaming, consider the Acer Nitro, which usually goes for just under $900. It's one of the best laptops of 2020, according to CR's testers, with impressive specs for a device at this price, including a dedicated Nvidia graphics card, an Intel Core i5 processor, and plenty of memory and storage. It's a little heavy, but that's no surprise given the 17.3-inch screen.
Apple Macbook Air
The deal: $899 at Apple
CR's test results: Apple MacBook Air (2020)
This laptop hardly needs an introduction, having blazed the trail for thin-and-light notebooks since Steve Jobs first introduced it in 2008 by slipping it inside a manila envelope. And now, if you're a student (with a valid ID), Apple will not only trim $100 from the original retail price ($999) but also throw in a $160 pair of AirPods true wireless headphones free. We tested the base model with an Intel Core i3 processor, 8 gigabytes of memory, and 256GB of solid state storage.
Dell 17-Inch Inspiron
The deal: $769 at Dell
CR's test results: Dell Inspiron 17-inch (2019 version)
We haven't tested this 17.3-inch notebook yet, but the 2019 version performed well in our labs. The on-sale model features an Intel Core i7 processor, 8GB of memory, and a 2TB hard drive. It even has a built-in DVD drive, which is uncommon these days. And for $30 more, you can trade the raw storage capacity of the hard drive for the zippier performance of a 512GB solid-state drive.
CR has been tracking all the best Labor Day laptop deals, if you want to discover more top-tested models on sale.
Labor Day weekend has loads of great opportunities to save big on a new TV. Many brands release new models in the fall season, so prices tend to drop on last year's models. You can take advantage of these savings to upgrade your home theater and beat the crowds that tend to clamor for TVs during the holiday shopping season. The disparity in savings between Black Friday and other holidays has grown smaller and smaller, so waiting for a chance to save more may not be all that worth it, because the extra you save is not nearly as dramatic as it used to be.
Insignia 32-Inch Fire TV Smart TV
The deal: $129 at Amazon and Best Buy
CR's test results: Insignia NS-32DF310NA19 smart TV
Jumbo-sized TVs are great for the family room, but sometimes you just need an extra TV that won't break the bank. This 32-inch model from Insignia—Best Buy's house brand—provides satisfying picture quality. It uses the Amazon Fire TV smart TV platform to provide access to lots of streaming services. The set has been on sale for much of the summer but recently dropped an additional $10 in price.
LG 60-Inch 4K Smart TV
The deal: $429 at Target, $449 at Best Buy
CR's test results: LG 60UM6900PUA 60-inch 4K smart TV
LG's entry-level 4K set from 2019 does well in terms of overall picture quality, though it doesn't deliver a compelling HDR experience (which generally produces enhanced contrast and brighter highlights). The viewing angle is somewhat limited, too, so this set might not be your best option for movie night in a family room. It's usually about $500.
Find more discounts in our review of the best Labor Day TV sales right now.
Labor Day, thanks to the overlap with back-to-school shopping season, has become a great time to find discounts on tech. Whether you want a pair of noise-canceling headphones to work smarter from home or your family room is in desperate need of a new speaker for movie night, this could be the perfect time to pick something up at a great low price.
Here are a few of our favorite tech deals happening right now.
Microsoft Surface Headphones
The deal: $192.99 at Best Buy
CR's test results: Microsoft Surface noise-canceling headphones
These headphones usually sell for about $100 less than comparable options from Sony and Bose, but they're marked down even more at Best Buy right now. According to our testers, this model is great for listening to music and watching movies, which means you can transition from work to relaxation with ease.
Amazon Echo Plus
The deal: $74.99 at Amazon, Best Buy, and Staples
CR's test results: Amazon Echo Plus (2nd Generation) Smart Speaker
The Echo Plus offers tone controls that allow you to tweak the speaker to match your listening room. But even if you're a set-it-and-forget-it type, it's enjoyable to listen to. You can also pair it with a second Plus (or Amazon's subwoofer) for stereo sound. And the built-in Alexa and Zigbee smart home hub functionality allows you use the model to control a wide variety of smart home devices.
Polk Sound Bar
The deal: $199 at Amazon, B&H Photo
CR's test results: Polk Audio Command Bar sound bar
A sound bar is a quick and easy way to enhance your TV-watching experience, and this model is good for music and movie soundtrack playback. It has built-in Bluetooth, supports Amazon's Alexa, and is now available at $100 off the original price. It's currently out of stock at B&H Photo, but the retailer will let you order it at the sale price if you're willing to wait a little longer for shipping.
For more discounts, check out our full coverage of the best Labor Day electronics deals on top-rated tech.
When you shop through retailer links on our site, we may earn affiliate commissions. 100% of the fees we collect are used to support our nonprofit mission. Learn more.