2020 Subaru Legacy Ride and Handling Shine
But the new infotainment system is a head-scratcher
Sales of SUVs are overshadowing sedans, so we're pleased that Subaru has given its Legacy a new lease on life.
Its exterior styling isn't radically different than the outgoing model's, but the ride is better than in the previous version. The new infotainment system with a huge screen is not a crowd pleaser.
The Legacy competes with other long-standing sedans such as the Honda Accord, Mazda6, Nissan Altima, and Toyota Camry. Subaru's ace-in-the-hole used to be that it was among the few affordable all-wheel-drive sedans going, but Nissan crashed that party with its redesigned Altima.
Update: Since this first drive was originally published in August 2019, we tested the Legacy.
See the complete Subaru Legacy road test.
To get an idea of just how much the Legacy has evolved, we rented a pair from Subaru: a Sport model powered by the company's 2.5-liter four cylinder and a Limited XT, which gets the same 2.4-liter turbocharged engine shared with the larger Subaru Ascent. Below are are our first impressions. We'll know more when we buy a car in the weeks ahead and put it through our battery of tests.
What we drove: 2020 Subaru Legacy Sport and Limited XT
Powertrains: 182-hp, 2.5-liter 4-cylinder engine (Sport); 260-hp, 2.4-liter turbocharged 4-cylinder engine (Limited XT); both paired to a CVT; both have standard all-wheel drive
MSRP: $26,945 (Sport); $34,195 (Limited XT)
Options: $2,245 (Sport: blind spot warning; rear cross traffic warning; lane change assist; reverse automatic braking; moonroof; 11.6-inch infotainment system with navigation)
Destination fee: $900
Total cost: $30,090 (Sport); $35,095 (Limited XT)
What We Like So Far . . .
The new Legacy gets the same substantial platform enjoyed by the Outback. The result: The new version has a more refined ride, engaging handling, and a quiet cabin. However, the standard 2.5-liter four-cylinder engine and continuously variable transmission (CVT) make an unpleasant roar when drivers dip into the throttle for more power, such as when merging onto a highway.
Thankfully, the Limited XT's turbo engine tames this beast somewhat, delivering near seamless acceleration with less CVT noise.
Handling for both models feels responsive—there's little body roll in corners and decent steering response.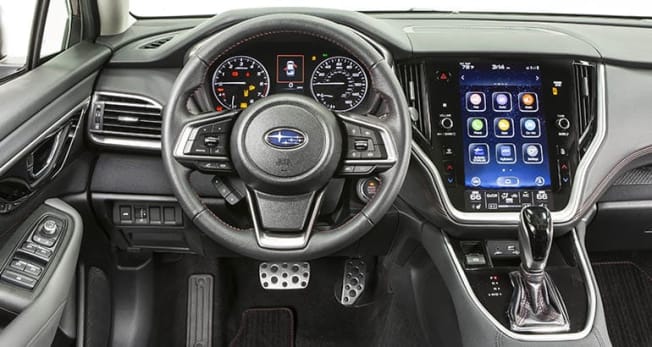 The two versions of the Legacy we rented had the 11.6-inch infotainment screen, which is standard on all but the base model. The expression "bigger is better" certainly doesn't ring true here, as our testers were lukewarm to the new system. The big screen houses the controls for entertainment, climate functions, and vehicle settings.
We were annoyed that the center touch screen looks too much like an elaborate kid's video game, complete with child-like graphics and a rainbow of colors. Previous versions of the Legacy had simple controls, so we're a bit put off that this new system requires users to wade into menus and submenus to complete simple tasks. For example, we felt like we had to jump through hoops to turn off the LKA function and fiddle with the micro adjustments of the seat heaters (which used to be a hard button located on the center console). This can be a distraction while driving.
Like most new cars, the 2.5-liter model has a stop/start feature that turns off the engine at a stop to save fuel. But the restart process with the new Legacy is quite abrupt and unrefined (the system in the 2.4-liter turbo version was smoother).
Finally, the seats in the Sport model were unremarkable, with limited adjustments and only fair support. And it's too bad that the Limited XT's 10-way-adjustable driver's seat comes only with two-way lumbar support.
What We'll Keep an Eye Out For
If you're road-trip enthusiasts like us, Subaru's claimed 600-mile cruising range for the 2.5-liter model sounds alluring. The EPA estimate of 30 mpg overall for the 2.5 seems plausible. The Limited XT gets an EPA-rated 27 mpg overall. We'll see how our Legacy does in our own fuel-economy testing.
The Legacy offers a driver-monitoring system that uses a camera and facial recognition software to monitor whether the driver is distracted or falling asleep. When we experienced this system on the Forester, we found that it could detect some head movement, such as when drivers have turned away from the road, but it could not discern risky behavior, such as gazing down at a handheld phone. We'll see how this system does over the long haul once we buy one.
The Legacy has been in Subaru's lineup since 1989, proving that the company is not a one-trick pony. This sedan has been a perennial good performer in Consumer Reports' tests and has delivered strong reliability and owner satisfaction in CR's exclusive auto surveys.
Even though the public's taste for buying sedans has waned over the last several years, the Legacy looks to be a competitive choice for buyers seeking decent fuel economy wrapped up in an all-wheel-drive package. And adding lots of standard safety features to the mix increases the Legacy's appeal. However, we're not sure the company's whiz-bang infotainment system is a positive step forward.
We look forward to testing our own Legacy when it goes on sale this fall.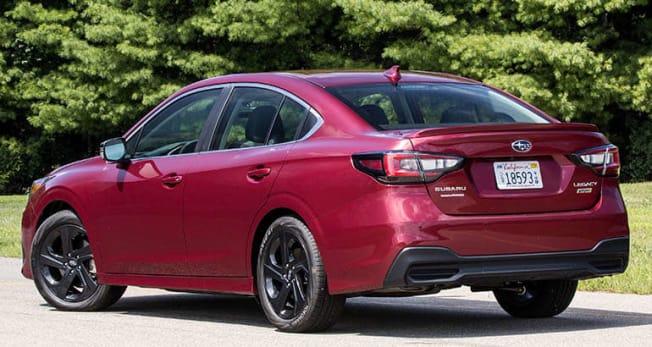 About the cars we rent: Consumer Reports tests only the cars that we purchase. We pay automakers on occasion to drive early or different versions of cars we may ultimately buy (we don't borrow press cars free of charge, as many other publications do), but those impressions are never part of the 50-plus-evaluation regimen that we put our purchased cars through.