Best Apple HomeKit Devices for Your Smart Home
Top-rated security cameras, smart locks, smart thermostats, and more that work great with Apple's smart home ecosystem
When you shop through retailer links on our site, we may earn affiliate commissions. 100% of the fees we collect are used to support our nonprofit mission. Learn more.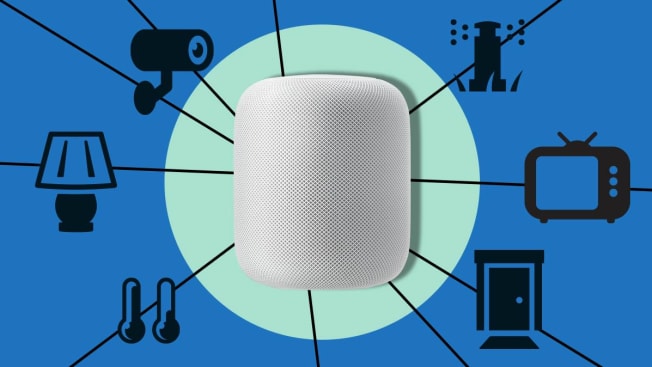 Compared with rivals Amazon Alexa and Google Assistant, which each support tens of thousands of smart home devices, Apple HomeKit is more limited.
"There are fewer devices available in the HomeKit ecosystem, so finding something that offers the functionality you want might be more difficult," says Bernie Deitrick, one of CR's multiple test engineers for smart home products.
But we've got you covered. To help you find the best HomeKit-compatible smart home devices, we rounded up the top-performing models, based on hundreds of hours of testing, from our ratings of smart speakers, security cameras, smart thermostats, smart locks, smart sprinkler controllers, and more.
HomeKit, which consists of Apple's Home app and Siri digital assistant, allows you to integrate different smart home devices: Tell Siri "good morning" and have it turn on the lights, raise the blinds, and start playing your favorite morning playlist.
If you're considering a device you don't see here, check our ratings to see if they work with Apple HomeKit and how well they perform in our tests. For step-by-step instructions on connecting your devices, check out our guide for using Siri to control your smart home. And if you're looking for ideas about how to put these devices to work, see our exhaustive smart home toolkit.
Free video storage: 7 days
Optional subscription costs: 30 days of cloud video storage for $3 per month for one camera or $10 per month for five cameras; 24/7 continuous video recording costs $10 per month per camera for 14 days and $20 per month per camera for 30 days
CR's take: The Arlo Pro 2 offers superb video quality, and Arlo cameras are the only models in our ratings with Excellent Smart IQ ratings, which means they offer a wide array of smart features compared with the competition, including a siren, voice control via Apple HomeKit/Siri (as well as Amazon Alexa and Google Assistant), a rechargeable battery, and a rolling seven days of free storage for motion- and audio-triggered video clips (a perk that the other Arlo cameras in our ratings lack). The Pro 2 also receives a great data security score, but its data privacy could be better. With an Arlo Smart plan, you can get more video storage as well as monitoring zones; person, package, vehicle, and animal detection; and e911, which allows you to contact your home's local 911 dispatcher from the Arlo app. If you don't want to pay a monthly fee for video storage, you can connect a USB drive to the base station and store footage there instead.
Professional monitoring: Optional
Monitoring cost: $20 per month or $200 per year
What's in the box: A base station, motion sensor, contact sensor, and key fob
CR's take: The Abode Essentials Starter Kit is a superb home security system, with strong scores in all our tests. And it's one of few systems to rate Very Good for its breadth of security add-ons, such as its acoustic glass break sensor, $59, and smoke alarm monitor, $58. It works with Apple HomeKit/Siri for voice control (as well as Amazon Alexa and Google Assistant), and functions as a smart home hub for lights, thermostats, and more. It also works with the Abode Cam security camera, $150, which will automatically record when the alarm goes off.
Abode offers two plans that add more features and professional monitoring. The Standard plan costs $6 per month or $60 per year and adds seven days of cloud video storage for cameras, the ability to automate connected smart home devices, and geofencing, a feature that arms and disarms your alarm by sensing when your phone is within the perimeter that you set around your home. The Standard plan does not include professional monitoring. The Pro plan costs $20 per month or $200 per year and offers the same features, and adds 30 days of cloud video storage, professional monitoring, cellular backup, and video alarm verification. Additional contact sensors and motion sensors cost $38 and $55, respectively.
CR's take: The Ecobee Smart With Voice Control EB-STATe5-01 blends a simple interface with plenty of bells and whistles for precise programming. The thermostat learns your heating and cooling habits, and adjusts its programming accordingly. It has a single remote sensor to place in a lesser-used part of the house. When the sensor detects activity, the thermostat averages the temperatures at the sensor and the thermostat itself to heat or cool your home to uniform temperature. This marks an improvement, our testers note, over earlier generations of Ecobee thermostats, where sensing behavior was inconsistent. In addition to supporting Apple HomeKit/Siri, this thermostat also works with Amazon Alexa, Google Assistant, and Samsung SmartThings.
CR's take: The Yale Assure Lock SL uses its sister company August's smart lock platform, complete with an almost identical smartphone app that simply uses Yale branding instead. That means it offers many of the same features as August smart locks, including remote control, an access log, voice control via Amazon Alexa (as well as Apple HomeKit/Siri and Google Assistant), electronic keys, and a door open/close sensor. This lock also comes with Yale's version of the August Connect WiFi adapter, $79, which is needed to use all those features, at no extra charge. In our tests, the Yale Assure Lock SL receives a Very Good rating for its resistance to drilling. It's also impossible to pick because it's keyless, and it's very resistant to kick-ins as sold.
CR's take: The Rachio 3 8ZULW-C is a solid sprinkler controller with an Excellent rating for WiFi setup and a Very Good rating for weather responsiveness. It receives only a Good rating for convenience, though, because the wiring instructions are unclear, and it lacks a backup battery and weatherproof casing.

This particular model works with up to eight sprinkler zones; a 16-zone version is also available for larger systems. In addition to app controls, this Rachio also features manual controls on the device itself and voice control via Apple HomeKit. A weatherproof enclosure is sold separately for $29.
CR's take: For a smart smoke/CO detector that connects directly to WiFi, check out the First Alert Onelink Smart 1042135. This model receives strong scores in our tests for high CO levels, low CO levels, and smoldering fires. However, it performs poorly in our flaming fire test because it lacks an ionization sensor. If you go with this detector, you may want to also consider purchasing a battery-powered ionization smoke detector, such as the Kidde RF-SM-DC. This First Alert comes in both battery-powered and hardwired versions, can interconnect with other compatible detectors, and works with Apple HomeKit/Siri as well as Amazon Alexa for voice control.
CR's take: If you want to control your HomeKit devices without fumbling for your iPhone or iPad, you'll want to get an Apple HomePod smart speaker. The speaker features Siri and offers terrific sound quality, receiving a rating of Very Good in our test. It's not as versatile as competing smart speakers though, as it only works with one music streaming service (Apple Music, of course) and it lacks audio ports and a microphone mute button.