How to Use Google Assistant to Control Your Smart Home
You can use your smart speaker with Google Assistant as a smart home hub to operate connected devices with your voice
When you shop through retailer links on our site, we may earn affiliate commissions. 100% of the fees we collect are used to support our nonprofit mission. Learn more.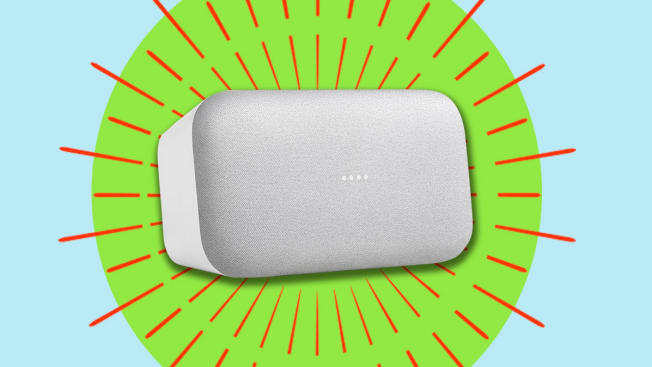 If you own a Google Assistant smart speaker like the Google Home, JBL Link 300, or one of many other Google Assistant speakers popping up on the market, you probably use it to play music, make grocery lists, or hear the news.
If you own a Nest Learning Thermostat, August Smart Lock Pro, Netgear Alro Pro 2 security camera, or one of over 10,000 other internet-connected smart-home devices, you can control them with just your voice via Google Assistant.
For example, you could say "Okay Google, lock the front door," and the speaker will lock the door without you even having to be in the same room.
While voice control sounds simple and natural, the setup process to enable it can be frustratingly complex.
Connecting and Organizing Your Devices
If your smart-home device's packaging or manual displays a "Works with the Google Assistant" badge, follow the steps below to connect it and organize it in a room.
Step 1: Open the Google Home app on your Android or iOS device.
Step 2: Go to the Home menu and tap the "Add" button in the row of circular icons underneath your home name.
Step 3: Tap "Set up device," followed by "Have something already set up?" under Works with Google. You'll also see a "Set up new devices" button, but that oddly named option is only for setting up Google Assistant and other "Made for Google" devices.
Step 4: From here, you'll see a long alphabetical list of device brands. Use the search bar at the top of the screen to find the brand you're looking for.
Step 5: Tap on the brand name and sign in to your device account, which will connect that account to the Google Assistant.
Step 6: Once connected, select the device (or multiple devices) linked to that account that you wish to add to Google Assistant.
Step 7: Choose a home (you can have multiple in the Google Home app) and a room for the device. The app will even offer a list of common room names you can use.
To make your smart-home devices truly smart, it helps to automate them so they perform useful or practical actions for you. You can set them up to make these changes based on the day/time or using voice commands.
For example, you could automate your devices so that when you say "Hey Google, goodnight," your lights turn off, your front door locks, and your thermostat turns down for the night.
You can create these automations through a Google Assistant feature called Routines. Unlike similar features for Amazon Alexa and Apple's Siri, Google Assistant Routines require you to include a verbal command even though the routines can be triggered by day/time. The Routines feature is buried in the Google Home app, but these steps should get you there.
Step 1: To get to Routines in the Google Home app, tap the bottom-right Profile button, followed by "More settings" listed under Google Assistant. Then tap on the Assistant tab and select Routines.
Step 2: Here you can choose to use either ready-made routines that you can adjust to your liking or create completely custom routines by tapping the blue "+" button at the bottom-right. For help creating custom routines, proceed to Step 3.
Step 3: On this screen, you'll be asked for a command (as well as an optional day/time), at least one action, and media if you want the routine to play music, podcasts, etc. Tap "Add commands" and type in a command, then tap "Save." Tap "Set a time and day" and fill in the fields if that feature is desired.
Step 4: Tap "Add Action" and either type a command as you would speak it or choose from a list of popular actions by tapping "popular actions." From the Popular Actions list, you can select "adjust lights, plugs, and more," "adjust thermostat," or "adjust scene." The settings cog button to the right of each will allow you to select devices (or scenes) and the changes to those devices/scenes that you want the routine to make.
Step 5: When you have finished fine-tuning your action(s), tap the "Add" button. Repeat Steps 4 and 5 until you have added all the actions you would like. When finished, move on to Step 6.
Step 6: If you would like your routine to play some type of media, tap "Add Media" and select the type of media (music, radio, news, audiobooks, etc.). You can select the exact song, station, book, etc. by tapping the settings cog button to the right of the media type. When finished, tap the "Add" button.
Step 7: Once you've finished customizing your routine, tap "Save" at the top-right of the screen to finish the setup process.
Now you can call up your routine simply by asking Google, or it can be triggered by your chosen time of day. As you create more routines and connect more devices, your home can be smarter and more convenient.