Best Smart Speakers Under $200
These inexpensive models from Amazon, Apple, Google, and Sonos provide performance that belies their price
When you shop through retailer links on our site, we may earn affiliate commissions. 100% of the fees we collect are used to support our nonprofit mission. Learn more.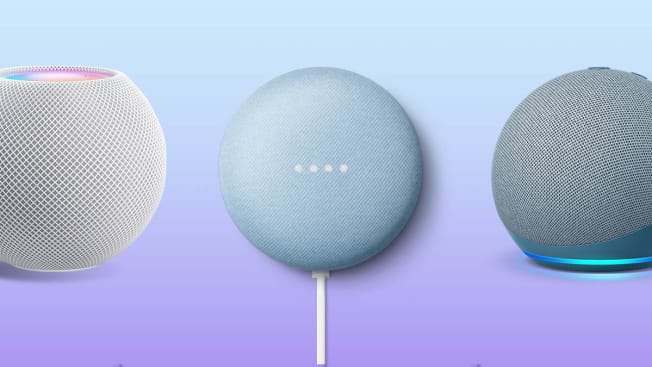 Want to hear a secret about smart speakers? The speaker itself doesn't have to be particularly smart.
When you ask your speaker to shuffle the latest Lizzo album or tell you the capital of Bolivia, that artificial intelligence magic happens on the company's servers rather than inside the speaker box sitting on your kitchen counter or family room shelf.
Outsourcing these functions to the cloud allows an inexpensive smart speaker to do most smart functions just as well as a pricier top-of-the-line model.

But research shows that most smart speakers spend most of their time simply playing music, which is why our testers place heavy emphasis on sound quality when testing these devices in our dedicated sound labs.
Here are eight modestly priced models that offer a great balance of value and smart speaker performance, with sound quality that ranges from acceptable to darned good.
To learn more about these high-tech devices, check out these 21 smart speaker superpowers and how to set up your smart speaker for privacy.
The latest iteration of Amazon's Echo features not only revamped styling (say goodbye to that old Pringles potato chip can look) but also better sound and additional capabilities.

The bass is strong but slightly boomy, and the device has enough volume to fill a medium-sized room. Our testers also found that two orb-shaped Echos sound very pleasing when paired in stereo, with a significant you-are-there appeal. As with all Amazon models, the new Echo can be used as part of a multiroom system with other Amazon smart speakers.
The new integrated Zigbee smart home hub used to be exclusive to the Echo Plus. The feature allows the Echo to talk directly to many Zigbee-compatible devices, such as Philips Hue smart bulbs and some Yale smart locks and Honeywell thermostats, without using an app.
The latest Dot also features new styling, channeling the spherical look of its larger sibling. More important, it features better sound, and with a frequently discounted $50 price, it remains the cheapest way into the Amazon ecosystem.
The sound quality of the newest Dot still isn't the best, but our testers found it to be significantly improved over earlier versions, some of which sounded a lot like a bad telephone connection. The 4th generation model is fine for listening to podcasts or low-level background music in a small room, but if you're going to spend a lot of time listening to music, you might consider the more expensive but significantly better-sounding Echo. The Dot can also serve as an inexpensive way to place smart speakers throughout your home or add smart speaker functionality to a good-sounding Bluetooth speaker you already own.
Note that there's also an Echo Dot Kids Edition, complete with a happy panda or tiger face on the cloth covering. But consumer groups have filed a complaint with the Federal Trade Commission arguing that the previous-generation model violates the federal privacy law governing data collection on children under 13, and those concerns remain an issue with the new version.
The HomePod Mini provides a relatively low-priced entry into the Apple ecosystem. It's a solid option for controlling services such as Apple Music and smart home products that are part of Apple HomeKit. The Mini allows voice control of other music services, including Pandora and iHeart Radio, and can even integrate with Apple CarPlay in your vehicle. For instance, you can ask for driving directions while making coffee in the morning, then send your chosen route to your car before leaving home.
In terms of sound quality, however, our testers found that the Apple HomePod Mini rates significantly lower than the comparably priced Amazon Echo or Nest Audio. Indeed, its somewhat congested sound is closer to that of the much cheaper Echo Dot or the Google Nest Mini, albeit with a fuller bass. Like those speakers, the HomePod Mini is okay for podcasts or background music in a small room but not ideal for playing your favorite tunes. Unlike those devices, the HomePod Mini can't solve the problem by being paired via Bluetooth with a better-sounding wireless speaker.
The HomePod Minis is designed for the consumer who's deeply immersed in the Apple world and doesn't mind paying a bit of an Apple tax for a $100 smart speaker that's sonically closer to $50 models.
The Nest Audio has undergone a visual transformation, with its new rounded rectangle form replacing a predecessor that resembled an air freshener. Under that new skin resides an all-new speaker design, with a separate tweeter and woofer replacing the single driver of the outgoing Google Home.
Some people prefer Google Assistant to Amazon's Alexa, but it comes down to personal preference. Alexa smart speakers have a wider variety of skills, but some users find Google's search to be smarter than Alexa's Bing-driven brain and Google's voice-recognition features to be more natural and easier to use.
Though the company has touted the Nest Audio's sonic performance, our testers found that the gains in sound quality are modest. The Nest Audio has enough volume for a midsized room, but the midrange is a little hazy and there's some sizzle in the high frequencies. Overall, however, the sound is satisfying, especially for the money.
If you're looking for a cheap way into the smart speaker world—or an inexpensive gift—the Google Home Mini could be the ticket. For only $50 (and sometimes half that price when it's on sale) the Nest Mini gives you access to Google Assistant, which features strong search capabilities. Compared to Alexa, however, Google Assistant supports fewer third-party skills and its shopping functions are less robust.

One place where the cost trade-off is quite apparent with the Nest Mini is sound quality. Though the tiny speaker is fine for spoken-word content such as podcasts, our testers found that it's not really good enough for enjoyable music listening. One option: You can impart smart speaker functionality to an existing wireless speaker by pairing it with a Nest Mini.
With a rechargeable battery and compact portable design, the Roam is a versatile smart speaker that can also add capabilities to an existing Sonos system. Like the much more expensive Move, the Roam features Bluetooth connectivity, so you can stream music easily from a smartphone. It also allows you to stream your favorite playlist from your phone to other Sonos speakers throughout your home simply by connecting the Roam to your multiroom system via the Sonos mobile app. The Roam is also compatible with Amazon's Alexa, Google Assistant, and Apple AirPlay.

The Roam is quite small and claimed to be water-resistant, which makes it the rare Sonos smart speaker you'd toss into a backpack and take to the beach.
While the Roam sounds fine for a small portable speaker, the audio quality falls short of the model's larger siblings. According to our testers, the bass has decent impact for a speaker this size, but the midrange is a bit congested and the sound can get harsh at max volume. In short, the sound quality is competitive with other compact portable models, but it falls well short of the sound of the Sonos One (which now sits just a bit above our $200 price cutoff) and the Ikea Symfonik Bookshelf Speaker, which is considerably less expensive but isn't a smart speaker.