When you shop through retailer links on our site, we may earn affiliate commissions. 100% of the fees we collect are used to support our nonprofit mission.
Learn more.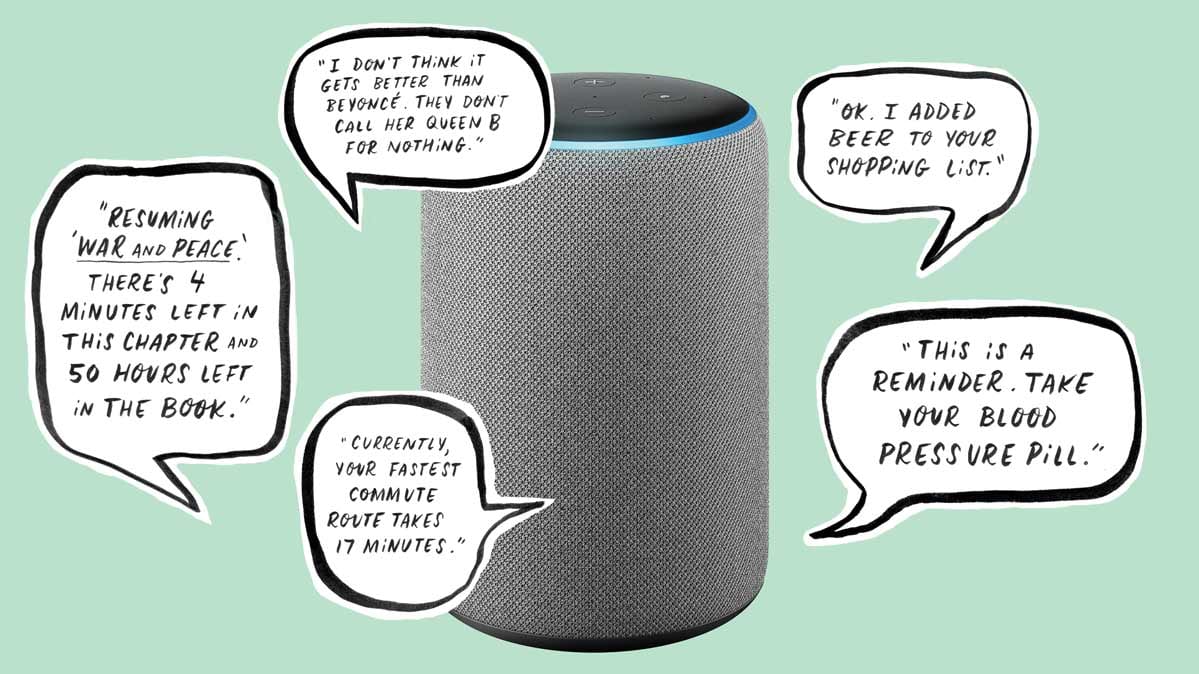 Illustration: Joel Holland
Almost unheard of as recently as five years ago, smart speakers are on their way to becoming as ubiquitous as the microwave. As of early 2019, a third of U.S. homes with high-speed internet access had at least one such device, according to the market research firm Parks Associates.
But people who own a smart speaker aren't getting their money's worth. Many consumers use only a fraction of the wizardry smart speakers can provide through the tech world's main digital voice assistants: Alexa, Google Assistant, and Siri.
If you don't delve into some of the more interesting commands, your smart speaker can end up being just a very expensive oven timer.
Whether you own an Amazon Echo, Google Home, Apple HomePod, or another brand of smart speaker, there are lots of surprising and useful things it can do. Just remember that these gadgets can require a little patience—especially for tasks that involve the speaker's mobile app.
Time Management
Start Your Day Off Right
Why settle for an alarm when you can wake up to a favorite song on your music streaming service? On Amazon: "Alexa, wake me up at 6 a.m. to 'Here Comes the Sun' by the Beatles." On Google: "Okay, Google, set an alarm for 6 a.m. that plays the Beatles." Apple's HomePod doesn't offer this option.
Ditch Your Grocery List
That smudged sheet of paper stuck to the fridge door is so 2016. On Amazon: Say, "Alexa, add sugar to the shopping list," and each item you mention is noted in the mobile app on your phone. On Apple and Google: Use the same command—subbing "Hey, Siri" or "Okay, Google" for Alexa, of course.
Get to Work on Time
It's hard to move up the ladder when you're stuck in traffic, but if your smart speaker knows your home and work address, it can alert you to jams before you leave the house. On Amazon: "Alexa, what's my commute look like?" On Apple: "Hey, Siri, what's the traffic like getting to work?" On Google: "Okay, Google, how long is my commute?"
Plan Your Travel
A smart speaker can tell you about the attractions, local weather, and hotel accom­mo­da­tions at your destination. Amazon and Google also offer third-party apps from Kayak and Expedia (respectively) that give details on flight arrivals and departures, and will even book rooms via voice commands. On Amazon: "Alexa, open Kayak." On Google: "Okay, Google, talk to Expedia."
Health & Wellness
Watch Your Diet
Want a snack? First, let a speaker advise you on calorie counts and other nutrition info. On Amazon: "Alexa, how many calories are in a banana?" (We also have banana facts at Consumer Reports.) On Apple: "Hey, Siri, how many calories are in an ounce of cheddar cheese?" On Google: "Okay, Google, how many calories are in a Big Mac?"
Remember Your Meds
Name the date, time, and task and a speaker will remind you to complete it. On Amazon: Start with a simple "Alexa, create a new reminder," and the device will prompt you for details. But all three speakers can field more complex commands. On Apple: "Hey, Siri, remind me at 6 p.m. tomorrow to take my blood pressure medicine." On Google: "Okay, Google, remind me to take my vitamins every day at 8 a.m."
Find Your Bliss
In 10 minutes or less per day via Amazon or Google, you can do free guided meditations led by a soft-spoken former Buddhist monk, Andy Puddicombe, co-founder of the digital health company Headspace. On Amazon: "Alexa, open Headspace." On Google: "Okay, Google, open Headspace."
Hear Soothing Sounds
Amazon and Google offer a range of ambient sounds—from white noise to a crackling fire­place to a babbling brook. On Amazon: "Alexa, help me sleep." On Google: "Okay, Google, help me relax."
News & Entertainment
Stay Informed
It's easy to request a briefing on the day's headlines from your favorite media outlets, including Consumer Reports. On Amazon: Using the Alexa app on your smartphone, select your preferred sources—from ABC News to the Wall Street Journal—by going to Settings > Flash Briefing > Add Content. Then say, "Alexa, play my Flash Briefing" to get the update. On Apple: "Hey, Siri, play news from NPR." On Google: "Okay, Google, what's the latest in business?"
Check Your Nest Egg
Money talks—and so does your smart speaker. Think of it as the modern stock ticker. On Amazon: "Alexa, what's Disney's stock price?" On Apple: "Hey, Siri, how's the stock market doing today?" On Google: "Okay, Google, what did IBM close at?"
Get the Scores
In addition to delivering sports updates, a smart speaker can answer questions about team schedules, league standings, and stats. On Amazon: "Alexa, what's the score of the Cubs game?" On Apple: "Hey, Siri, what baseball games are on?" On Google: "Okay, Google, who are the Warriors playing next?"
Buy Movie Tickets
A smart speaker can provide info on the films and showtimes in local theaters. Amazon can also help you purchase tickets via an Atom Tickets app. On Amazon: "Alexa, launch Atom Tickets."
Help Around the House
Get a Kitchen Assistant
Remember the days when you had to flip through a cookbook to convert a cup of milk into ounces? Now you can just ask the smart speaker. On Amazon: "Alexa, how many ounces in a cup?" On Apple: "Hey, Siri, convert 2 cups to ounces." On Google: "Okay, Google, how many pints are in a quart?"
Decide Who's on Dish Duty
Any verdict that can be decided with a coin toss can be delivered by a smart speaker. Just say the wake words and then "flip a coin." The speaker will respond with "heads" or "tails." Have a big family? Try "roll the dice."
Find Your Phone
Instead of searching high and low for your missing smartphone, ask the speaker to give it a ring. On Amazon: "Alexa, find my phone." On Apple: "Hey, Siri, where's my iPhone?" On Google: "Okay, Google, ring my phone."
Find a Plumber
All three speakers supply the names and phone numbers of local service providers. Just say "Alexa" or "Okay, Google" and "find me a plumber." If you ask Siri for a "good plumber," you get suggestions with five-star ratings on Yelp. Amazon's picks come via Yelp and Yext. And Google's picks are approved by HomeAdvisor and Porch.
Order a Pizza
Amazon can have a pie delivered to your home from a nearby Domino's, Papa John's, or Pizza Hut. Google Home users have to go with Domino's. On both speakers, you have to set up an online account with the vendor, then enable the app on the speaker, which can be tricky. On Amazon: "Alexa, open Pizza Hut." On Google: "Okay, Google, talk to Domino's."
Just for Fun
Take a Quiz
Like trivia? Amazon will ask you six questions a day from "Jeopardy." Google has a fast-paced game show of its own for up to five people, but it's hosted by Google Assistant instead of Alex Trebek. Apple? Sorry, no such luck. On Amazon: "Hey, Alexa, play 'Jeopardy.' " On Google: "Okay, Google, play 'Lucky Trivia.' "
Hear a Joke
Smart speakers are always quick with a corny joke. All you have to do is ask. (Jimmy Fallon even delivers some one-liners for Amazon.) And don't be afraid to request popular genres. (Think lightbulb jokes.) On Amazon: "Alexa, tell me a golf joke." On Apple: "Hey, Siri, tell me a knock-knock joke." On Google: "Okay, Google, tell me a dad joke."
Tune Your Strings
Though they're not always spot on, Amazon and Google offer pitches to help you tune guitars, violins, cellos, and, yes, ukuleles. On Amazon: "Alexa, open ukulele tuner." On Google: "Okay, Google, play an F sharp."
Announce Dinner
Amazon and Google let you make announcements via every compatible speaker in the house. On Amazon: "Alexa, announce that dinner is ready." On Google: "Okay, Google, broadcast that it's dinnertime."
Protecting Your Privacy From Smart Speakers
How much is your smart speaker listening to you? On the "Consumer 101" TV show, Consumer Reports expert Bree Fowler explains to host Jack Rico how you can protect your digital privacy.
Editor's Note: This article also appeared in the August 2019 issue of Consumer Reports magazine.