Is It Time to Consider a OnePlus Smartphone?
The manufacturer says the new models promise faster charging and better cameras Never heard of OnePlus? You're not alone.
The Chinese smartphone maker has largely flown under the radar since first coming to America in 2014. In terms of name recognition and market share in the U.S., it distantly trails the likes of Apple and Samsung.
But all that may be changing. While challengers such as LG, Sony, and even Google have failed to gain much traction in the battle for consumer attention, OnePlus has found some success as the Android alternative to Samsung.
The company has a small but growing fan base in the U.S. While the overall smartphone market sagged last year, dropping a combined 15 percent largely as a result of the ongoing pandemic, demand for OnePlus devices more than doubled, according to data from Counterpoint Technology Market Research.
Upgraded Charging, Displays, and Cameras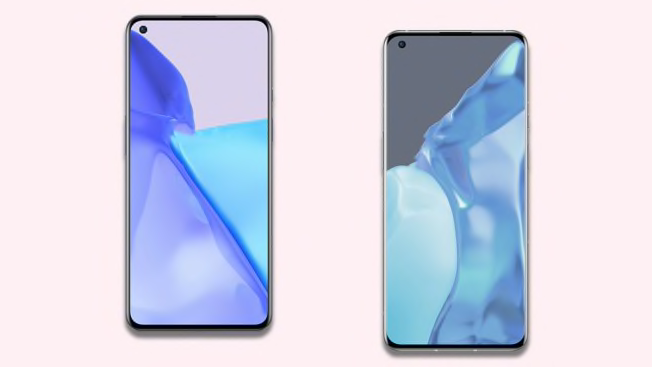 Faster charging: When it comes to powering up, Fisco says the OnePlus phones rate among the fastest on the market. And the company claims that its improved Warp Charge 65T technology can fully power up the 4,500mAh battery in the two new phones in just 29 minutes, provided you use the included cord and wall adapter.
For those who prefer slower wireless charging but with less hassle, the company also has a new stand charger, sold separately, that will fully power the 9 Pro in just 50 minutes. For the OnePlus 9, there's less benefit here. It works with any Qi-standard charger (the nearly universal option) but maxes out at 15W and isn't compatible with the manufacturer's Warp Charge wireless technology.
I tried the wired and wireless options and was impressed by how much battery life I could get in just a few minutes. My kids have a habit of draining devices at the worst time, usually right before we need to head out somewhere. But just a few minutes of Warp Charge usually provided enough juice to keep them happily streaming and gaming for a few hours.
Smooth and bright displays: The 9 and 9 Pro both feature large OLED displays. The technology, used in high-end TVs, is known for offering blacker blacks and nearly unlimited viewing angles.
The display on the 9 measures 6.6 inches diagonally. The one on the 9 Pro is 6.7 inches. And both have a fast 120hz refresh rate, which makes quickly scrolling through social media and websites less choppy and offers a better mobile gaming experience.
While the display of the 9 is flat across, the 9 Pro's is curved at the edges, like those on many Samsung phones. That gives the user just a sliver more display space without making the phone bigger, though sometimes it can be tough to tap on icons or text on those edges. But OnePlus says it has improved the design to be less pronounced and reduce those missed touches.
In the case of the 9, OnePlus says it has boosted brightness to a maximum of 1,100 nits (a measure also used in TVs). That level of brightness improves picture quality when, say, you're watching an HDR video with shadowy scenes.

The 9 Pro features a new low-temperature polycrystalline oxide (LTPO) technology used in OLED displays. It's designed to help cut display power consumption by 50 percent.
OnePlus says LTPO helps optimize the display's refresh rate, depending on the activity. For example, the refresh rate might jump to 120hz if you're gaming, then drop to the single digits when you're just viewing a still photo, cutting down on power consumption.
New cameras: If there's one area where OnePlus phones have significantly lagged the competition, it's cameras. While the 8 and 8 Pro received ratings ranging from Good to Very Good for their setups, they significantly trailed the pack overall, especially when compared with premium smartphone models.
But the company says the 9 and 9 Pro feature new Sony cameras that focus faster and deliver better color accuracy. While the rear-camera setup of the 9 includes a regular wide and 0.6x ultra-wide camera, the 9 Pro adds a 3.3x optical zoom boosted by optical image stabilization for sharper shots. There's also a separate monochrome camera that adds detail to black and white shots.
I took the 9 Pro to my son's hockey game and found the 3.3x camera very handy. While, admittedly, 6-year-olds don't skate very fast, it was easy to keep track of the action. The footage I shot from the stands was clear and smooth, despite the fact that I didn't have a tripod or anything to brace myself against.
On top of the hardware changes, OnePlus recently entered into a three-year partnership with the camera and lens manufacturer Hasselblad. And the first fruit from that deal is Hasselblad Pro Mode. The camera mode, featured on both phones, gives experienced photographers the ability to highly customize settings like brightness, exposure time, and white balance.
Speedier processor: Both phones are powered by Qualcomm's latest premium processor designed for 5G connectivity, the Snapdragon 888. That's the same engine behind the Galaxy S21 phones, which all received Excellent ratings for performance.
So How Do They Measure Up?
We won't know for sure how good these phones actually are—particularly in comparison with other models—until we buy retail versions and get them into our labs. Look for test results a few weeks after the models go on sale next month.
While the new phones should get a boost from their fast charging speeds and 120hz refresh rate, which will appeal to gamers, Fisco says their final standing in the ratings will likely hinge on how well the cameras perform.
While we wait on those test results, we compared the prices on the phones with those of their rivals. And the gap between the OnePlus offerings and those of its closest competition—specifically Samsung's Galaxy S21 models—has narrowed since Samsung cut the prices on this year's models by $200.
The starting version of the OnePlus 9, which comes with 128GB of storage, will cost you $730, while a Galaxy S21 with the same amount of storage will run you $800. And that phone includes a 3x rear camera, while the 9 does not. The 9 Pro, which does include a 3.3x rear camera, starts at $970 for a 128GB version.
Of course, there are other factors to consider, notably that super-convenient Warp Charge capability. Speaking from experience, it's a tough feature to give up once you get used to it.