Best Black Friday Deals on Apple Watches, Fitness Trackers, and Other Wearables
Here's where to go for the best prices on models from Apple, Fitbit, and Garmin
When you shop through retailer links on our site, we may earn affiliate commissions. 100% of the fees we collect are used to support our nonprofit mission. Learn more.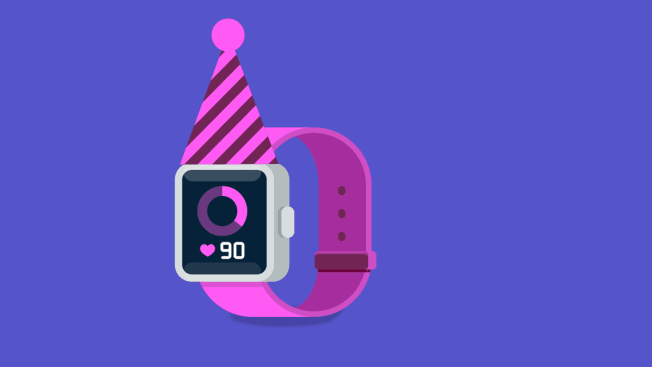 If you're looking for the proverbial gift that keeps on giving all year long, consider a smartwatch or fitness tracker. 
Today's models are great at collecting basic exercise information, such as heart rate and step counts. And trackers are increasingly adding functions, like sleep tracking and even EKG monitoring, that make them useful outside the gym. Smartwatches take things a step further, allowing you to take phone calls and answer e-mail, Dick Tracy-style.

The Apple Watch has become something of a style icon, too, and while the newer models aren't heavily discounted, we've discovered an older model on sale for only $109 (see the list below), so you can make a statement—and answer your texts—without much outlay.
It's a somewhat different holiday shopping season this year. For a number of reasons, including a worldwide chip shortage and concerns about shipping delays, many retailers have been rolling out deals all month long. There also seems to be less price competition among retailers.
Bottom line: It's okay to pounce on a good offer at any time. Best Buy, Target, and Walmart now boast of a price-matching policy, so if you do find a better deal somewhere else—even later in the month—your store of choice may well honor it. Just be sure to hold on to your receipts.
An Apple Watch for just over $100? Walmart is slashing the price of the Series 3 in half. Now, the Series 3 isn't as refined a product as Apple's later models. It has a slightly slower processor, for one. But the watch handles basic functions like texts, email, and fitness tracking quite admirably. And at this price, you're looking at a relatively versatile smartwatch for the cost of a fitness tracker.
In terms of sheer functionality, the SE probably sits at the sweet spot of Apple's smartwatch lineup. It has the look and feel of Apple's top-of-the-line watches, the outgoing Series 6 and the new Series 7, and most of the important functionality. The major differences? No blood oxygen and EKG functions, a slightly slower processor, and a smaller display than that on the 7. In our labs, the SE performs on a par with its more-expensive siblings, too.
CR's test results: Apple Watch SE
Yes, the Apple Watch Series 6 has been replaced by the newer Series 7, but it's still a great option, especially at a nice price. With the Series 6, you get most of the Series 7's top features, including a blood oxygen sensor that lets you see how effectively your body circulates oxygen during workouts and slumber, and an EKG function designed to detect unusual heart rhythms. The Series 6's display is smaller, however.

CR's test results: Apple Watch Series 6
If you want to brag to friends that you got a deal on the latest Apple Watch, Amazon, Sam's Club, and Walmart are offering token discounts of $15 to $20 on the Series 7. The model has a slightly larger display and faster battery charging than its predecessor, but there's no big reason to upgrade beyond that.
CR's test results: Apple Watch Series 7
The Sense is the first Fitbit smartwatch aimed at stress management. The extradermal activity sensor tracks minute electrical currents on your skin that are linked to stress. Like watches from Apple and Samsung, the Sense has an electrocardiogram function that is said to flag irregular heartbeats. In our testing, the Sense proved to be solid at step counting, though it didn't do as well as other models when it comes to tracking heart rate. This deal, which runs through Nov. 26, includes $60 in Kohl's Cash, which can be used on other holiday purchases.
CR's test results: Fitbit Sense
Sleeker than its predecessor, the inexpensive Versa 2 smartwatch features a bright AMOLED display and a microphone that lets you use voice commands to access the built-in Amazon Alexa digital assistant. The model receives praise from our testers for being easy to use and read in both bright and low light. It's also great at tracking steps and heart rate. The deal runs from through Nov. 26 and includes $30 in Kohl's Cash to use on other holiday purchases.
CR's test results: Fitbit Versa 2
If your gift-getter is a runner, the Versa 3 is a solid smartwatch choice because it has built-in GPS capability. The speaker and the mic allow you to take calls when the watch is tethered to your smartphone. Our testers found the model's step counting and heart rate monitoring to be solid, too. The deal at Kohl's runs through Nov. 26 and includes $45 in Kohl's Cash.

CR's test results: Fitbit Versa 3
Loaded with features and style, the Luxe is a fitness tracker that drifts into smartwatch territory. In addition to Fitbit's robust array of fitness functions, the model adds an EKG function usually found on smartwatches and some stress-monitoring features. The slim, sleek, and shiny case works as well in the office as the gym. The deal at Kohl's runs through Nov. 26 and includes $30 in Kohl's Cash.

CR's test results: Fitbit Luxe
Fitbit's top-of-the-line tracker adds smartwatch-like functions for stress management and EKG monitoring to the manufacturer's usual array of fitness features. The model has a color display and a stainless steel case, both upgrades from the Charge 4. The Charge 5 is very easy to use, solid at counting steps, and okay at heart rate accuracy. The $180 price is just a bit steep, and this $50 discount helps with that. The Kohl's deal runs through Nov. 26 and includes $30 in Kohl's Cash.
CR's test results: Fitbit Charge 5
Before the Charge 5 was released, the Charge 4 was Fitbit's top-of-the line fitness tracker, and it still delivers on the manufacturer's core fitness tracking functions. It doesn't have a color display or functions for EKG and stress monitoring, but it's quite easy to use and provides reasonably accurate heart rate and step counts, as well as a battery that can last as long as a week.
CR's test results: Fitbit Charge 4
This slim, inexpensive tracker offers features such as sleep tracking. The reasonably small screen may send you to the manufacturer's app in search of more detailed fitness data, but our testers found the heart rate monitoring and step count to be reasonably accurate. The model doesn't have GPS, though, which makes it less useful for runners looking to keep track of their mileage.
CR's test results: Garmin Vivosmart 4