Apple Watch Series 4: Final Test Results
CR evaluates this smartwatch's step counting, heart-rate tracking, durability, and new features
When you shop through retailer links on our site, we may earn affiliate commissions. 100% of the fees we collect are used to support our nonprofit mission. Learn more. The Apple Watch Series 4 gets a big thumbs-up from Consumer Reports' testers, thanks to its growing arsenal of useful features coupled with accurate tracking and durable design.

Like other top models from Samsung, Fitbit, and Garmin, the new Apple watch excelled in our heart-rate and step-tracking tests. But the Apple Watch Series 4 also distinguished itself with expanded sports-tracking capabilities and a new sensor that one day soon will allow the watch to take an electrocardiogram (ECG), a recording of your heart's electrical activity.
Apple also managed to stretch the screen toward the edges of the watch face, creating a bigger display for texts, emails, and photos—all while keeping the watch itself relatively similar in size to the Apple Watch Series 3 models.
Restyled look: The watch face is not only bigger but also flatter, making it less bulky. And, thanks to sleeker bezels, there's no big, black border surrounding the enlarged display (shown below.)
The difference in size is noticeable right away. I found I could read emails and texts easier. And when I viewed texted pictures of my young nephews, I could now tell who was who. But I have pretty good close-up vision. People who wear reading glasses might still have trouble reading the display without them.
And, like earlier models, the Apple Watch Series 4 is a champ when it comes to readability in bright and low-light situations.
ECG sensor: Apple has yet to turn on this feature—the company says it will happen later this year—so we weren't able to check it out. Once it's live, though, users will be able to take their own electrocardiogram, store the readings in Apple's Health app, then send them to their doctor. But, though the feature has been cleared for use by the Food and Drug Administration, it's not intended for use in monitoring people diagnosed with a cardiac condition.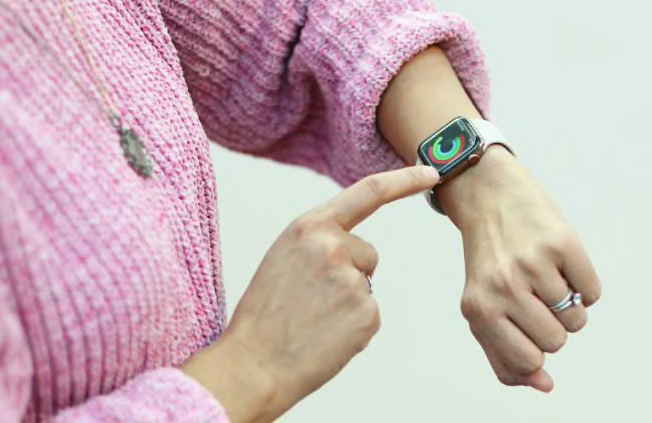 Fall detection: The watch's improved gyroscope and accelerometer can be used to detect when a user falls, trips, or slips, Apple says. The watch will also contact emergency services and notify an emergency contact at your request.
The feature, which is automatically enabled for users 65 and older, proved difficult to test with any rigor, because it's hard to simulate realistic spills. We were able to intentionally trigger an alert once, though, with a fairly intense simulated fall. And we accidentally triggered another alert when a tester tossed the watch into a plastic storage bin. We did not involve emergency responders in either case.
More sports tracking: The watch's Workout app will now track activities such as yoga and hiking, and it automatically kicks into action when it suspects that you've started to exercise.
I take a 2- to 3-mile walk just about every morning. And, in most cases, the app did detect that I was in the midst of an outdoor walk and offer to track it, giving me credit for the time and distance I'd already traveled.
It's worth mentioning, though, that other smartwatches, including the considerably cheaper Fitbit Versa, have this capability, too.
Heart rate and step tracking: The Series 3 Watch was great at monitoring both of these things, so it should come as no surprise that this watch is, too. Every sample we tested earned high marks for accuracy in tracking the two metrics.
Durability: The Series 4 watches also performed well in our scratch and water-resistance tests.
The Ion-X glass on the aluminum finish watches and the Sapphire Glass on the stainless steel versions both earned favorable scores from our testers after we ran picks of various hardness across the watch faces.
And the watches all survived a simulated plunge of about 164 feet in our pressured dunk tank, making good on their promise to be water resistant up to 50 meters, which means it's okay to take them for a swim.
How CR Tests Smartwatches
From tracking workouts to keeping an eye on texts and emails, people are using smartwatches for everything. On the "Consumer 101" TV show, Consumer Reports' expert Bree Fowler explains to host Jack Rico the scientific methods CR uses to test these popular devices.