When you shop through retailer links on our site, we may earn affiliate commissions. 100% of the fees we collect are used to support our nonprofit mission.
Learn more.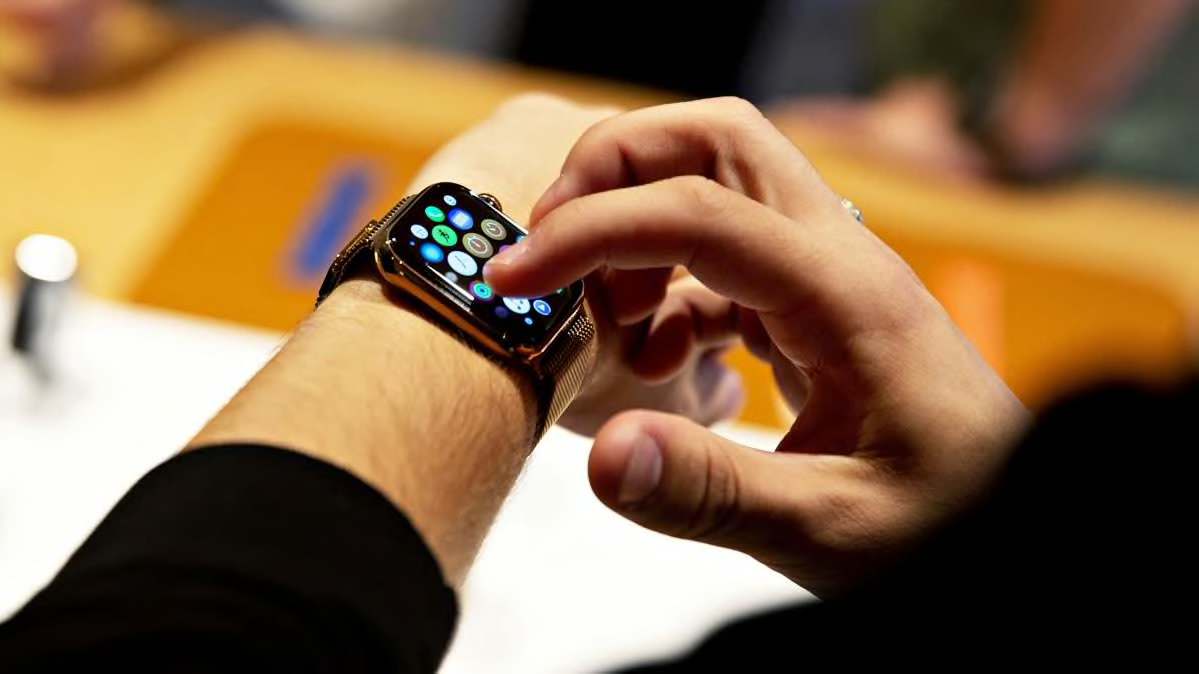 Struggling to find the perfect Father's Day gift for your techie dad? A smartwatch can be a great choice if you know what to look for.
Consumer Reports has some excellent suggestions for Apple fans, Android fans, and others. While it's easy to find models with top-shelf prices (does your dad really need an Hermès band?), we've uncovered a few that combine great test scores with low prices.
And for the truly budget-crunched, a fitness tracker can offer many of the same features as a smartwatch but at an even lower price. If your dad prefers simple, a device that's focused primarily on counting steps and tracking heart rate may be a better fit anyway.
Regardless of which direction you choose, it never hurts to shop around. Many retailers put even the most expensive smartwatches on sale this time of year. If you're a Consumer Reports member in the market for a top-of-the-line smartwatch, you can check our full ratings before you buy.
It also gives you access to many of the apps available on your iPhone, serving up not only email and text messages but also the latest news headlines, sports scores, and restaurant reviews.
And if your dad is constantly on the go, you can upgrade to a model that comes with cellular service. Once he signs up for a compatible plan with a wireless provider, he can go out for his daily jog leaving his iPhone behind without the fear of missing a call.
But if you're looking to save money, think about buying him a Series 4—or even a Series 3—watch. Apple is now selling the later for as low as $230 for the larger 42mm model.
What's missing? The Series 3 display is slightly smaller and the hardware doesn't include the extra sensor needed for Apple's DIY electrocardiogram feature. (Some experts question whether this feature is a good idea, anyway.)
For the Android Devotee
Apple isn't the only company that makes great smartwatches.The Samsung Galaxy Watch Active2 also scored well in our testing.
The model, which starts at $300 for a 44mm GPS-only version, received top scores for ease of use and readability, along with step counting and heart-rate tracking.
It gives you access to all of Google's watch apps. And it can track about 40 different forms of exercise, seven of which trigger the watch's automatic workout detection.
The Active2, which technically works with both Apple and Android phones, also has the option of LTE connectivity. Adding that to the larger 44mm version raises the price to $450.
Looking for something a little different? Samsung offers specialty GPS-only versions designed with golfers and runners in mind.
The running watch, designed in partnership with UnderArmour, provides coaching on your stride and cadence. And the golf watch comes with built-in information on 40,000 golf courses around the world.
For the Fitness Tracker Fan
The Fitbit Versa 2 smartwatch, which costs about $200, works with Apple and Android phones, too.
The manufacturer's app store selection may not be as robust as Apple's or Google's, but the offerings continue to grow. And the Versa 2 connects to the same app used by Fitbit's popular fitness trackers, letting you take part in competitions against other Fitbit users while tracking your own fitness goals.
If you're familiar with the original Versa, you'll also note some significant design improvements in the Versa 2. In particular, Fitbit trimmed the number of buttons on the watch from three to one, making it less complicated to use. It added a microphone and Amazon's Alexa digital assistant, too, which allows you to request info with voice commands. There's still no speaker, though, so the response arrives in text on the watch's screen.
The Versa 2 receives top marks for ease of use and readability in bright and low light. It's also great at tracking steps and heart rate.

How CR Tests Smartwatches
People are using smartwatches for everything from tracking workouts to keeping an eye on texts and email. On the "Consumer 101" TV show, Consumer Reports' expert Bree Fowler explains to host Jack Rico the scientific methods CR uses to test these popular devices.