When you shop through retailer links on our site, we may earn affiliate commissions. 100% of the fees we collect are used to support our nonprofit mission.
Learn more.
No one knows more about snow business than the department heads of the country's snowiest cities. To find out how to do the right stuff with the white stuff, Consumer Reports spoke to four northerners plus a director from Dallas, which gets more ice than snow. Here's what they told us about the mistakes people make when winter storms strike.
Don't Return Snow to Sender
For Boston Public Works, which dealt with 110 inches of snow over about five weeks last winter, a second wave of snow hits when homeowners and local businesses hurl the snow piles left by plows at the end of their driveways back into the street. "We'd go back to a street after plowing, and it looks like we weren't ever there," says Mike Dennehy, the department's commissioner. When streets marked as cleared fill up again, emergency vehicles can't get through.
But some homeowners don't think it through. "They feel it's not their snow, so they're giving it back," says Mike Burns, public works supervisor for Rochester, Minn. "They need to find someplace for it on their own property."
Heed Warnings
It's rare for a municipality to forbid driving in a storm but everyone we spoke to recommended staying off the roads if possible. Fargo, North Dakota, applies a mixture of brine and beet juice, 48 hours before a storm, that acts like Teflon and is easier to plow cleanly. But with temperatures that can plummet to -25 degrees F or colder, that makes driving uncertain. "At that temperature, it's very easy to lose control," says Mark Williams, Fargo's public works services manager.
And while Dallas doesn't get lots of snow, at least three times a winter the temperature plummets below freezing after a heavy rain—producing icy conditions. An additional hazard for drivers is that temperatures can be high enough to run automatic lawn sprinklers even in December. "These sprinklers will wet sidewalks and roads that, if the temperature drops, will result in black ice and similar hazards," says Dennis Ware, director of street services for Dallas.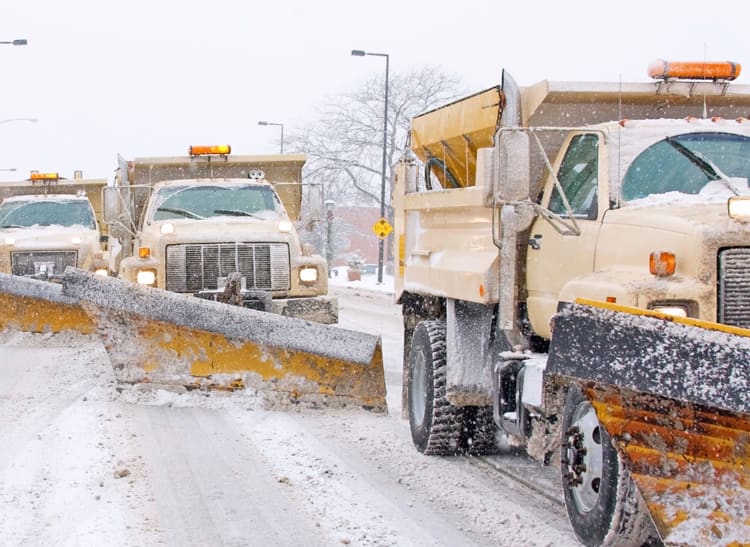 Use Common Sense
Chris Kelly, street superintendent for Madison, Wis., reminds drivers to tailor their driving to prevailing conditions. "Give yourself time to get where you're going," he says, which means allowing extra time to slow down and steer. "Use your winter-driving skills." If you drive often in wintry or icy conditions, snow tires might make sense for you due to their superior grip.
Think Twice About Passing Plows
While some drivers welcome the sight of a salt truck or plow ahead, knowing the road will be clear, others become impatient or complain that the spraying salt corrodes their cars. But everyone we interviewed decried drivers who rush around the plow only to slide off the road. "My goal," says Fargo's Williams, "is to keep your car out of the body shop, not the car wash." If you do ride behind a salt truck, stay at least 50 to 75 feet back.
Pre-Plan Your Parking
Some municipalities ban street parking when it snows, and anyone who works a plow wishes the roads were clear of vehicles. "A car parked where plows need to go takes up three parking spaces," explains Chris Kelly, street superintendent for Madison, Wis. "Besides one for the car itself, plows have to swerve around a space in front and one behind."
Pick your spot carefully and don't make the same mistake twice. One car, routinely parked across the street from a South Boston auto-repair shop, was completely buried each time the shop cleared its multiple driveways.
Tips for Clearing Snow Faster