Preview: 300-HP 2023 Toyota GR Corolla Is Both Fast and Furious
This hatch boasts dramatic styling, all-wheel drive, and the automaker's latest safety features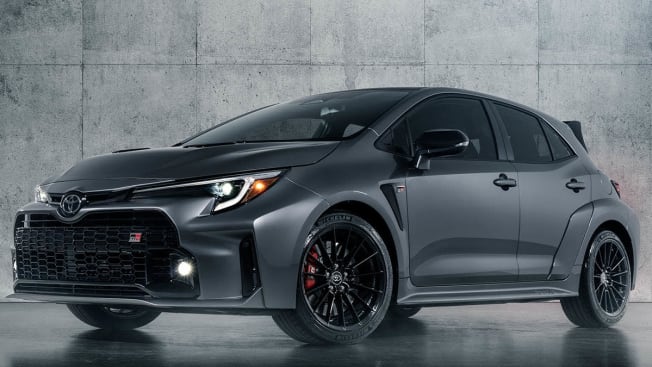 Toyota is getting wild with some of its latest models, starting with the engaging Supra, the value-priced GR86 sports coupe, and soon the GR Corolla. The latest creation from the in-house motorsports group known as Gazoo Racing pushes the Corolla hatchback to rally extremes, with 300-hp, all-wheel drive, and a brash body kit. 
What it competes with: Honda Civic Type R, Mini Cooper JCW, Subaru WRX, Volkswagen Golf R
What it looks like: A teenager's Gran Turismo video game fantasy come to life
Powertrains: 300-hp, 1.6-liter turbocharged three-cylinder engine; 6-speed manual transmission; all-wheel drive
Price: $35,000-$45,000 (estimated)
On sale: Summer 2022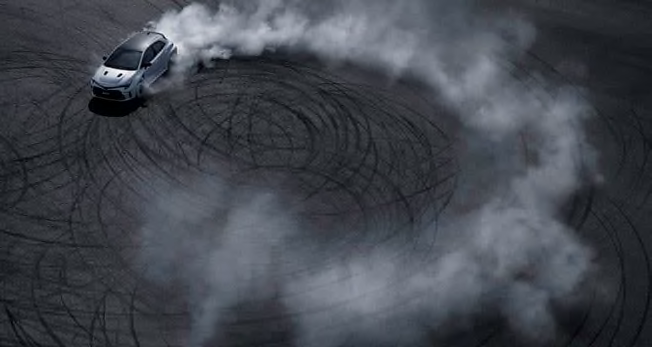 Known for sensible, reliable transportation, Toyota has been showing its wild side lately with several niche performance vehicles. The GR Corolla joins the Honda Civic Type R, Mini Cooper John Cooper Works, Subaru WRX, and Volkswagen Golf R as extreme compacts that aim to foster the next-generation car enthusiasts. 
The performance upgrade sounds dramatic, with weight savings, an extra 132 horsepower, all-wheel drive, and wide tires conspiring to deliver thrills in a way never before associated with the Corolla name. We appreciate the purity of it being manual only, although that choice does stand out in today's automatic-focused market. And we applaud Toyota for making its latest and most advanced suite of active safety features standard equipment. 
Next time someone tries to convince you that they are buying a sensible Toyota Corolla, double-check that it isn't this extreme beast that looks like an extra from the "Fast and Furious" movie franchise.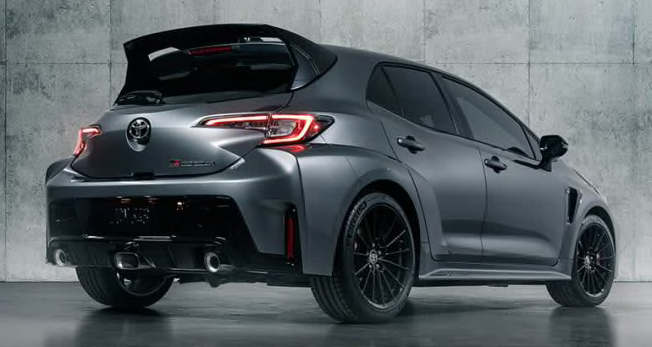 At a glance, the GR Corolla looks like a Corolla hatchback with an extroverted body kit tacked on the exterior. While true, the complex shapes contribute to improved aerodynamics, with air ducts to cool the engine and brakes, and bold fender flares to shroud the wide tires. 
An aluminum hood and front door panels help offset some of the additional weight of the all-wheel-drive system. According to Toyota's specifications, the GR Corolla only weighs 99 pounds more than a fully loaded Corolla XSE Apex Edition. To handle the rigors of racing and high-performance driving, the body was stiffened and more weld points were used. Generally, a rigid platform enables more precise suspension tuning, as there is less body flex to account for. The GR uses the same basic front strut and rear multilink suspension as the standard Corolla, but it is fortified with track-tuned springs, shock absorbers, and stabilizer bars. 
Offered as a limited-run version in 2023, the Circuit Edition features a forged rather than woven carbon roof to reduce weight and lower the center of gravity. It is further distinguished by a vented hood and dramatic rear spoiler. The Circuit Edition will be offered in three colors: white, red, and "heavy metal."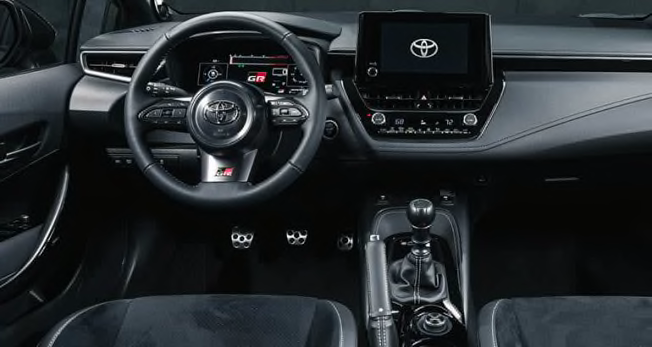 The basic cabin arrangement is similar to the current hatchback. The most notable difference is that the analog gauges have been replaced with a 12.3-inch display. This is used to indicate boost levels for the turbocharger, gear position, tachometer, and the AWD mode. 
To aid shifts, the distance the gear selector travels has been shortened for quicker action. The launch-year Circuit Edition gets a shift knob signed by Morizo, Akio Toyoda's race moniker used to conceal his early hands-on involvement with Gazoo Racing. 
The standard Core trim has cloth seats with gray stitching, and the driver's seat has six-way adjustments. Both trims use aluminum pedals. And for real-world convenience, there are two USB charging ports. Heated seats and steering wheel are available on the Core, through one of three options packages. 
The Circuit Edition features suede-trimmed seats with red accents, and it adds red trim details to the door handles, center console, steering wheel, and side air vents. It comes with automatic climate control, one-touch up/down power windows, and heated seats and steering wheel.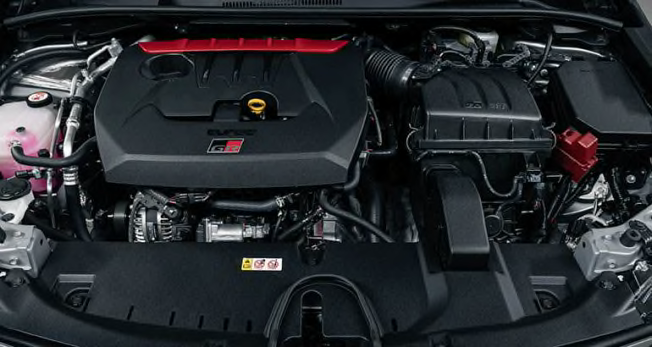 The GR Corolla uses a version of the engine used in the GR Yaris in other markets, the turbocharged G16E-GTS. It is a small engine, with just 1.6 liters of displacement from a three-cylinder block. But motorsports-honed techniques squeeze 300 horsepower from it. That power is sent exclusively through a six-speed manual transmission, with rev-matching to help smooth shifts. There is no automatic transmission offered.
All that power is routed to the four corners via Toyota's first performance all-wheel-drive system in over two decades. It was developed by the factory World Rally Championship team. It is engineered for racing, capable of providing optimized traction in foul weather, race tracks, and off road. It has several driver-selectable settings to balance the power distribution. 
For everyday driving, Toyota recommends a 60/40 percent split, directing most of the torque to the front wheels. For performance driving, a 30/70 percent split pushes more power to the rear, aiding general handling dynamics. For competition, an even 50/50 split is ideal. 
The Circuit Edition adds front and rear limited-slip differentials to distribute power left and right as conditions warrant to maximize traction. This upgrade is available via the Performance Package on the Core trim. 
Meaty Michelin Pilot Sport 4 (235/40R18) ultra-high-performance summer tires enhance grip. And bringing the speed back down are massive ventilated, slotted disc brakes (14 inches front, 11.7 inches rear). 
Safety and Driver Assistance Systems
The Toyota Safety Sense 3.0 (aka TSS 3.0) suite is standard equipment on all GR Corollas, packing the latest active safety features from the automaker. It includes all the common features, with many boasting enhancements. For example, the automatic emergency braking system can detect pedestrians, motorcycles, and even some guard rails. At an intersection, the car can detect cross traffic and provide both warnings and active braking. 
Some competitors, like the 2022 Subaru WRX, can't be purchased with important safety features like AEB when fitted with a manual transmission. 
The GR Corolla also includes blind spot warning, lane departure warning, lane keeping assist, adaptive cruise control, and rear cross traffic warning. The rear seat reminder is door activated; if the rear door is opened within 10 minutes of a trip, the driver will be reminded to check the back seat when the car is turned off. 
The GR Corolla comes with a one-year trial subscription to Toyota Safety Connect, a telematics service that can summon emergency assistance automatically or at the press of a button, and serve as a stolen vehicle locator.
Below, we present the ratings for the regular Toyota Corolla hatchback.