Fun to Drive Cars We're Thankful for This Year
We savor our time with sporty models from BMW, Cadillac, Honda, Subaru, Toyota, and Volkswagen As the year comes to a close and many families prepare to gather around the Thanksgiving dinner table, we reflect on a special group of cars that passed through the CR garage (and left a mark or two on our track) this year. Each car on this list left us with a distinct memory of character and personality, independent of straight-line performance or price. And for that, we acknowledge their success at keeping the fun of driving alive.
We were fortunate to rent a variety of cars this year that reminded us that automotive fun is a blend of different ingredients. These special vehicles ranged from sensible to coveted, leisurely to downright fast, and spanned a price gap from below $30K to nearly $100K. Yet they're equally celebrated for making fun a key part of the driving experience. We're planning to buy and formally test some of the cars presented here.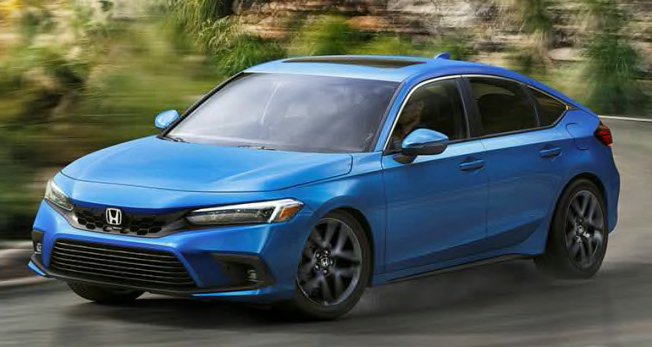 The introduction of a redesigned Honda Civic every four to five years is as expected as pumpkin pie on the Thanksgiving dessert table. The Civic is a practical small car that's always a smart choice. But opting for the hatchback version with a manual transmission is for those who hold down the nozzle on the whipped cream can a little bit longer than most.
This year we tested a relatively base-level Civic sedan, yet all our testers walked away impressed by its sharp handling. The standard continuously variable transmission (CVT) is objectively fine, but the base 2.0-liter four-cylinder makes only modest horsepower, and the combo doesn't do the otherwise crisp driving dynamics justice. 
Sure, the sporty Civic Si and likely a high-performance Civic Type R are on the way. Until then, the most entertaining new Civic is the hatchback model with the more powerful 1.5-liter turbocharged engine connected to a delightful 6-speed manual transmission.
Honda is often revered for its ability to create a gear shift that's satisfying and precise to use, and that reputation persists with the new Civic. The lever action is solid, and selecting a gear is both easy and mechanically gratifying as the shifter slots into place. And choosing the manual transmission is hardly a compromise with the Civic. Its EPA combined fuel-economy rating is only 2 mpg less, at 34 mpg, compared with 36 mpg with the CVT. For that slight dip in fuel economy, the driver is rewarded with a much more satisfying driving experience.
Pricing: $24,100-$29,400 (158-hp, 2.0-liter four-cylinder engine or 180-hp, 1.5-liter turbocharged four-cylinder engine; 6-speed manual transmission)
Price as driven: $29,795
See the complete Honda Civic road test.
Subaru BRZ and Toyota GR86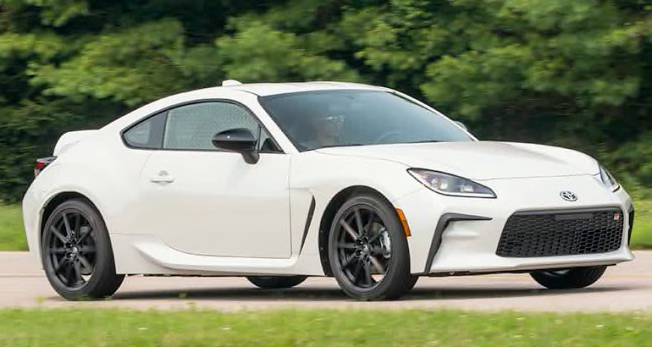 The redesigned Subaru BRZ and Toyota GR86 capture the best traits of a great driver's car at an achievable price, with capabilities that make them approachable for many. 
The small RWD coupe formula of the original cars remains unchanged, and their value is unparalleled from a driving enthusiast's perspective. We rented both models from their respective automakers, sampling the 6-speed automatic transmission and the 6-speed manual. 
Regardless of transmission choice, these cars offer nimble, sharp, and well-balanced handling dynamics that anyone can enjoy. The automatic, aided by paddle shifters, proves that a sports car can rely on its handling acumen and engine note to provide the driver with a fun experience. The manual transmission adds that tactile engagement that ties the whole experience together. Whichever transmission you choose, these twins provide a lot of thrills for the money, with the BRZ being a bit tamer and easier to live with every day, and the GR86 being the choice for the more hardcore thrill-seeker.
Subaru BRZ pricing: $27,995-$32,265 (228-hp, 2.4-liter four-cylinder engine; 6-speed manual or 6-speed automatic transmission)
Price as driven: $30,495 (manual); $32,265 (automatic)
Toyota GR86 pricing: $27,700-$31,800 (228-hp, 2.4-liter four-cylinder engine; 6-speed manual or 6-speed automatic transmission)
Price as driven: $32,225 (automatic)
Read our first-drive review of the Subaru BRZ and the Toyota GR86.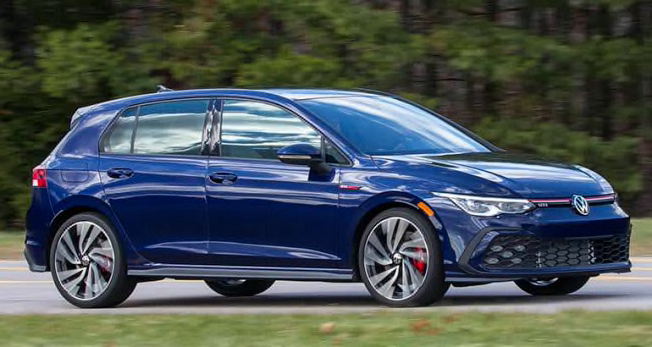 The Volkswagen Golf GTI is like that family member who takes on Thanksgiving hosting duties, managing to make the turkey, a majority of the side dishes, and even a dessert. 
The original Rabbit GTI created the hot-hatch genre by injecting power and performance into an otherwise mundane and sensible hatchback. The result was a fun to drive and practical alternative to sports coupes at a reasonably affordable price, a car that could seemingly do it all. 
The redesigned Golf GTI for 2022 keeps its sensible hatchback shape but ups the ante in terms of power, handling dynamics, interior technology, and overall refinement. The turbocharged four-cylinder now makes 241 horsepower, more than ever before. The model we rented from Volkswagen certainly feels quick from behind the wheel. A 7-speed dual-clutch automatic transmission is available, but we happily tried out the DIY 6-speed manual. 
Think of the GTI as somewhere between the Civic Hatchback and the BRZ/GR86 twins in terms of its balance between comfort and sportiness. Its ride and handling are edgy enough to keep things interesting when the time is right, but comfortable enough to allow for a more relaxed driving experience. The engine has an invigorating note, with just enough pops and burbles from the exhaust to satisfy your desire for noise one moment and settle neatly into the background the next.
Pricing: $29,545-$37,995 (241-hp, 2.0-liter turbocharged four-cylinder engine; 6-speed manual or 7-speed dual-clutch automatic transmission)
Price as driven: $37,995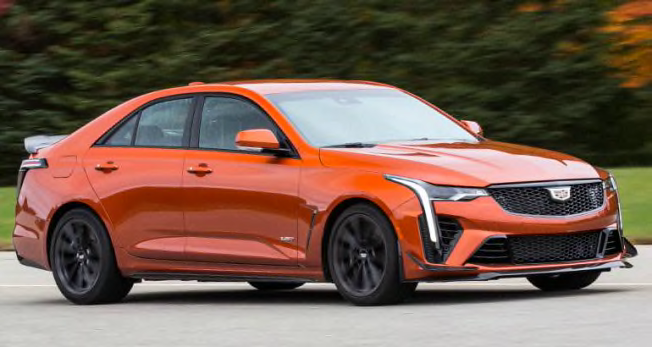 The Cadillac CT4-V Blackwing is that inconspicuous dish that, once sampled, becomes your favorite. 
Cadillac has taken its understated CT4 sedan and added significant power, suspension tuning, and tire upgrades to extract every ounce of performance from its already capable RWD platform. This car and its CT5-V Blackwing sibling are intended to be a send-off to the high-performance internal-combustion-powered car. 
And the CT4-V Blackwing is quite the finale. It may not be the most boisterous car here, but it's an engaging daily ride that also rewards those who are able to push it to the limit on a track. 
The Blackwing's steering is responsive without ever feeling darty or nervous, and the car grips the road with absolute tenacity. It's hard to imagine a road-going sedan with better handling. Yet despite its capabilities, it rarely feels intimidating.
The available 10-speed automatic transmission surely results in quicker acceleration, but the 6-speed manual had our testers singing songs of perfect clutch action and a satisfyingly precise shifter. This is an impressive send-off and one that will delight those who look beyond the nameplate for a world-class sports sedan. 
Pricing: $59,990-$63,165 (472-hp, 3.6-liter turbocharged V6 engine; 6-speed manual or 10-speed automatic transmission)
Price as driven: $76,340
Read the complete Cadillac CT4 road test.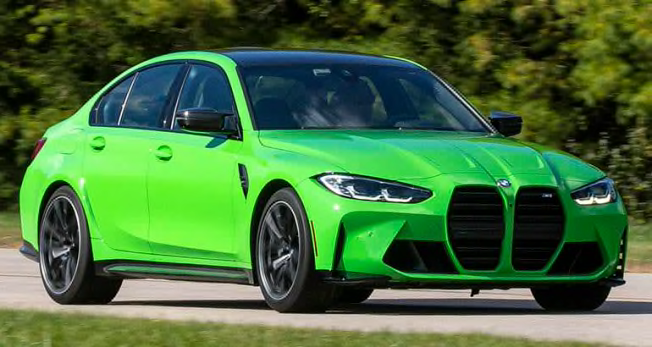 Few cars are as notorious as BMW's M3. When a new version arrives, the automotive enthusiast community lines up to see how the benchmark for sports sedans has been raised and if the new car respects its cherished past. It may lack the overall precision of the Cadillac, but the M3 is a ferocious machine that demands wrangling by its driver to extract its full performance potential.
The engine makes plenty of power lower in the rev range, but it really comes alive when pushed hard, making you realize just how ridiculously fast the M3 has become. The 6-speed manual's clutch has an abrupt engagement that can make it tricky at lower speeds, but it gets easier with more aggressive shifting. The stick shift lacks the precision of the Blackwing.
The M3's steering is quick and responsive but short on communication. Instead, it's the chassis that does the talking. It feels balanced and provides a sense of available grip through turns. But if you're not listening, the M3's preference for tail-out antics may sneak up on you.
There's no doubt the M3 stands as an engaging and highly capable driving machine, with its ability to be fine-tuned to the nth degree through drive modes and custom settings. This new version gets better the harder and faster you drive it, and leans into its track performance over its on-road usability more than any previous generation. The M3 has made an impressive journey since the original wide-fendered, naturally aspirated four-cylinder model debuted in the 1980s. It's hard to imagine how much further a road-going sedan can evolve, because this generation feels like a street-legal race car.
Pricing: $69,900-$76,900 (473-hp or 503-hp, 3.0-liter turbocharged inline-6 engine; 6-speed manual or 8-speed automatic transmission)
Price as driven: $94,445
Read the complete BMW 3 Series road test.