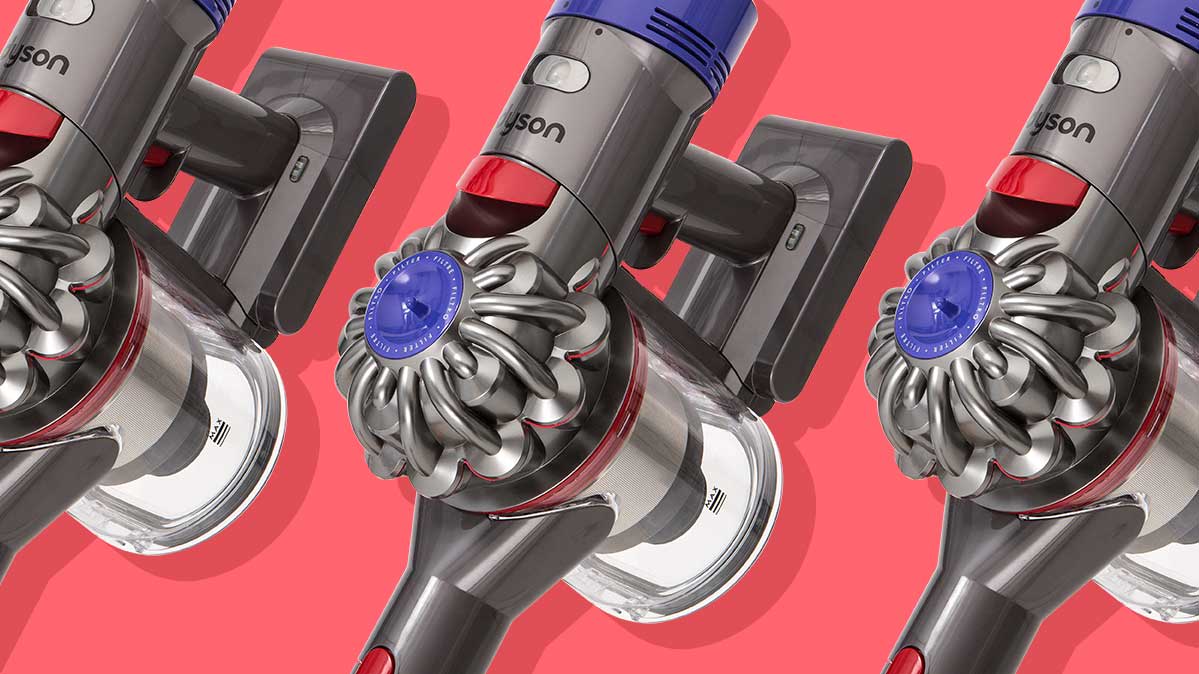 On the prowl for a new stick vacuum this holiday season? We've done some digging, and early Black Friday deals include choices from a few top brands at retailers such as Amazon, Best Buy, Home Depot, and Kohl's, among others.
"The best and most prominent deals on stick vacuums will be from Shark and Dyson," says Kelly Moomey, senior market analyst at CR. "Dyson will be particularly compelling, given the introduction of the V10 line this past March."
With a new top-of-the-line model on the market, the manufacturer might be phasing out older models, which could mean deeper discounts.
If you're debating between a stick vacuum and an upright as you shop, here's the skinny: Stick vacuums are meant to clean small messes or surface clean on carpets and bare floors. Upright vacuums, as a category, are better for heavier cleaning and getting embedded dirt from carpets.
For further details, check out how we rigorously test different categories of vacuums.
Below, we list the best deals we've seen so far on some of the best corded and cordless stick vacuums from our ratings—all from Dyson and Shark—from least to most expensive. Keep in mind that deals may change as the month continues. We'll keep watch and update the list below as new deals surface.
Best Black Friday Cordless Stick Deals
Dyson V6 Cord-Free
The deal: $208 at Home Depot
Savings: $91
For several years, the Dyson V6 Cord-Free has been a solid choice for those who want a Dyson without paying for a top-of-the-line version. The cord-free does exceptionally well on our edge test, leaving little visible debris near walls or corners, and earns an Excellent rating in our pet-hair test. The Dyson V6, along with all the Dyson V6 and Dyson V8 vacuums, might be phased out in the coming months—so now could be the time to snag these models on sale.
Shark IonFlex 2X DuoClean IF251 Bagless Cordless Pet Stick Vacuum
The deal: $282 on Amazon, $282 at Walmart
Savings: $170
This price is close to the lowest we've seen in the past year and represents an almost 40 percent discount off the list price. The Shark's IonFlex has a flexible "elbow" that bends the stick in two, allowing you to get under tables or your couch with ease. In our tests it earns an Excellent score for bare floors, leaving little visible debris. The model comes with a soft brush roll and a bristle brush roll, so you can change out the brush you need depending on your flooring type.
Dyson V8 Animal
The deal: $325 at Best Buy; $325 at Home Depot;
Savings: $125
We haven't tested the V8 Animal at CR, but our testers say that this vacuum is similar to the V8—and now it's on sale for $50 less than the V8. It doesn't come with some of the special attachments that the V8 Absolute has, thus the price difference between models. As noted above, all the Dyson V8 and V6 models might be phased out.
Dyson V8 Absolute
The deal: $377 at Bed Bath & Beyond; $382 at Best Buy; $378 at Kohl's on Nov. 22
Savings: $120
Long a top-ranking stick in CR's ratings, the Dyson V8 Absolute is a great all-around choice for anyone in the market for this type of vacuum. It aces both our bare-floors and carpet tests and earns an Excellent rating in our noise tests. It comes with a special soft roller attachment to clean bare floors and pick up dust. As noted above, all the Dyson V8 and V6 models might be phased out.
Dyson Cyclone V10 Absolute
The deal: $555 at Bed Bath & Beyond
Savings: $145
Of the newest releases of Dyson sticks that launched earlier this year, this one is the best. It's a pricey vacuum, but for those who want the latest and greatest, this is a good choice and it's at the cheapest price we've seen since it launched in March 2018. In our tests, it earns an Excellent rating for pet hair and bare floors—a boon if you have shedding animals and wood or tile and want to power through your cleaning.

Best Black Friday Corded Stick Deals
Shark Rocket Ultra-Light HV301
The deal: $128 at Home Depot
Savings: $61
Consumer Reports has not tested this model, though we tested a similar model, the HV302. (The HV302 has add-ons such as a car detail kit and a two-speed brush roll.) In our tests, the Shark HV302 earns an Excellent rating for pet-hair pickup and does a great job at removing surface debris from carpet.
Shark Rocket Deluxe Pro True Pet HV322
The deal: $129 at Kohl's on Nov. 22
Savings: $100
One of the least expensive sticks you'll find this holiday season is the Shark Rocket Deluxe Pro, on sale for $129 beginning Thanksgiving Day at Kohl's. This stick is fantastic at picking up pet hair in our tests and earns an Excellent rating for surface carpet cleaning. This model comes with a bare-floor tool and a motorized small brush accessory.
Shark Rocket Complete with DuoClean HV381
The Deal: $150 at Best Buy on Nov. 22nd
Savings: $150
Though Consumer Reports hasn't tested this particular model from Shark, we did test a similar model, the Shark Rocket Complete with DuoClean HV380. This sale model, at half price, comes with a 30-inch cord, an upholstery tool, a crevice tool, and a dusting brush. The HV380 is a solid corded stick vacuum that performs well on carpet and bare floors, and earns an Excellent rating on our Pet Hair tests.
Shark SharkFlex DuoClean Ultra-Light Corded HV391
The deal: $195 at Amazon
Savings: $100
Based on the deals so far, you won't find a better corded stick vacuum for this low a price (though that could change). This Shark outperforms the Rocket line in each of our lab tests and did wonderfully on our edge-cleaning and emissions tests, earning an Excellent rating for each. Like a few other Shark stick vacs, it has a dual brush roll that helps the vacuum perform well on both carpet and bare floors.
Consumer Reports is an independent, non-profit organization dedicated to helping consumers. We make it easy to buy the right product from a variety of retailers. Clicking a retailer link will take you to that retailer's website to shop. When you shop through retailer links on our site, we may earn an affiliate commission – 100% of the fees we collect are used to support our mission.
Learn more.
Our service is unbiased: retailers can't influence placement. All prices are subject to change.