First Look: New Roku Streaming Stick 4K+
It comes with Roku's rechargeable Voice Remote Pro, usually a $30 option I've long been a fan of Roku streaming players, thanks to their easy-to-use interface, the ability to customize the home screen with only your most-used apps, and access to lots of content. While I also have Apple TV and Amazon Fire TV players in my house—all connected to smart TVs, by the way—I tend to prefer using one of the Rokus when I can.
For the past few days I've been trying out one of the company's newest models, the Roku Streaming Stick 4K+. I borrowed that unit and will be sending it back, but Consumer Reports will soon buy one at retail and run it through our labs for a full evaluation.
Roku is actually introducing two new models: the Roku Streaming Stick 4K ($50), which is replacing the Streaming Stick+, and the Roku Streaming Stick 4K+, a $70 model positioned below the company's flagship Roku Ultra ($100). Both models support Dolby Vision and HDR10+ content, will work with Amazon Alexa, Google Assistant and Apple AirPlay 2, and support Roku's voice capability.
The main difference between the two new players is that the Stick 4K+ comes with a new rechargeable voice remote, plus a few additional features. But more on that in a bit.
To coincide with the launch of the new players, which can be preordered now and are shipping in a few days, Roku is rolling out an update to the operating system that powers both the streaming players and Roku TVs from manufacturers including TCL and Hisense. The new OS 10.5 software offers some additional benefits, such as enhanced voice capabilities and improved search to help you easily find and launch content.
If you already own a Roku 4K player, a lot of the player's new features, such as smoother streaming and faster load times, will seem more iterative than revolutionary. For example, Roku says the new Streaming Stick 4K+ has a faster quad-core processor and an improved long-range wireless receiver that offers faster WiFi speeds. We'll be testing some of these claims, including 4K picture quality, in our full lab review of the player. But during my short review I didn't see any major differences in speed or connectivity compared with my Roku TV.
I did find the new model more responsive and able to access content quicker than the older Roku HD Streaming Stick we use upstairs in my wife's office, however.
Roku claims the new model uses "adaptive algorithms" to dynamically adjust its WiFi radios for the best streaming quality, regardless of how far it is from your router or what kind of network you're on.
That's a claim I couldn't evaluate. My house used to have WiFi dead spots, but I've since moved to a six-unit eero mesh network, so we're never far from a router. But the WiFi connection did shine in another way. The Roku Streaming Stick 4+ stayed connected to my WiFi network for the entire time of my review. That's been a problem with my TCL Roku TV, which typically needs me to reconnect to my network daily—and sometimes more often—a pretty big annoyance.
The big difference between the two new streaming sticks is the new Voice Remote Pro, which was launched earlier this year as a $30 option. Compared with my TCL set's Roku remote, it's slightly larger, with most of the same controls. There's a TV power button at the very top, with Back and Home buttons below it, plus the usual four-direction navigation pad with an OK/Enter button in the middle. Below that are replay, push-to-talk options buttons, plus playback controls. The new remote has dedicated buttons for Netflix, Disney+, Apple TV+, and Hulu, with Apple TV+ replacing the Sling TV button found on older models.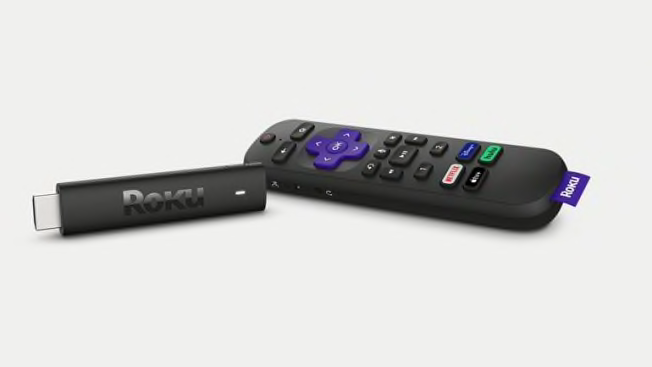 Compared with the more basic voice remote that comes with the Roku Streaming Stick 4K, the more advanced model's Voice Remote Pro has a few advantages.
First off, it's rechargeable, so you never have to replace batteries. And it has an always-listening hands-free voice feature, so you don't have to use the press-to-talk button to activate the microphone for voice commands. You can use voice to turn on the TV, adjust the volume, launch channels, control playback, and turn closed captions on or off. Roku says the remote will work for two months before it needs to be recharged. The remote also has a built-in headphone jack for private listening and a remote finder feature.
To use the hands-free voice, you'll have to say "Hey, Roku," much like you do with Alexa or Google Assistant. If you don't like the idea of the remote constantly listening for that wake-up phrase, you can turn off the mic with a hard switch on the left side of the remote. Do that and you'll need to press the microphone button to use any voice commands. With this feature turned on, I was able to use the lost remote finder feature by asking, "Roku, where's my remote?" After a few seconds, the remote started beeping. (A misplaced remote can also be found using the Roku mobile app.)
The Roku Streaming Stick 4K+ also lets you set two shortcuts using the 1 and 2 buttons. This is handy for storing voice commands or accessing frequently used channels or services that don't have dedicated buttons on the remote. Using an onscreen guide I was able to set up shortcuts for the Roku Channel and Peacock, but I wasn't quickly able to create one for HBO Max for some reason. (I figured it out eventually.)
Roku has its own voice system, but like other Roku devices, the Roku Streaming Stick 4K+ works with both Amazon Alexa and Google Assistant, and it supports Apple AirPlay 2 (and HomeKit) for streaming content from your Apple devices. I did a quick test using Google Home, and it worked fine.
In addition to the plentiful apps, one thing I like about Roku players is that the company regularly updates its software with new features and capabilities. I didn't have time to fully investigate all the enhancements in the new OS 10.5 during my short trial, but I did try out a bunch of them.
Perhaps the best is that you can now finally use voice commands to launch and play shows and movies on Netflix and listen to music and podcasts on Spotify. That's a feature I've wanted for a long time.
The company says that you can also use your voice to enter email addresses and passwords/PINs instead of typing them on the virtual keypad. But I was unable to do this on a few services I tried, including Amazon and Netflix. I reached out to Roku and was told that this feature is currently only available on select apps, including Peloton, Pluto Live, Sundance Now, and Shudder. You can also use to your voice to enter emails on the Roku entry screen during setup.
For those new to Roku or to using voice commands, there's a nice Voice Help tutorial section that explains the types you can use on Roku, with examples on how to search for movies and shows, how to launch a channel or play music, and how to control playback. There's a separate section just for the new Voice Remote Pro that explains how to use the hands-free features unique to that model. You can access the help section via the settings menu or by saying "Hey Roku, what can I say?" (I was also able to launch Voice Help by just saying "Hey Roku, voice help.")
Also new is a Live TV channel app, which appears on the home screen like any other app or service. It acts as a shortcut to get to Roku Channel's live TV guide, with more than 200 free live TV channels. And here's an appealing-sounding feature that I didn't try out: The new OS lets you create a full 5.1-channel system using pairs of front and rear Roku wireless speakers, a Streambar or Streambar sound bar as a center channel, plus a wireless Roku subwoofer. (Previously, the sound bar acted as the front three channels.)
If you prefer using Roku's mobile app rather than the remote control, there are also some improvements there. Perhaps the most notable is a new A/V sync feature that can reduce latency for those who listen with Bluetooth headphones or earbuds when on a smartphone. (You can even use your smartphone camera with an onscreen image to fine-tune the synchronization.) And you can save movies and TV shows to the Save List so you can watch them later on your TV. 
Should You Buy the Roku Streaming Stick 4K+?
We've long recommended Roku streaming players for those who want to add streaming capability to a non-smart TV, or as an option for getting better performance or access to more streaming services than their smart TV provides.
Based on my short time with the new model, the Roku Streaming Stick 4K+ looks like another promising entry into the streaming player market. It performed well without any major flaws. With streaming devices, your first decision is often more about the platform—Apple TV, Amazon Fire TV, Google Chromecast, Roku, etc.—than the specific device, so that means deciding which Roku player will work best for your use and budget.
In this instance, you'll have to decide if it's worth stepping up to the Roku Streaming Stick 4K+ from the 4K model. Because the Voice Remote Pro costs $30 as an option on its own, you'll save $10 by getting it with the Stick 4K+ player. To me, it's a nice upgrade, especially if you like the hands-free voice feature and the idea of not ever having to scramble for batteries because the ones in the remote are dying.
If you don't want those enhancements, the Streaming Stick 4K model will give you just about everything else, for $20 less. We expect we'll have more to say about both models and where they fit into the overall streaming player market once we complete our full testing.
When you shop through retailer links on our site, we may earn affiliate commissions. 100% of the fees we collect are used to support our nonprofit mission. Learn more.