Best Lightweight Strollers
Top-rated strollers under 15 pounds that save you time, space, and hassle during quick errands or long road trips
When you shop through retailer links on our site, we may earn affiliate commissions. 100% of the fees we collect are used to support our nonprofit mission. Learn more.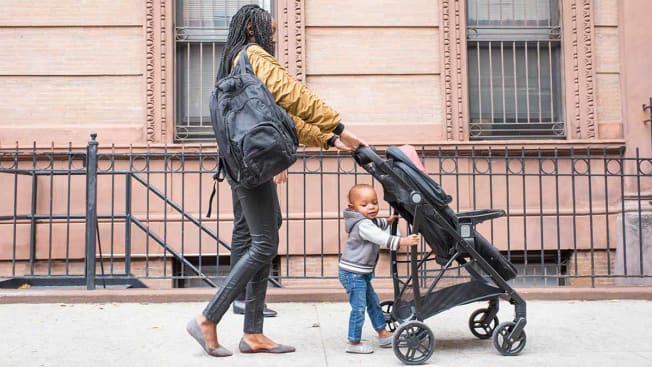 A bulky stroller can be a drag in the car, on an airplane, or in a crowded mall—not to mention on city streets. But a lightweight stroller can lighten your load.
"At CR, we consider a stroller lightweight and compact when it's under 15 pounds and easy to carry," says Joan Muratore, the engineer who oversees stroller testing for Consumer Reports. "You should be able to carry it in one hand and your child in the other. And it won't take up your entire car trunk space."
Some of the traditional and umbrella strollers, as well as car-seat carriers, that we've tested fit this description: In our stroller ratings, you'll find umbrella strollers as light as 7 pounds and traditional strollers starting at 11 pounds. On the other end of the spectrum? Bulkier strollers weigh as much as 38 pounds.
While these lighter strollers are easy to lift, carry, fold, and stow—and most meet strict Disney theme park requirements—they do have limits. Some may feel flimsy, and their small wheels can make them more difficult to maneuver. Most aren't car seat compatible, and few accommodate babies who can't sit up on their own. (For infants, consider a lightweight single car-seat carrier stroller.)
The best lightweight strollers are anything but lightweight performers in our tests. CR engineers put strollers through their paces in our labs and on the grounds outside our Yonkers, N.Y., headquarters to assess which ones are safe, maneuverable, and easy to use. They use each stroller the way parents do, but with weights simulating a child—up to 30 pounds for maneuverability and 40 pounds for safety—and push each model through an S-curve test course, steering them on pavement between cones, up and down curbs, and over obstructions including grass, mulch, and tree roots.
Our stroller ratings feature a wide range of options, from brands such as Graco, Joovy, Maclaren, Mountain Buggy, UPPAbaby, and more. Refer to our stroller buying guide as you shop, and if you have multiple young kids, see our guide to the best double strollers.
Here are six lightweight (but solid) strollers, listed alphabetically by category, that will take a load off when you're out and about.
CR's take: This Maclaren umbrella stroller weighs in at 16 pounds but folds up extra small, taking up little space in your trunk or anywhere else. Downsides: It earns just a middling score for safety, offers little storage, and has poor basket access when the seat is reclined. Still, you'll get around easily with this stroller, which stands out for its Excellent rating for maneuverability—the only single umbrella model in our ratings to net that top score.
CR's take: Just 12 pounds, this safe, compact Summer Infant umbrella stroller is a CR Best Buy. It's a top-notch choice for traveling with a child of 6 months or older, up to 50 pounds. The seat reclines, which is great for on-the-go naps. It's easy to fold, unfold, and carry (thanks to its convenient shoulder strap). It comes with a cup holder, extra large undercarriage storage, and a small seatback pocket.
CR's take: This Graco NimbleLite is a great choice for an everyday stroller. It's not fancy, but it weighs only 12 pounds and is easy to use. Its responsiveness is decent, and its footprint is small. And it stands when folded. One negative: Occasionally, testers' feet hit the wheels or the brakes.
CR's take: The Nano is a great choice for travel. This compact, 13-pound stroller comes with its own carrying bag and reportedly fits in an overhead compartment for air travel. It's car seat compatible, too. There's limited storage, but that might be a worth-it sacrifice for the convenience. One thing to note: The instruction manual is largely pictorial and can be hard to decipher. We found instructional videos on Mountain Buggy's website to be much clearer and more helpful.
CR's take: This lightweight and compact Baby Trend universal car-seat carrier is compatible with a number of infant car-seat brands. In spite of its name, the car seat doesn't "snap" in; it rests on two strap supports and is secured by another strap. Still, it's a well-priced, convenient option for parents of infants. It stands folded. It also has an accessible large basket, two cup holders, and a parent tray with a small covered compartment.
CR's take: This Chicco car-seat carrier stroller offers parents click-and-go ease. Chicco's KeyFit and KeyFit 30 infant seats just snap right in, no adapter needed. At 11 pounds, the small carrier stroller moves in and out of your car trunk with ease. (The car seat will add some extra weight, of course.) When folded, it's self-standing. With an adjustable handle, it's very maneuverable for a car-seat carrier, despite small wheels. The large basket offers good accessibility, aided by front zippers. There's also a parent console, with cup holders.