2019 Audi Q3 Has Plenty of Luxury in Small Package
This redesigned premium SUV is particularly practical From our first drive, it's clear that the redesigned 2019 Audi Q3 SUV has more luxury than the previous generation.
This entry-level luxury SUV has a high-quality interior and is more upscale-looking. The infotainment system is easy to use, and refreshingly, the climate system is controlled by actual buttons and knobs. The cabin is surprisingly roomy for such a small vehicle.
We just bought a 45 TFSI Quattro Premium Plus model, which comes with a turbocharged four-cylinder engine, an eight-speed automatic transmission, and all-wheel drive.
To properly assess this Audi, CR drivers will need to break it in for 2,000 miles, then run it through multiple safety and performance tests. From that, we will calculate a Road-Test Score. We provide these one-of-a-kind ratings for CR members so they have key safety and performance information when considering a purchase or lease.
This SUV is in a crowded field of high-end competitors, including those from BMW, Infiniti, Mercedes-Benz, and Volvo. Near the end of this article, you can click and become a CR member and see the results of our extensive testing for these and other Audi Q3 competitors. As a member, you will also have access to future test results as they become available.
Update: Since this first drive was originally published in September 2019, we finished testing the Q3.
See the complete Audi Q3 road test.
What we bought: 2019 Audi Q3 45 TFSI Quattro
Powertrain: 228-hp, 2.0-liter four-cylinder turbocharged engine; eight-speed automatic transmission; all-wheel drive
MSRP: $34,700
Options: $8,245, which includes Cosmos Blue metallic paint, Premium Plus package (alarm, HomeLink, Audi advanced key, Audi parking system plus, blind spot warning with rear cross traffic assist, lane departure warning, LED interior lights, eight-way passenger seat with four-way lumbar, LED headlights, wireless phone charger), Navigation package (MMI navigation plus, 10.1-inch touch screen, Audi connect, Audi Virtual Cockpit), Bang & Olufsen sound system, Driver Assistance package (adaptive cruise control), brown wood inlays, plastic trunk liner, Audi rings illuminated below the door
Destination fee: $995
Total cost: $43,940
Most drivers have found the turbo four-cylinder and eight-speed automatic to be a satisfying powertrain. The engine has enough power for both city and highway driving, and the transmission delivers smooth shifts. There isn't any lag when starting up from a stop, something that's all too common in vehicles with four-cylinder turbo engines. The transmission is responsive, quickly downshifting without the driver needing to mash the gas pedal. We really appreciate Audi using a conventional shifter, rather than one of the "monostable" ones that return to a center position after a gear is selected. Another nicety is that the new Audi Q3 uses regular gas; the previous generation required premium fuel, which is more expensive.
The Audi's ride is quite composed, whether driven hard or in a more relaxed manner. It absorbs bumps well, and rides smoother than the BMW X1 and Mercedes-Benz GLA.
The Q3's cabin is among the better ones in the class. The quality of materials is excellent, and the various interior parts and panels fit together well.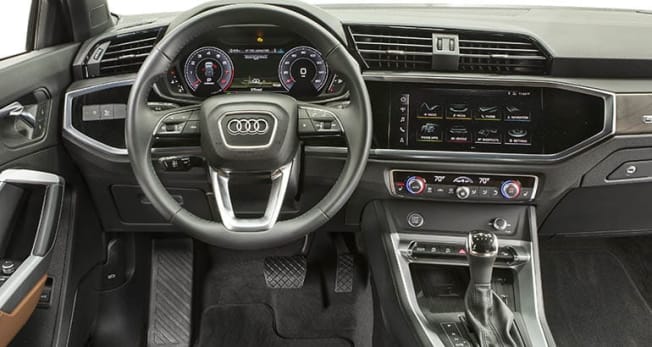 This diminutive SUV has a ton of room inside. Drivers of all sizes reported that there's plenty of headroom and legroom, with a slight intrusion on right-knee space from the center console. The standard eight-way power seat has plenty of adjustments, so the driver can fine-tune an optimum seating position; Premium Plus versions have the same seat adjustments for the front passenger.
Similarly, the second-row seat has plenty of headroom for adults, and it has a 40/20/40 split bench seat, meaning all three seating positions can fold independently. This makes it easy to carry long objects along with two rear-seat passengers just by lowering the middle section.
The rear seat cushion is a bit high, but it provides plenty of underleg support. Toe room is also plentiful, even for passengers with flipperlike feet. The roomy cargo area is so well-finished that you'll think twice about throwing dirty sports equipment back there.
Forward collision warning and automatic emergency braking with pedestrian detection are standard on the Q3.
The Q3's driving experience is not as engaging as that of some competitors. The engine doesn't feel as if it has overwhelming power. It's adequate but not particularly invigorating.
In addition, the Audi can't match the sporty handling of the BMW X2, Jaguar E-Pace, or Mini Cooper Countryman. Drivers noted that in Comfort mode the Q3's steering feels too light, given its quick response. The steering firms up a bit when the setting is changed to Dynamic (sporty) mode, but even that doesn't make the Q3 exciting to drive. Overall, the Q3 is more suited for cruising than spirited driving.
Drivers and passengers are likely to notice that some engine and wind noise are pretty evident in the Q3. The engine sound is quite pronounced from outside the SUV; fortunately, you'll be inside, where it's a little less noticeable.
Drivers should get used to using the steering-wheel controls to adjust the audio volume. While there's also a knob to perform this task, it sits very low on the far right side of the center console. It's as if Audi wants the passenger to have the ability to change the volume. Which is likely to spur a confrontation!
While the high rear seat cushion may provide good leg support, it forces passengers to duck their head down a bit more when climbing in, so that they can get up and onto the seat.
Audi makes it challenging to figure out which advanced driver assistance and safety systems are included and which are part of option packages. For example, the Premium Plus "trim" (Audi calls it an options package) we bought includes lane departure warning, blind spot warning, and rear cross traffic warning. But shoppers who choose the entry-level Premium trim have to add a $1,600 package—which includes keyless entry and a garage door opener—to get them. We'd prefer these important features to be standard on all versions.
What We'll Keep an Eye Out For
As with any test vehicle, we're looking forward to seeing how the Q3 does in our fuel-economy tests. The previous-generation all-wheel-drive Q3 had an EPA-rated 20 city/28 highway, and 23 mpg combined. The new model has EPA ratings of 19/27, and 22 mpg combined, which are worse. Even after we complete our testing, shoppers who are in the market for a luxury entry-level SUV may want to keep their eyes open for the new Mercedes-Benz GLB, which goes on sale this winter; we'll purchase one as soon as it's available.
See our take on the Audi Q3 and the ratings for key competitors below.
Become a member to read the full article and get access to digital ratings.
We investigate, research, and test so you can choose with confidence.