First Drive: Freshened, Swanky Audi Q7 Is Brimming With Technology
This three-row luxury SUV exudes panache and refinement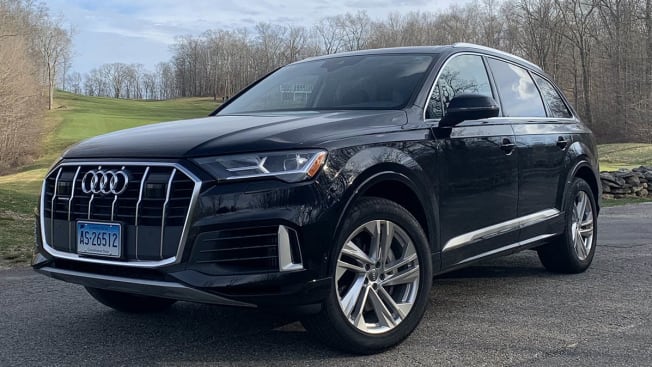 The Audi Q7 is a luxury midsized SUV with a third-row seat that competes with the Acura MDX, Cadillac XT6, Lexus RX-L, Lincoln Aviator, Volvo XC90, as well as rivals from fellow German automakers BMW and Mercedes-Benz.
The Q7 scored high when we tested it in 2016, thanks to its luxurious interior, roomy accommodations, substantial, high-quality feel, robust acceleration and responsive handling.
The freshened 2020 Q7 is not a full redesign, but it has a new turbocharged engine and touch-screen infotainment system among other updates. We think the updates are enough to warrant purchasing one for testing. Outwardly, the Q7 now resembles the Q8 from the front, and the rear end adapts the latest Audi look with wider taillights and a chrome bar across its tail.
If you're a Consumer Reports member, our initial assessment of the freshened Q7 is available to you here. We have put it through more than 50 tests at the CR Auto Test Center, including those that evaluate acceleration, braking, fuel economy, handling, car-seat fit, and controls. CR members have access to the full road-test results.
If you haven't signed up yet, click below and become a member to access this full article and all our exclusive ratings and reviews for each vehicle we buy and test. Joining also gives you full access to exclusive ratings for the other products our experts evaluate in several categories, including electronics and appliances.
Sign up for CR's Cars email newsletter to be notified when we post our latest road-test results.
Update: Since this first drive was originally published in April, 2020, we finished testing the Audi Q7.
See the complete Audi Q7 road test.
Become a member to read the full article and get access to digital ratings.
We investigate, research, and test so you can choose with confidence.