Preview: Mazda Reveals the All-New 2023 CX-50
The company takes aim at the Subaru Crosstrek and Ford Bronco Sport with a small SUV geared toward adventurers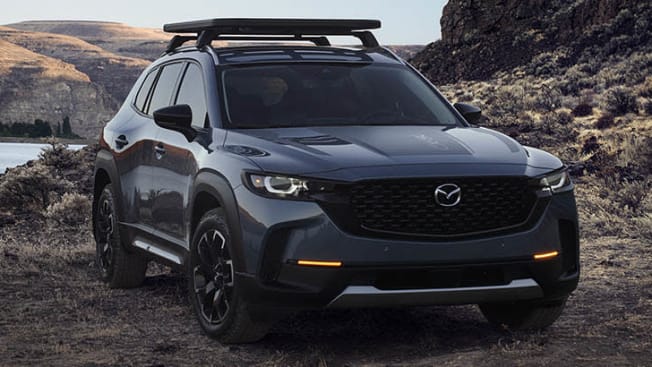 Mazda appears to be targeting the popular Subaru Crosstrek with a rugged-looking little SUV of its own. The all-new 2023 Mazda CX-50, revealed in advance of the LA Auto Show this week, features standard all-wheel drive, increased ground clearance, an off-road driving mode, and a more rugged appearance compared with Mazda's other small SUVs, like the CX-30 and CX-5.
The company says the intention is to give people a vehicle that can enable them to escape the city for off-pavement adventures that wouldn't typically be considered with a Mazda, for instance, to a remote campsite in the woods or in the mountains.
Despite Mazda's hype that the CX-50 is designed "to give consumers an off-road driving experience," make no mistake: This compact SUV is far from a true off-road-worthy vehicle. As with most of today's car-based crossover SUVs, the CX-50 and rivals like the Ford Bronco Sport and Subaru Crosstrek aren't for bounding over severe, rocky off-road trails the way you can with a Jeep Wrangler or body-on-frame pickup truck. 
But the CX-50's formula—adding a bit of extra ride height and ground clearance, along with a slightly rugged exterior and standard all-wheel drive—has worked for Subaru with its Impreza-based Crosstrek and the Outback, so why not a tough-looking SUV that can be sold alongside the CX-5 yet aimed at a different customer? 
We'll be keen to assess if Mazda was able to strike a balance between off-road capability and on-road performance, as the company's spokespeople claimed during the CX-50's unveiling. On-road prowess has long been a Mazda hallmark.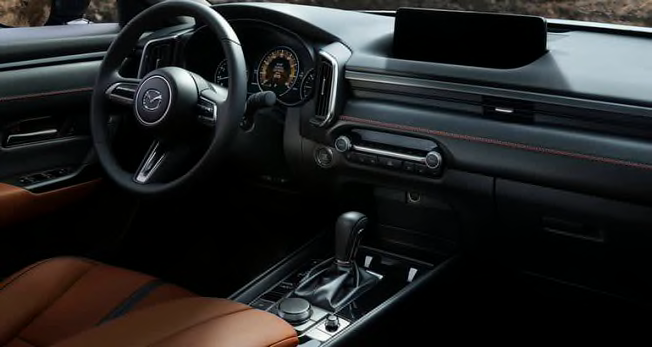 The basic silhouette looks similar to the CX-5, but the CX-50 is longer, wider, and has a lower roofline. It also has significantly more pronounced fenders, which give it a broad-shouldered look. Plus it features black fender flares, lower-body cladding, and a roof rack—all touches pulled from the Subaru playbook. Mazda says the CX-50 also benefits from a wider track than its other small SUVs. There's also not-so-subtle side air intakes at the edges of the front bumper and at the rear of the vehicle.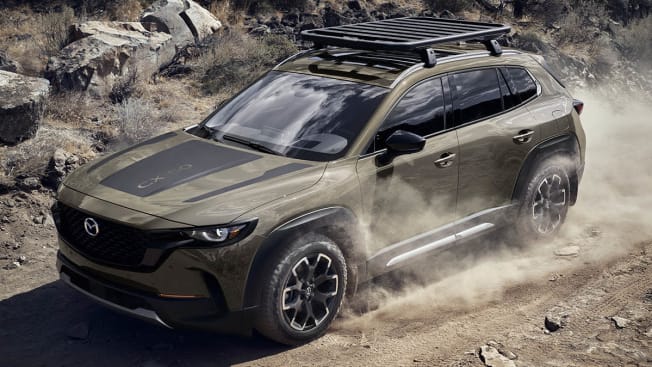 We've noted in our testing that Mazda has stepped up its game in terms of interior quality with its recent vehicles. Most of its models feature plenty of padded areas, fine stitching, and a solid feel. Mazda claims it has taken another step forward with the CX-50 in terms of quality, while "incorporating tough, advanced, rich, technical details inspired by modern outdoor gear."
From the few photos Mazda has shared so far, the CX-50 looks to have a sleeker, less-cluttered cabin than many of today's SUVs. There's a good-sized infotainment display screen that protrudes from the upper dashboard, but the mid-dash area is very minimalistic, and the center-stack area is almost adorably simple. 
The infotainment system will likely forgo a touch screen in favor of a rotary-style controller as we've seen on other Mazda models.
Of note, the CX-50 will be the first Mazda vehicle to get a panoramic sunroof.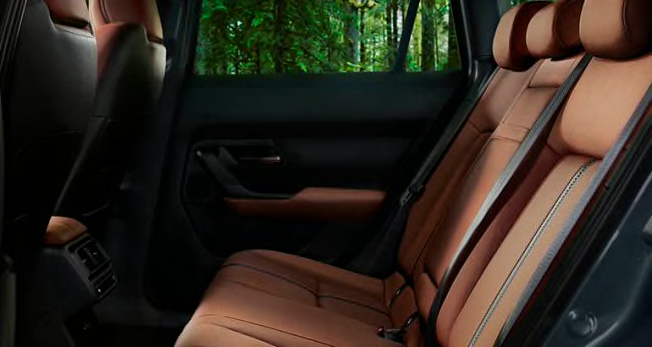 Mazda says the CX-50 will initially be available with two different 2.5-liter four-cylinder engines—nonturbo and turbo versions—both mated to a six-speed automatic transmission, just as with the CX-30 and CX-5. All-wheel drive will come standard on the CX-50, the same as the other 2022 Mazda SUVs.   
The nonturbo four-cylinder is likely to produce about 187 horsepower. We found this engine to feel smooth and sprightly in our test of the CX-5, and we appreciated Mazda's well-tuned transmission. The CX-50's turbocharged engine should produce about the same 227 hp it does in the CX-5, which gave that SUV effortless acceleration, with a strong well of low-end power. 
A hybrid (and possibly a plug-in hybrid) will come to the CX-50 later, according to the automaker. 
Mazda says one of its goals with the CX-50 was to get the best off-road performance possible without compromising any on-road driving. To that end, the CX-50 has four different driving modes—Normal, Sport, Off-Road, and Towing—that can be switched by the driver through the Mi-Drive (which stands for Mazda Intelligent Drive Select) toggle lever.
Sport mode holds the transmission's gears longer and gives a more direct throttle response. The Off-Road mode tries to address the slippery situations typically found on gravel roads through Mazda's G-Vectoring Control system, in an effort to aid front-tire traction when you first turn into a corner. The all-wheel-drive system is tuned to reduce oversteer to keep the rear tires from sliding out as easily. For more serious, low-traction, off-road uphill situations, the all-wheel-drive system immediately applies the brake on both a spinning tire and the tire diagonally opposite to send the engine's torque to the tires that have the most traction. 
If you're pulling a trailer with your CX-50, Towing mode will not only change the transmission's shift schedule, as with most tow modes, but also take into account that the trailer's tongue weight squats the rear of the vehicle down, which causes the front tires to get slightly unweighted and have a duller steering response. Mazda says Towing mode, through its G-Vectoring Control system, is capable of making the steering response feel more normal when pulling a trailer.