Apple Updates iPad Pro, iMac, and Apple TV
The company also introduced the long-awaited AirTags tracking device, broadening the scope of its Find My feature Apple has significantly updated the iPad Pro tablet, iMac computer, and Apple TV set-top box. The company also introduced a new product called AirTags that, similar to the popular third-party tracking accessory Tile, helps users locate lost objects like wallets and car keys via the company's popular Find My feature.
In addition, Apple announced a new version of the Podcast app, which includes a refreshed user interface designed to make it easier to discover new shows. It also provides a way for listeners to support their favorite shows with direct payments.
The updates were unveiled at the company's highly anticipated "Spring Loaded" event and come roughly two months before its annual Worldwide Developer Conference, where it typically announces new versions of iOS and macOS.

The update of the high-powered iPad Pro, aimed at professional users like photographers and digital artists, involves both the 11-inch and 12.9-inch models. Both now use the Apple-designed M1 processor, which significantly boosted the performance of the MacBook Pro and Air laptops, according to Consumer Reports' testers.
They also employ a new display technology called Mini LED that Apple claims delivers more accurate colors and better contrast, compared with traditional LCD technology. Apple calls this new display Liquid Retina XDR.
Mini LED technology isn't exclusive to Apple and is expected to appear in high-end TVs this year from companies like LG, Samsung, and TCL.
Other additions include optional 5G wireless connectivity, which allows for very fast downloads when connected to a compatible wireless network, upgraded webcams for better performance on video calls, and a new white version of the tablet.
Despite heated speculation heading into the event, no other iPad model updates were revealed on Tuesday.
The 11-inch iPad Pro starts at $799 for the WiFi-only model ($999 for the option with cellular), and the 12.9-inch model starts at $1,099 ($1,299 with cellular). All will be available for preorder on April 30 and begin shipping in the second half of May.
Apple's iPad Pro has typically fared very well in Consumer Reports' tablet ratings, though consumers looking for less expensive tablets do have other options, including the $330 entry-level iPad and the Amazon Fire and Walmart Onn. Those are not nearly as powerful and the last pair doesn't have access to the rich suite of apps available on the iPad OS App Store, but they may suffice for more ordinary tasks like browsing the web or streaming video.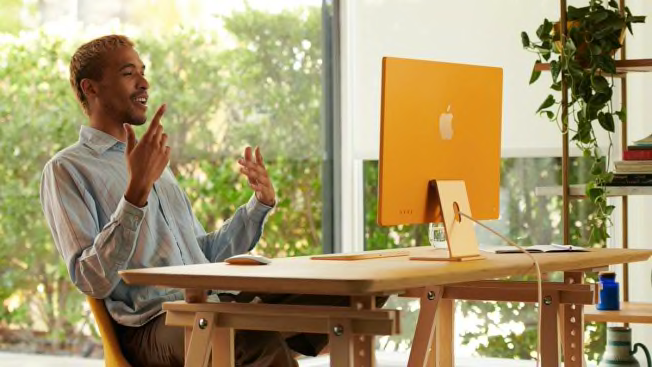 Apple has also added the M1 processor to its entry-level desktop iMac computer. The company claims the M1, which we look forward to testing, can deliver as much as 85 percent better performance compared with previous iMac models.
Other updates include an improved 1080p webcam (which features an improved microphone designed to better dampen unwanted background noise during Zoom calls) and a new keyboard with Touch ID built into it.
The model is available in a range of pastel colors, including yellow, green, and blue, that hark back to the original iMac released in 1998.
The new iMac will be available in one size, 24 inches, and will start at $1,299. It goes on sale April 30 and begins shipping in the second half of May.
Apple TV, a set-top box that allows users to stream services like Netflix and Apple TV+, now supports high frame-rate HDR video (HFR HDR). This should allow for smoother movement of fast-paced content like sports.
Apple also announced an updated remote control with a dial-like touch-control clickpad. It has the ability to directly control a TV's on, off, and mute functions.
The updated Apple TV starts at $179 (with 32GB of storage), goes on sale April 30, and begins shipping in the second half of May.