When you shop through retailer links on our site, we may earn affiliate commissions. 100% of the fees we collect are used to support our nonprofit mission.
Learn more.
Plenty of products at CES 2016 buzz and beep, but we found two new ones that aspire to help you make music instead of noise.
The first, a keyboard instrument called the Seaboard Rise, comes from a company called Roli. Unlike most pianos, organs, synthesizers and Midi keyboards, which have hard, rigid keys, this $800 instrument has a soft, sponge-like surface that allows you to not only play it like a traditional keyboard, but also expand the tonal effects and sound qualities of each note by pressing, gliding and lifting your fingers off the keys.
Like most Midi keyboards, the Roli allows you to access a vast array of sounds, including guitars, strings, drums, and percussion, when you hook it up to a computer or mobile device via a USB connection or Bluetooth. It reportedly has eight hours of battery life per charge.
Like the $2,000 Roli Seaboard Grand, this smaller keyboard ships with a robust software package called Equator. But you can use other software instruments and digital audio workstations as well.
If you're an iOS user and you want to get a feel for Roli's software interface, download the new mobile app, Noise, which lets you control the same five touch dimensions found on the Rise: strike, press, glide, slide, and lift. According to Roli, the app works with most iPhones, but the 3D touch on the iPhone 6s and 6s Plus permit you to take more advantage of it—minus the tactile interface found on the Rise, of course.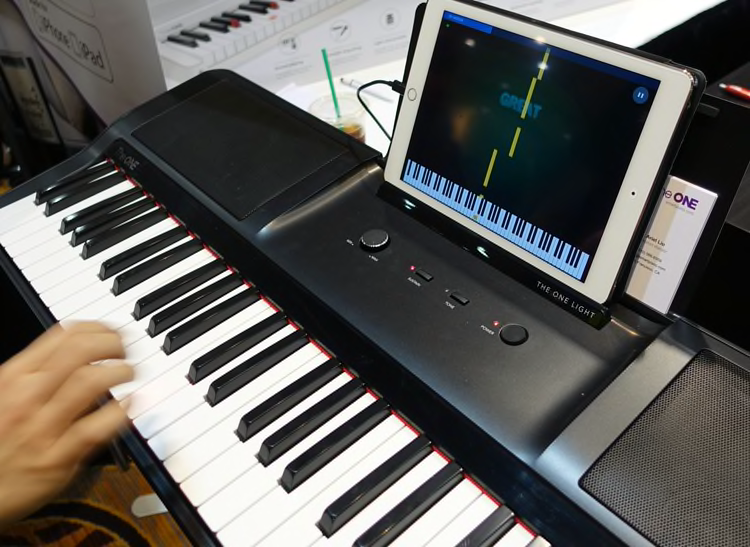 The other product that caught our eye is the One Smart Piano, which comes in two versions: a $1,500 full upright piano with 88 keys and hammer action and a portable 61-key model with touch response. Both are available in white and black.
The cool thing about this instrument is that it can be hooked up to your smartphone or tablet (iOS or Android) after you download the company's app. And once your mobile device is connected, the app will help you learn how to play the instrument.
Just like a good teacher, the app-based tutorial uses several methods of instruction to assist students. It lets you play songs by lighting up each and every note you need to strike. It allows you to slow a song way down and gradually increase your speed while you master it. And it features musical games and interactive video lessons. It even displays the sheet music so students can learn how to read music as well.