It used to be that just a simple tread depth gauge or a coin was used to measure the remaining rubber on tires, but now there is new technology to give retailers a much more precise look at treadwear.
Seen at the 2015 SEMA show this fall was the Quick Tread tread depth measuring system by Hunter Engineering Company, a maker of vehicle and tire service equipment. There was also a portable system presented by Tire Profiles called GrooveGlove.

The Quick Tread system is designed for car and tire dealers to quickly scan tire tread depths of customer cars simply by rolling over laser sensors embedded in drive-over floor plates. The handheld GrooveGlove device uses a laser to scan the tires and measure tire tread depth.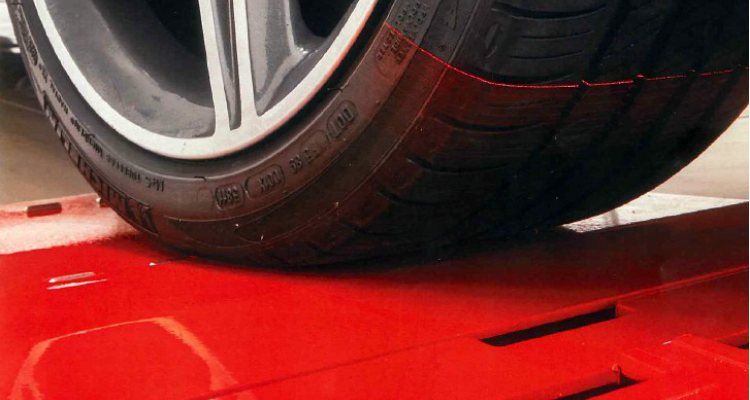 These products provide detailed reports of the wear profile of each tire, looking at tread depth, type of wear, and extent of the wear. They can also indicate whether the vehicle is in need of wheel alignment or suspension work. With routine monitoring, a retailer could potentially predict when the tires might need to be replaced, giving the consumer advanced notice and time to shop for new tires.
These new tire tread depth systems will help retailers retain consumers and sell more services, such as wheel alignments and of course sell more replacement tires. But these systems are also a powerful tool for consumers, as they provide quantifiable data on the condition of the tires. Armed with this tire tread depth information, consumers are likely to be proactive in replacing tires before traction is compromised, thereby keeping them safer, especially in inclement weather.
Until these systems become common place, you best hold onto your tire tread depth gauge or trusty quarter to measure tread depth. Be sure to inspect your tires monthly and check the tire inflation, too.
Consumer Reports is an independent, non-profit organization dedicated to helping consumers. We make it easy to buy the right product from a variety of retailers. Clicking a retailer link will take you to that retailer's website to shop. When you shop through retailer links on our site, we may earn an affiliate commission – 100% of the fees we collect are used to support our mission.
Learn more.
Our service is unbiased: retailers can't influence placement. All prices are subject to change.