5 Things to Know About Top-Load Agitator Washing Machines
These old-school appliances are still the most popular type. Consumer Reports reviews the pros and cons.
When you shop through retailer links on our site, we may earn affiliate commissions. 100% of the fees we collect are used to support our nonprofit mission. Learn more. When your washer flatlines, quickly scoring a new machine can give your laundry room a new lease on life—before the clothes start piling up. But should you choose a modern front-loader, a sleek high-efficiency model, or a traditional top-load agitator like mom and dad once used?
If it's the latter, don't worry, you're not alone. Top-load agitator washing machines aren't the most technologically innovative, but they continue to outsell front-loaders and even HE top-loaders, the kind without a center-post agitator. According to the Association of Home Appliance Manufacturers, 44 percent of all washer shipments in 2020 were top-load agitators.
1. Cleaning: Not the Best but Good Enough
Among more than two dozen top-load agitators in our current washing machine ratings, not one earns an Excellent rating in our cleaning test. Many earn a midrange Good rating, though, meaning they should clean most loads well. They may have trouble with heavily stained or soiled items.
Pretreating laundry with a stain remover will help, and so will pretreating with a dab of laundry detergent that delivers a punch. You can also use a more aggressive wash setting, such as the heavy-soil or heavy-duty cycle, but keep in mind that this is harder on fabrics.
2. They're Rough Around the Edges
The center-post agitator in these washers churns the laundry, rubbing clothes together to clean them. That's why many top-load agitators earn only a Good or even a Fair in our gentleness test. They're more likely to cause wear and tear to fabrics than, say, a Green Choice front-loader machine that's very gentle on clothes.
Adjusting the soil setting may help. Use the normal-wash/normal-soil setting for most loads, the light-soil setting when you can, and the delicate cycle when necessary.
3. They Can Be Water Hogs
All washers use less water than they did 20 years ago, due to stricter federal efficiency standards. Top-load agitator washers, however, still typically use more water than HE top-loaders and front-loaders.
In our water-efficiency test, a washer earns an Excellent rating if it uses 13 gallons of water or less. Only one out of the two dozen-plus agitator washers in our ratings hits that mark, whereas most front-loaders and many HE top-loaders rate Excellent for water efficiency. In fact, many top-load agitators earn only a Good or Fair rating, using about 16 to 24 gallons to wash an average-sized load.
Doing full loads is one way you can save water. But if you're not satisfied with how well your washer cleans, check the manual to ensure you're not overloading the machine. Dirty laundry needs some room to move around.
Some Washers Save Money, Others Waste It
There's a big difference in the water use of the most
and least efficient washers in our tests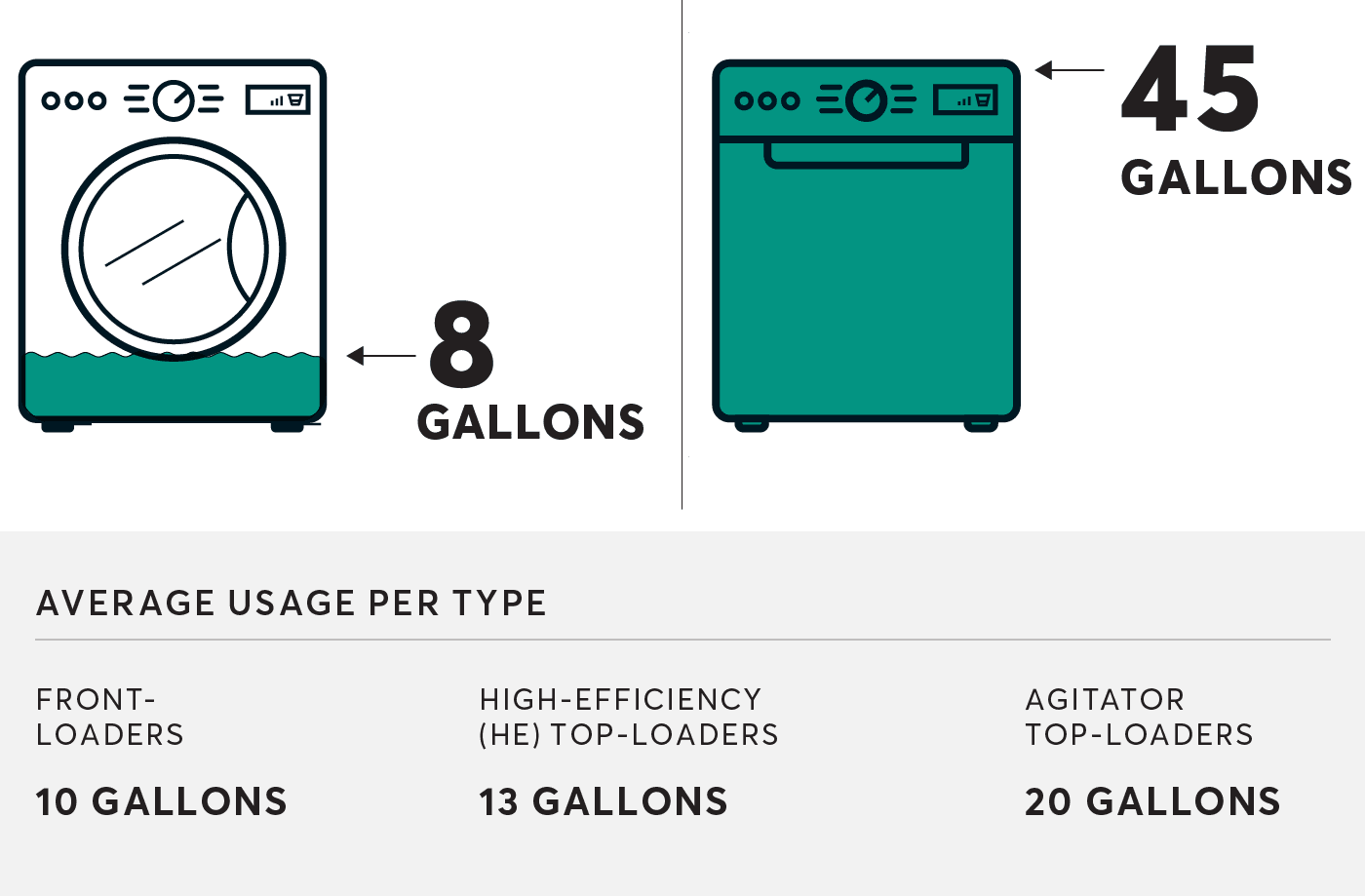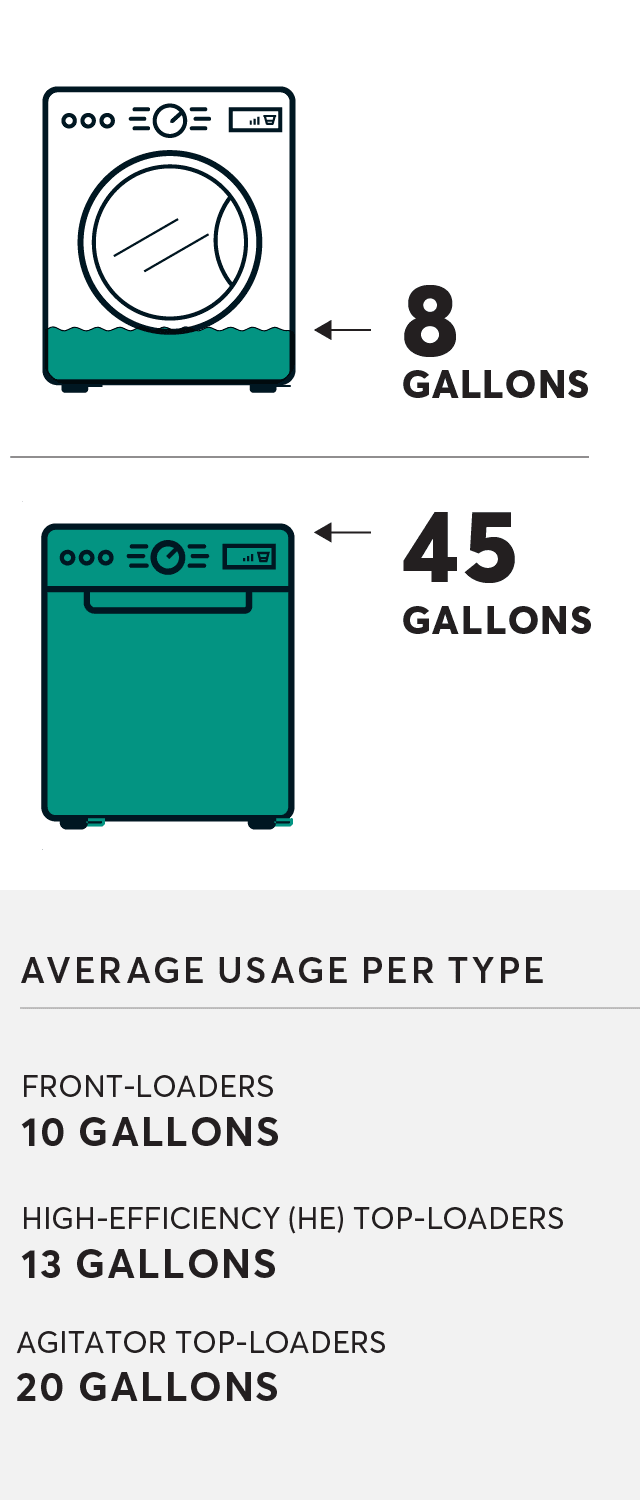 4. You'll Hear Them Working
As a group, top-load agitator washers are noisier than HE top-loaders or front-loaders. Not a big deal if your washer is tucked away in a basement corner, but it can test your patience if the washer sits near your bedroom on the second floor.
Our panelists judge each washer's noise levels during the fill, agitate/tumble, drain, and spin cycles. None of the agitators in our tests garner an Excellent rating for noise, but a handful earn a Very Good rating, which means they're audible but not enough to disturb you. Most earn a Fair or Good rating, which means they make sustained noise while in use.
Another noise factor to be aware of: If a laundry load gets out of balance, your washer may seem unnervingly, well, agitated. It could make loud thumping sounds, rock back and forth, or even "walk" out of its place. If that happens, stop the wash and move the clothes around to rebalance the load. When the load is done, use a level to make sure the machine sits evenly. Check the washer's balance front to back and side to side, then tighten the lock nuts on the feet.
5. Newer Models Can Be Pricey
Top-load agitators have long been about function instead of form. But manufacturers now offer some models that are more stylish and have larger capacities as well, pushing up prices to between $650 and $1,300. At the same time, prices on other types of washers have come down.
"The appliance industry is very competitive," Allwood says. "LG and Samsung recently introduced top-load agitator models for the first time. They also make lower-priced, basic HE top-loaders and front-loaders. Other manufacturers have followed suit, so these days top-load agitators might not always be the cheapest option."
4 Impressive Top-Load Agitators From CR's Tests
Should You Wash Clothes in Hot Water?
Think your clothes come out cleaner with hot water? Consumer Reports' appliance expert Emilio Gonzalez explains to "Consumer 101" TV show host Jack Rico why it might not be necessary to wash clothes at a higher temperature.