Make Your Dream Vacation Stress-Free
Ready to see the world again? Planning a trip is exciting and, these days, a little complicated. CR shares this guide to smarter, safer travel.
After two-plus years of stay-at-home orders and endless Zoom calls, Americans apparently can't wait to get out of Dodge. More than 87 percent currently have travel plans, with nearly 30 percent planning to travel outside the U.S., according to a recent survey from market research firm Destination Analysts.
"Consumer confidence is high, and there is strong pent-up demand," says Peter Vlitas, executive vice president of partner relations at the Internova Travel Group, a travel services company. Also spurring this wanderlust is the recent easing of COVID-19 restrictions: As of mid-June, it was becoming increasingly possible to travel internationally without having to worry about requirements such as predeparture testing. That appears to be blunting the negative impact from a rise in prices for air and road travel.
With more destinations opening up, for many the biggest travel decision has evolved from "Where can I go?" to "Where should I go first?" Here's how to make that exciting decision—and how to plan the hassle-free, COVID-smart, completely amazing vacation you've been putting off for so long.
Find Your Dream Destination
Jazz and jambalaya in New Orleans. Whale watching in Maine. Grizzlies and glaciers in Alaska. If you don't want the effort of international travel, you can slake your travel thirst right here in the U.S. And just outside the borders, you'll find Aztec ruins, mountain lakes, and white-sand beaches in Mexico, Canada, and the Caribbean.
And then there's Europe—or beyond. Whether you're dreaming of seeing the Vatican or river-cruising down the Nile, your options range far wider than they have for the past two years.
To find out which countries are open to U.S. travelers, check the State Department's website. One caveat: Ever-changing COVID- 19 regulations mean this is probably not the time for destination-hopping. Save yourself some stress and put off the multicountry tour for another year.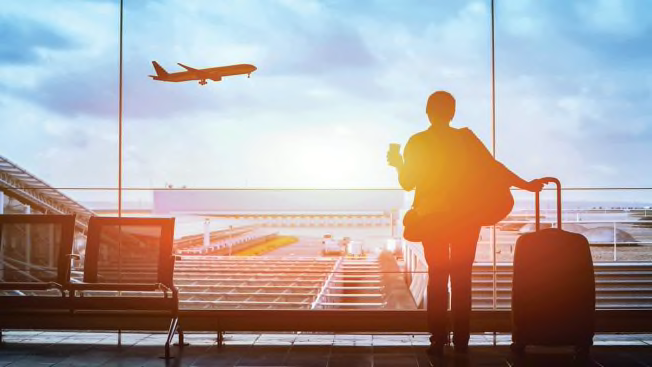 Prebook Airport Transfers
You can, of course, drive your car to your home airport and park for the duration of the trip—but if you factor in the driving time, the stress of sitting in traffic and the fact that most airport parking is miles away from the terminal, it might not be worth the money you save. In many areas you will find a range of shuttle vans or private cars to and from the airport. If you are landing in a foreign airport, you can often book a ride in advance and pay in U.S. dollars. At many major international airports, you can save money ($50 or more per person) by taking an airport bus to a downtown city depot, where you can catch a cab or other local transportation to your final stop.
Check In Faster
Long lines are back at airport security and customs checkpoints, but you can avoid the queue. Enroll in the Department of Homeland Security's TSA PreCheck program, the express lane service for vetted travelers at U.S. airports, or the more comprehensive Global Entry, which gets you through immigration and customs in minutes. TSA PreCheck costs $85 for five years; Global Entry costs $100 and includes TSA PreCheck membership, also for five years. New members can apply by filling out a form and arranging an in-person interview; often at an international airport or, for TSA PreCheck, at Staples and IdentoGo locations around the country.
Clear, a private-sector benefit using biometric identifiers, such as facial scans, has opened lanes at 43 U.S. airports, where users cut to the head of the line at security checkpoints; membership costs $189 a year (or less if you're a member of Delta or United's frequent flyer program or have an American Express Platinum card).
Ease Airport Time
At some airports—Denver and Dallas Fort Worth, for example—getting from curb to gate involves a lengthy trek. Even with moving walkways you'll be logging a lot of steps. You don't have to have serious mobility issues to request in-airport assistance, such as a ride on a cart or in a wheelchair. Most airlines will let you arrange this free of charge during the booking process.
You can also arrange for a private airport concierge at certain airports. The services these companies provide vary, as do the prices. Global Airport Concierge, for example, offers 13 types of services at over 700 airports worldwide, including Meet and Assist for $75 and lounge facilitation for $35, as well as baggage handling and more.
Layover between flights? You could spend it vying for a cramped seat at your next gate and craning your neck at the departures board every few minutes—or if you're flying on American Airlines or one of the company's partner airlines, you could relax in style at an American Airlines Admirals Club. There, you'll find made-to-order scrambled eggs at breakfast and a slider bar at lunch (as well as other food, wine, and drinks), free digital newspapers and magazines, shower suites, and a personal travel concierge to help you if your plans hit a snafu. Other airline lounges—for Air France, Delta, Virgin Atlantic, and others—offer similar perks, or better. And you won't necessarily need a business-class ticket to gain entry.
Some airline clubs may let you purchase a day pass for around $60; ask your airline about the price. Or book a day pass, $40 to $45, at a Centurion Lounge (run by American Express at 40-plus locations worldwide). Another option is an annual membership in Priority Pass, a network of more than 1,300 clubs at airports around the world (from $99 per year, plus daily pass fees). Travel credit cards such as the American Express Platinum, Capital One Venture X, Chase Sapphire Reserve, and some airline credit cards also offer access to airport lounges.
Is Travel Insurance Worth It?
Yes—if your journey will cost you more than you can afford to lose. But there's no one-size-fits-all travel insurance policy. Options range from à la carte protection—flight protection or medical-only coverage, for example—to comprehensive plans that will cover a wide range of issues. Premiums range from 4 to 10 percent of the total trip tab, so that $5,000 trip could cost you as much as $500 to insure, says Stan Sandberg, co-founder and co-CEO of the comparison site TravelInsurance.com.
If you get COVID-19 before traveling, you should be covered if you have to postpone or cancel, and under some policies, a positive COVID-19 test (both test and diagnosis must be confirmed by a doctor) is accepted as proof of illness even if you're symptom-free. If you test positive while traveling, trip interruption coverage will reimburse you for your unused prepaid costs, and trip delay coverage will cover additional expenses, including hotels and meals (with limits), if you must quarantine.
For other pandemic-related reasons, such as a country suddenly closing its borders, you're not covered unless you buy a "cancel for any reason" policy. These typically cost 40 to 60 percent more than standard plans and may cover only up to 75 percent of your total expenses.
Aggregators like Insure My Trip, Squaremouth, and TravelInsurance.com can help you compare dozens of policies based on search parameters. Take advantage of the typical 10- to 14-day "free look" window for backing out of a contract to check the fine print. Look out for excluded reasons for canceling that deny coverage, such as preexisting medical conditions, or war or civil unrest at your destination.
Editor's Note: This article also appeared in the August 2022 issue of Consumer Reports magazine.