When you shop through retailer links on our site, we may earn affiliate commissions. 100% of the fees we collect are used to support our nonprofit mission.
Learn more.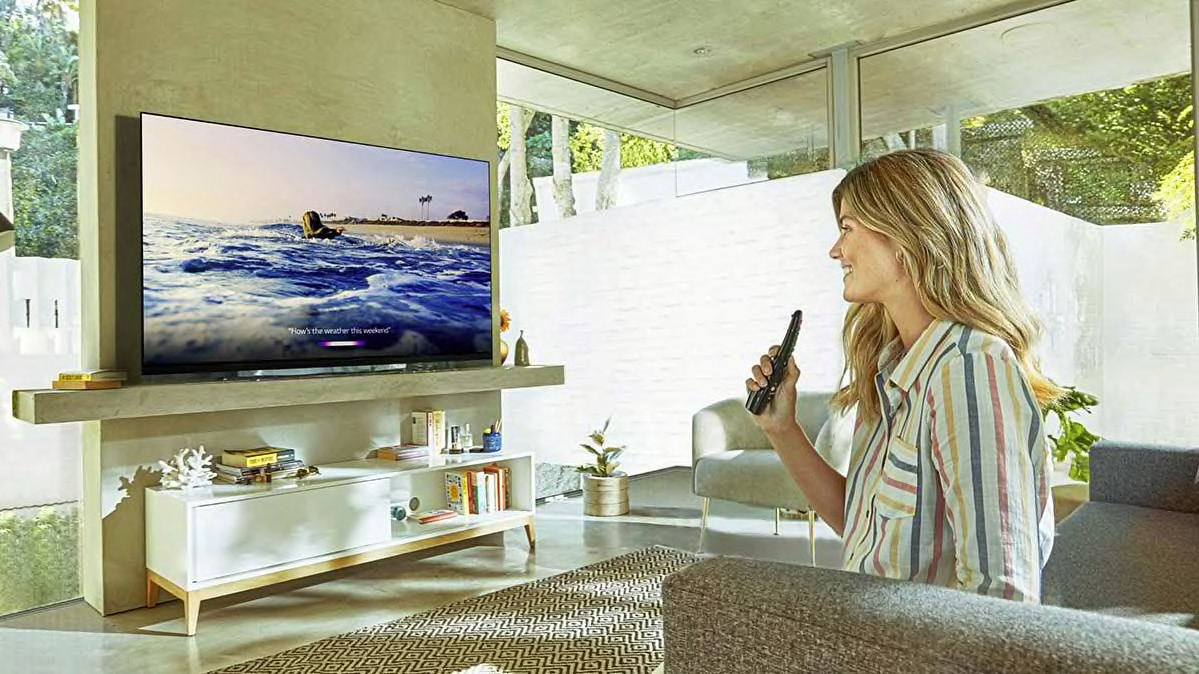 TV shoppers should expect to see some obvious differences in stores in 2019, starting with the sizes of the latest televisions.
Over the past few years, 65-inch sets have been available, but only recently did they start to feel mainstream. And not many consumers chose larger TVs.
But in 2019, more 70- and 75-inch models will be available, and at least some of these jumbo sets will come down in price.
That's among the TV trends Consumer Reports has seen at CES 2019, the annual consumer-electronics trade show in Las Vegas. At this massive tech gathering, television makers promote their new models and show off forward-looking technologies.
This year, the best example of an emerging technology is the 8K display, which has four times the resolution of today's 4K models. Even though consumers aren't clamoring for 8K sets, we'll see these TVs from several brands—and they will likely be very big and very expensive.
In 2019, smart TVs will get even smarter, as more models add Amazon Alexa and Google Assistant. That means you won't need a separate additional smart speaker or other smart device to access a digital assistant to control a variety of compatible smart products, such as speakers, thermostats, and major home appliances.
Apple will crash the smart TV party in a major way in 2019, with the first sets from several brands that include support for Apple AirPlay 2 and Apple Home Kit, finally bringing Apple into the world of TVs.
This news mirrors what's been happening throughout the tech industry for a couple of years, with Amazon and Google racing to integrate their digital assistants into as many products—and ultimately homes—as possible. Apple has been playing catch-up.
You can also expect improvements in LCD-based TVs, which make up the bulk of the market. Companies are addressing some of that technology's shortcomings, boosting performance of the best sets to OLED-like levels with better backlight and local-dimming technology.
So while we're not expecting any knock-your-socks-off developments that will revolutionize consumer choices next year—or make buying a leftover 2018 model a bad decision—there will be enough that's new to make 2019 another interesting year for TVs shoppers.
Here are more details on the top TV trends for 2019.
Smart TVs: Apple Joins the Club
The biggest news for smart TVs this year is that several major brands, including LG, Samsung, Sony, and Vizio, will offer models that support Apple AirPlay 2, the company's WiFi streaming technology, so you'll be able to stream videos, music, and other content directly to your TV from an Apple device, without the need for an Apple TV player.
LG, Sony, and Vizio will also support Apple HomeKit, Apple's smart home system. That means you'll be able to control the TV either using the Siri voice assistant or Home app on an Apple device. You'll also be able to add the TV to an automated HomeKit scene. So, for example, you could set up a "Movie Night" scene where the lights would dim and the TV would turn on with the press of a button.
LG will include the Apple support in some of its premium 2019 4K smart TVs, and Vizio will be rolling out support as part of an update to its SmartCast smart TV system. Sony is adding it to several top-tier Android TV models, including its flagship OLED and LCD sets.
Samsung, though, will be the only TV brand—at least initially—to include an iTunes app on its smart TVs. That will let you play, as well as buy or rent, iTunes movies and TV shows right from the app on the set. Samsung will also support AirPlay2, but it wasn't clear if HomeKit was also part of the plan.
8K TVs Will Be Real in 2019
We expected CES 2019 to be the coming-out party for 8K TVs, and we haven't been disappointed. Many of the TVs being shown are prototypes, but a few TV brands say they'll have 8K sets you can actually buy in 2019.
While prices haven't yet been disclosed, given the newness of the technology and the fact that 8K will be available mainly in very large screen sizes, they're not likely to be affordable for most consumers for a few years.
Samsung, actually started selling an 8K model in late 2018, the 85-inch Q900R set, which costs $15,000. And the company announced at CES that it would add 65-, 75-, 82-, 85-, and even 98-inch 8K models this year.
LG will be offering both OLED and LCD-based 8K sets in 2019. The OLED model, the Z9, will be offered in an 88-inch screen size, while the SM99 LCD set will have a 75-inch screen.
Sony says it will offer 85- and 98-inch 8K models in its new flagship LCD-based Z9G Master series models. These, too, are LCD-based models. The company seems to be sticking with 4K in its OLEDs in 2019.
The most surprising 8K news came from TCL, which announced at its CES press conference that it would offer the first 8K Roku TV, probably late in the year.
Beyond the steep price of 8K sets, most industry watchers think that 8K TVs are still years away from being a meaningful option for most people due to the lack of native 8K content. (While 4K content is available via streaming services and on 4K Ultra HD Blu-ray discs, broadcasters are still struggling with the amount of bandwidth needed to transmit 4K content.)
Paul Gagnon, executive director of research and analysis for the technology, media, and telecom group at the market research firm IHS Markit, expects 8K TVs to remain "a very small niche category, with ultra-premium price points." He estimates that just 43,000 sets will be sold in North America this year, and growth will be slower than with 4K sets because 8K sets will be mainly available in larger screen sizes.
Bigger TVs, Lower Prices
In 2019, you'll see more jumbo-size sets—at lower prices.
Shoppers are already seeing more big sets in stores, says Deirdre Kennedy, business director at the retail market research firm Gap Intelligence. She says that 65-inch TVs recently became the single most popular screen size on the sales floor, and more 70-inch sets are also being displayed. "That's a trend we expect to continue in 2019," she says.
Based on what we're seeing here at CES 75-inch TVs may get a big push in 2019, as most brands will have at least some sets this size in their lineups. So how much will they cost?
At its press conference, TCL said it would have a 75-inch version of its flagship 6-series 4K sets for under $1,800. And that's the company's priciest model, a TV that will initially be an exclusive to Best Buy.
Also at the show, RCA disclosed that it would be selling a 78-inch 4K set this year for just $1,500. That's about as low as we expect prices for this screen size to go.
Many of the major brands, which typically price their sets higher, haven't yet disclosed what their 75-inch and larger models will sell for.
New TV Technology
While there were any number of eye-catching prototype TV designs at CES, many may never see the light of day as a real consumer product.
The TV technology that will likely have the biggest impact for consumers this year will be improvements to LED backlights and local dimming.
"I'm expecting to see more full-array local dimming LED backlights this year as a way to enhance the performance of LCD against OLED," IHS' Gagnon told us just before the start of the show.
Full-array LED backlights is one way LCD TVs can come closer to OLEDs, which are noted for producing extremely deep black tones. Full-array backlights offer more effective local dimming, in which the LEDs are divided into zones that can be separately illuminated or darkened. When done well, that can help black areas of the screen stay darker, with fewer noticeable halos around bright spots.
Several companies say they're upping the number of controllable zones. How many will some sets have?
For top-tier sets, the numbers ranged from more than 100 to over 1,000. But one thing to remember about these claims: While more zones is generally a better thing, companies also need the technology to control them properly. Well-executed local dimming isn't solely a numbers game.
That said, TCL says its 75-inch 6-Series will have 160 local dimming zones, compared with 120 in its 65-inch model. Vizio claims its top-tier P-series models will have 240 zones, while its P-series Quantum X flagship models will have 480 zones. But so far, Hisense's 75-inch U9F model, which claims more 1,000 zones of local dimming, tops the list.
We'll have a better idea whether these sets with more local dimming zones can really improve LCD picture quality once we get them into our TV labs for a thorough evaluation.
Technology That Caught Our Eye
LG's "rollable" TV. LG showed a TV concept called OLED TV R, where the TV rises out of, and disappears into, its sound bar/table base. (It uses a flexible OLED screen that rolls up into the base.) That allows the TV screen to completely disappear, so you can use the sound bar alone as a speaker. There's also a "Line View" mode, where just the top portion of the screen appears. In this mode you can see a clock and weather info, play music, view photos, and access a dashboard to use some TV features.
We saw an earlier version of this set last year, but LG says it will be a real product in 2019. We'll see.
Samsung's MicroLED displays. Samsung continues to refine its MicroLED concept, which is essentially a "real" LED TV. With MicroLED sets, there's no longer a need for a separate backlight; every pixel is made up of tiny LED sub-pixels that give off their own light. That means each pixel can be turned on or off, just like in an OLED set. The screens are modular, so you can create TVs of virtually any size.
At CES last year Samsung wowed the crowds with a giant MicroLED TV concept it called The Wall, but this year the company showed a 75-inch 4K MicroLED that's a bit more practical for the home. Still no price or timetable, though.
LG Display's 88-inch OLED TV with no separate speakers. Yes, Sony's OLEDs have a similar technology, called Acoustic Surface. But LG Display, the panel-making arm of LG, showed off an 88-inch OLED with its Crystal Sound technology that it says can produce 3.2.2-channel Dolby Atmos sound, not just stereo. Hisense also showed off a speakerless TV concept it calls Sonic One.
Hisense Adonis MD MicroLED. Joining Samsung in the MicroLED camp, Hisense's Adonis is a 145-inch MicroLED display that's made up of more than 10 million microscopic LEDs. Right now it's just a concept, albeit an intriguing one.
Television Terminology
When it comes to buying a new TV, it's not easy keeping track of the sometimes confusing terminology. From 4k to OLED, Consumer Reports' expert, Jim Willcox, explains to 'Consumer 101' TV show host, Jack Rico, what consumers need to know.