Amazon, Walmart Face Off in Best TV Deals Showdown
Amazon claims tons of TV deals, but they're hard to find; Walmart's TV deals are easy to spot, but aren't always so special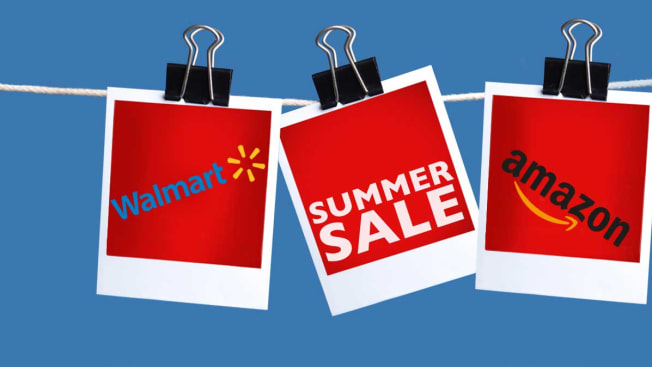 Once again, Amazon Prime Day is upon us, and once again Walmart isn't letting the online retailer claim the day as its own, launching its own week of summer sales. So which retailer can claim to have the best TV deals?
So far we've been tracking electronics sales on both sites, especially TVs since they tend to have the bigger sticker prices. Our take so far is that Amazon has the better TV deals, with one big caveat—they're incredibly hard to find. In fact, we've been able to locate only a handful of Prime Day TV specials, a far cry from the "more than Black Friday and Cyber Monday combined" assortment promised by the online retailer. It's also been incredibly time consuming and a lot of work, even though you can sort by the "electronics" category.
Walmart's "rollback" and "special buy" TV sales are much easier to find, and while they include some major brands—such as LG, Samsung, Sony, and Vizio—some lesser-known labels, such as ProScan, RCA, and Sceptre, are also in the mix. Also, you really need to compare prices with other retailers, as the sets on sale at Walmart aren't always much, or any, cheaper.

Amazon Prime Day TV Deals
The best TV deal is 55-inch Samsung UN55KU6600 4K Ultra HD smart TV, which has a curved screen, for $650. This 2016 set is an Amazon exclusive, so you can't price shop it elsewhere. But the Samsung UN55KU6500 set, which we tested, is selling for about $1,000. [UPDATE: This TV has already sold out]
Also one of the best TV deals: The 55-inch Samsung UN55KU6300 UHD smart TV, priced at $550. Another 2016 set, it's selling elsewhere for about $850.
The company has also promised these deals, but the fact that it doesn't list the brand or model makes it tough to see how special a deal they are:
A 43-inch 4K UHD smart LED TV for $300. We think this is the Hisense 43H7C2 model, which normally sells for $400.

A 32-inch 720p Roku smart TV for $120. [Update: This TV has been revealed as the TCL 32S3700. It's $200 at Walmart. Update 2: This deal is now sold out.]

A 40-Inch 1080p LED TV for $140

A 32-Inch 720p LED TV for $100
Amazon is also offering up to 40-percent "open box" discounts on LG and Samsung sets, mainly leftovers from 2015 and 2014.
Apart from TVs, when you go to the Amazon website you'll find that some of the best early deals are on the company's own products, such as the Amazon Echo ($130, down from $180) and Tap ($120) Bluetooth speakers, and Kindle and Fire TV tablets of all stripes, and Fire TV streaming devices. For example, the Fire 7 7-inch tablet is priced at $33.33—down from $50—the lowest price we've ever seen.
Headphones are also very prominent during Amazon Prime Day. There are some very good sales on Bose models, unusual because Bose headphones aren't often discounted. During the sale, you can get the Bose In-Ear Sports Headphones for $50, half their usual selling price, or the Bose SoundTrue Headphone II for $100, down from $180.
Will you be shopping for TVs at Amazon or Walmart today?
Let us know in the comments section below.
Walmart's best TV deals are a bit easier to find, since you can sort by "TV deals." That's a big plus. But with Walmart's sales, you'll really need to compare the sale prices to other retailer's current pricing—which we've done—to see which deals are really special.

As part of the sales event, customers can get a free 30-day trial of Walmart's Prime-like two-day shipping service, called ShippingPass. The program normally costs $49 per year, less than half what Amazon Prime costs, but it doesn't include any streaming services.
Here are some of the best TV deals—"rollback" and "special buys"—we found at Walmart:
A 55-inch Samsung 4K Ultra HDTV for $598, down from a claimed $1,199. The model wasn't mentioned, but it looks like the UN55JU6400FXZA, a 60Hz mode from last year. This is among the best TV deals we've seen, as it normally sells for about $1,100. We tested the 48-inch model in this series, and it has excellent picture quality. It's $888 at B&H Photo.
An LG 65EG9600 65-inch-Curved-4K-UHD-Smart-OLED-TV, $3,187. It's $30 cheaper at Amazon right now. We tested the 55-inch version of this 2015 set, and it was among the top-rated TVs in its size category.
A Sony XBR-65X850D 4K UHD Smart TV, which we tested, for $1,998 with an accessory bundle. Basically, the TV is the same price without the extras, which include a cleaning kit, power strip, and two HDMI cables.

A 40-inch Samsung UN40H5203AFXZA, a 60Hz 1080p model, was an advertised special at $328. We don't see it elsewhere right now.

A 40-inch curved-screen Samsung UN40K6250 1080p smart TV for $398, another model we couldn't find elsewhere.

A 32-inch ProScan HDTV for $100. It looks like it's the PLDED3280A, a 60Hz 720p set. If so, Walmart had this set for the same price on Black Friday last year.
There were a few Vizios on sale, but they didn't seem much cheaper than elsewhere.
If you're willing to go with an off-brand, there were several RCA sets on sale, and they seem cheaper at Walmart than anywhere else. The sets include the 58-inch RCA LED58G45R for $430—it's $550 at Sears and Kmart— and the 55-inch LED55G55R120Q, a 1080p set for $370. It's not widely available elsewhere. And the 50-inch RCA LED50B45RQ 1080p set is $330 at Walmart, $70 cheaper than at Sears.
There were also several low-cost Sceptre 4K sets on sale, including the 55-inch U55CV-U for $360, the 50-inch U505CV-U for $300—about $55 cheaper than Amazon—and the 43-inch U435CV-UMC for $250.
We haven't tested any new RCA or Sceptre TVs this year, although in the past neither brand has done especially well in our TV Ratings.
Since Amazon will be running spotlight specials throughout the day, we'll continue to monitor the Amazon Prime Day sales and update the article if we see any TV deals of note. If you're shopping for a TV today, let us know the best deals you find and what TV model you bought.