Best Cyber Monday Deals on 65-Inch TVs
Thanks to price cuts and holiday promotions, it's a great time to get a big-screen TV
When you shop through retailer links on our site, we may earn affiliate commissions. 100% of the fees we collect are used to support our nonprofit mission. Learn more.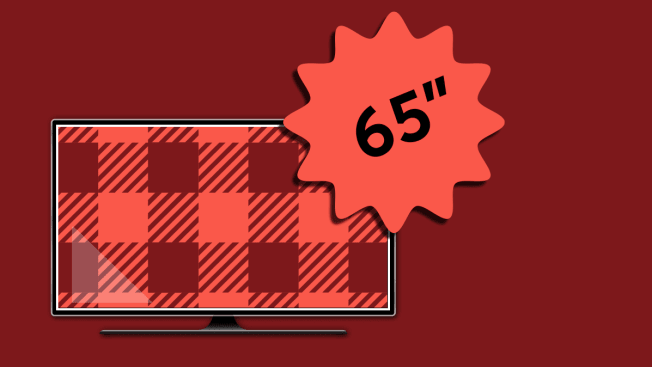 When it comes to TVs, 65 is the new 55—inches that is. That's because more of us are opting for what just a few years ago would have been called a jumbo set.
The bad news is that prices on TVs increased earlier in the year, thanks to supply chain issues, some component shortages, and higher shipping costs. So what does that mean for those of us looking for a new set during holiday shopping season?
Stephen Baker, vice president for industry analysis at the market research firm NPD Group, says that you should still be able to find deals on TVs. "For those categories—such as PCs or TVs—where there are alternatives to a specific model, you should be able to find something."
Below, you'll find some of the best deals on 65-inch TVs, and we're also tracking the best Cyber Monday deals on TVs of all sizes. We've seen great offers on brands including Hisense, LG, Samsung, TCL, and Vizio. Members can check out our TV ratings, which cover more than 230 models.
Go to Consumer Reports' Holiday Gift Guide for updates on deals, expert product reviews, insider tips on shopping, and much more.
This 65-inch 4K smart TV from Insignia—which uses the Amazon Fire TV smart TV system—offers satisfying HD and 4K picture quality, but its HDR performance is ineffective, mainly due to peak brightness limitations. The good news is that Best Buy dropped its price by $40 on Black Friday, and that deal is continuing.
CR's test results: Insignia NS-65DF710NA21
This set, the LG 65UP7670PUC, is sold only at warehouse clubs; it is $20 cheaper at BJ's than at Costco or Sam's Club. We didn't test this set, so we can't comment specifically on its picture quality, but other entry-level LG 4K sets have had mixed results in 2021, with some showing only decent overall picture quality.
LG 65-Inch A1 Series 4K OLED Smart TV
This set, the LG OLED65A1PUA, is the new entry-level model in LG's OLED TV lineup for 2021. We didn't test this set, but did evaluate the 55-inch version of this set, and it's a top performers in all areas except HDR, where it didn't do quite as well as the step-up C1-series sets.
CR's test results: LG OLED55A1PUA
LG 65-Inch C1 Series 4K OLED Smart TV
We didn't test this 65-inch 4K OLED TV, in LG's step-up C1 series for 2021, which is sold via warehouse clubs. However, we did test the similar model sold at electronics stores and mass merchants—the LG OLED65C1PUB, see below for links—which is about the same price, and it's one of the best TVs we've evaluated this year, with top-notch picture quality, effective HDR, and great sound. The price at Costco is now good through Dec.12.
The price on this 65-inch 4K smart TV from Samsung, an entry-level model in the company's mainstream non-QLED 4K TV lineup for 2020, is now at the same price at all three retailers. (It had been cheaper at Walmart a few days ago.) It's a decent overall performer, though its HDR performance is ineffective, mainly due to peak brightness limitations. (Samsung TVs support the HDR10, HDR10+, and HLG HDR formats.) Compared with the TU8000 models above it, this set lacks a few features, including an enhanced game mode, and it has only two, rather than three, HDMI inputs.
CR's test results: Samsung UN65TU7000
Right now, Walmart has the best price on this 65-inch 4K LCD/LED smart TV from TCL, though we did see it for about $100 less during Black Friday sales. It's a Roku TV model in TCL's step-up 6-Series sets for 2020, a model that already offers a lot for the money, including satisfying overall picture quality and a very effective HDR experience—something that not many TVs in this price range can match. (The TV supports both the HDR10 and Dolby Vision HDR formats.) One interesting element of this TV is it uses mini LEDs in its full-array LED backlight with local dimming, which can help improve the dark scenes and contrast.
CR's test results: TCL 65R635 65-inch TV
Vizio 65-Inch P-Series 4K SmartCast TV
We didn't test this set, the Vizio P65Q9-J01, near the top of Vizio's 2021 lineup. But we did test the 75-inch version, and it did very well overall for picture quality, though not as well for HDR. (These sets support all the major HDR formats, including HDR10, HDR10+, Dolby Vision, and HLG.) It uses the Android-based SmartCast smart TV system, with support for Amazon, Apple, and Google voice assistants. One weird thing: Walmart's price for this set.