When you shop through retailer links on our site, we may earn affiliate commissions. 100% of the fees we collect are used to support our nonprofit mission.
Learn more.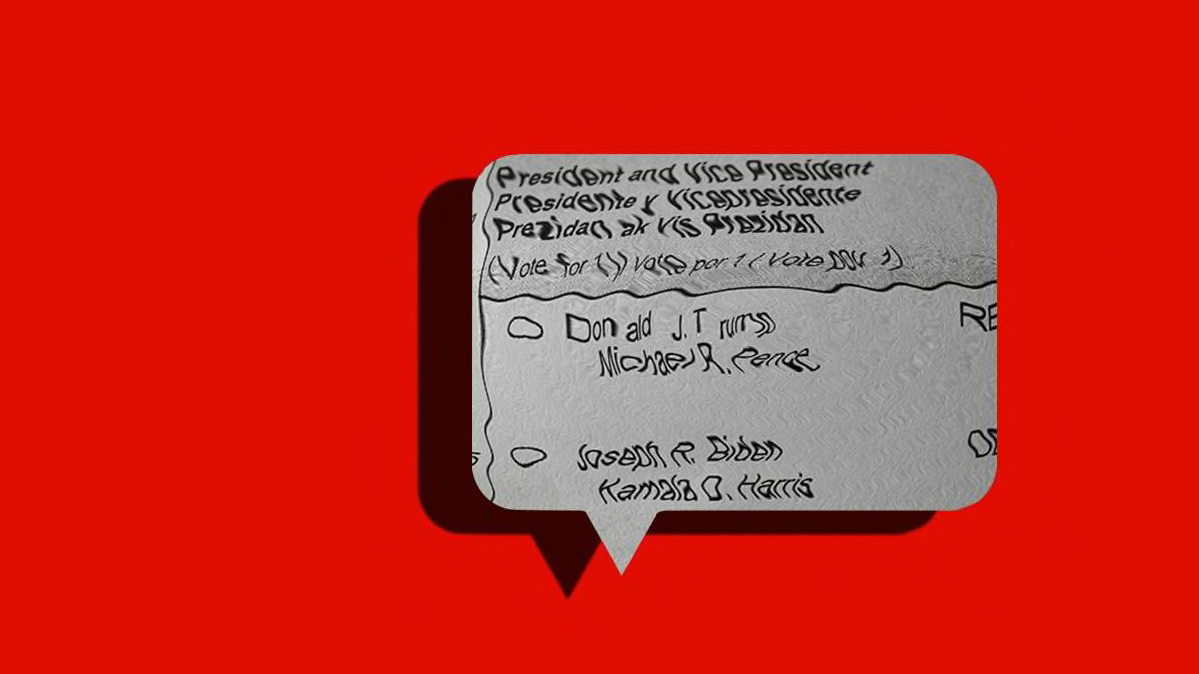 In late September, a photo of a dumpster full of light-blue envelopes started spreading on Twitter. The post made the explosive claim that the discarded envelopes contained more than a thousand unopened ballots—proof, the claim went, of heavy tampering in the upcoming presidential election.
The real story of the dumpster, located in Petaluma, Calif., was quite different. Those blue slips were simply empty envelopes left over from the 2018 election. But by the time county officials stepped in to correct the record, photos of the dumpster had gone viral and made their way onto a popular far-right website.
"Ballot dumping" narratives are among the rumors and false statements, often spread deliberately, that are intensifying in the run-up to Election Day on Nov. 3. Against that backdrop of falsehoods, often broadly defined as misinformation, it's more important than ever to wade through social media with a critical eye. But it's also more difficult.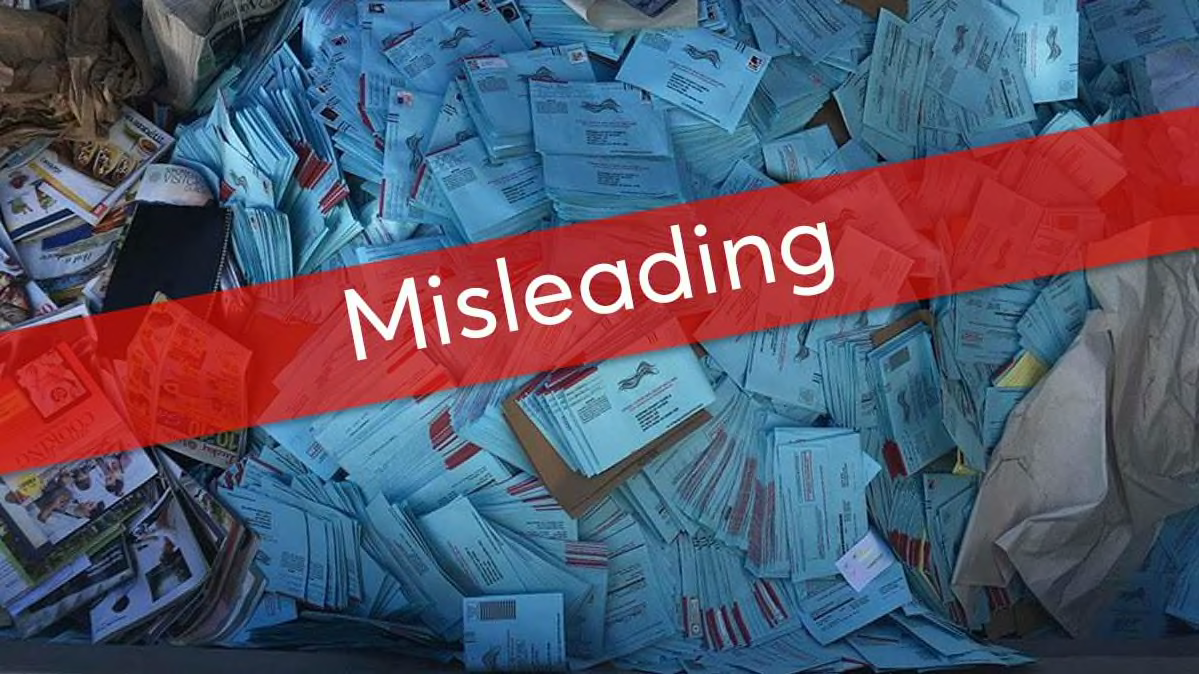 "The volume and frequency of misinformation has accelerated significantly" from the 2016 and 2018 election cycles, says Jesse Littlewood, vice president for campaigns at Common Cause, a voter-rights advocacy group that tracks election misinformation. "We're concerned with content that impacts people's faith in the legitimacy of our system or somehow implies that some methods of voting are less secure then others—when there is no evidence that's true."
It's easy to be misled by surprising information like the dumpster photo—especially in a year where a pandemic seems to have turned every longstanding norm on its head.
More on the Election and Social Media
To build up your defenses, it can help to get familiar with the types of election misinformation and messages designed to intimidate voters that are already circulating. These are likely to continue up through Election Day and beyond, while mail-in ballots are still being counted.
We've outlined four of them below, including distortions about when and how to vote, misrepresentations of mail-in voting, and messages that could scare people away from polling places. We also share some expert advice for how to sift through your social feeds as critically as possible—and help your friends and family do the same.
Falsehoods About Where, When to Vote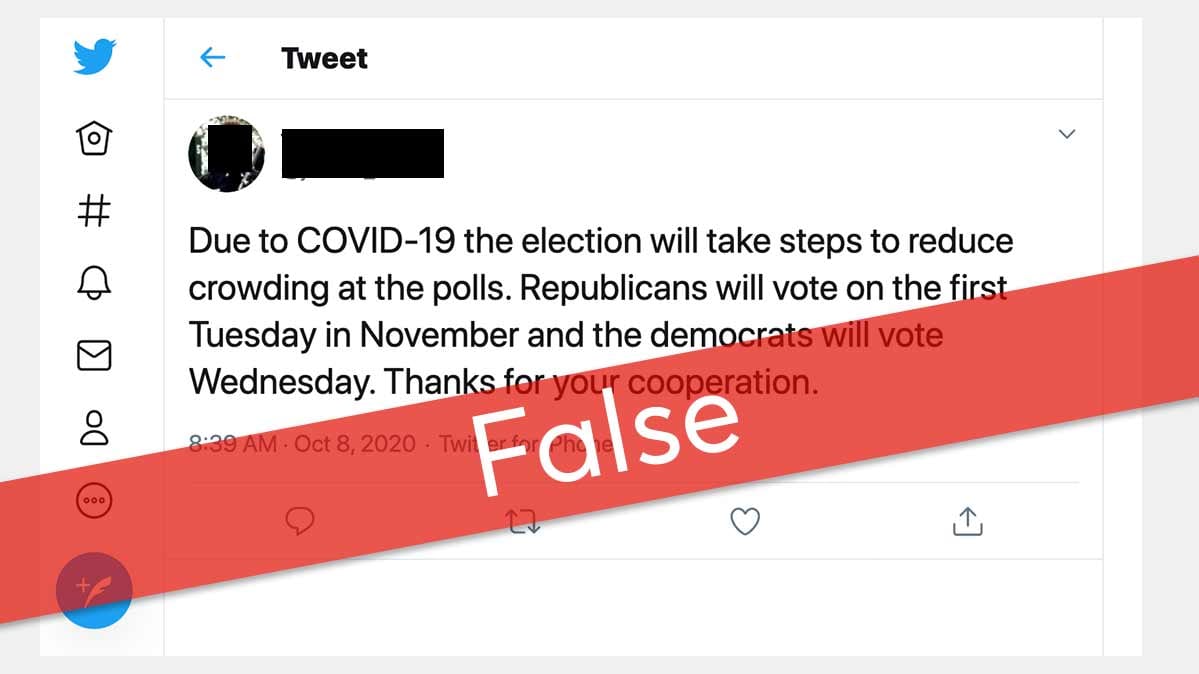 Posts that suggest that the election is any day other than Tuesday, Nov. 3, or that different people vote on different days are false.
These are spreading quickly, including a widely circulating claim that Republicans should vote on Tuesday and Democrats on Wednesday.
In one high-profile example from early October, New Mexico's secretary of state debunked a Facebook post that falsely claimed polling locations were set to close on Oct. 15. In fact, early voting is already underway in the state and will continue through Oct. 31. Then, of course, polls will be open on Election Day.
Also false are many posts that tell people their polling place has moved, or suggest that Democrats and Republicans should cast their ballots in different locations.
You can look up where and when you can vote—either early or on Election Day—on your state's election office website. (Vote.org has links to all those sites and provides a tool where you can make sure you're registered.)
Every major social media company has strict rules banning this type of misinformation, CR found this summer. Experts say the companies typically take down the problem posts quickly, but new examples resurface just as fast. "We see these cropping up basically daily," says Emma Steiner, an analyst at Common Cause. If you see this type of misinformation in your feed, you can report it to the social media platform where it appeared.
Falsehoods About How to Vote
For nearly every American who resides in the U.S., there are only two ways to vote in a federal election: You can cast a ballot in person—either early or on Election Day—or you can vote with a mail-in ballot. (Some states require a valid excuse to vote by mail.)
But researchers routinely turn up social media posts that encourage people to call or text in their votes, or to cast a ballot online, which you can't do.
Last month, a series of posts made misleading claims about California's voting process: After Gov. Gavin Newsom signed an executive order that required the state to mail a ballot to every voter, these posts falsely claimed that people could no longer cast a ballot in person. In fact, any voter can go to their designated polling place if they prefer.
As with false information about where and when to vote, misinformation about how to vote often takes advantage of the pandemic to claim that last-minute changes are required for health and safety, says Yosef Getachew, director of the media and democracy program at Common Cause. "Bad actors are exploiting the situation we're in to sow confusion," Getachew says.
Be wary of announcements with "emergency" pandemic-related changes, and check the information with your state or county voting offices.
Falsehoods About Election Fraud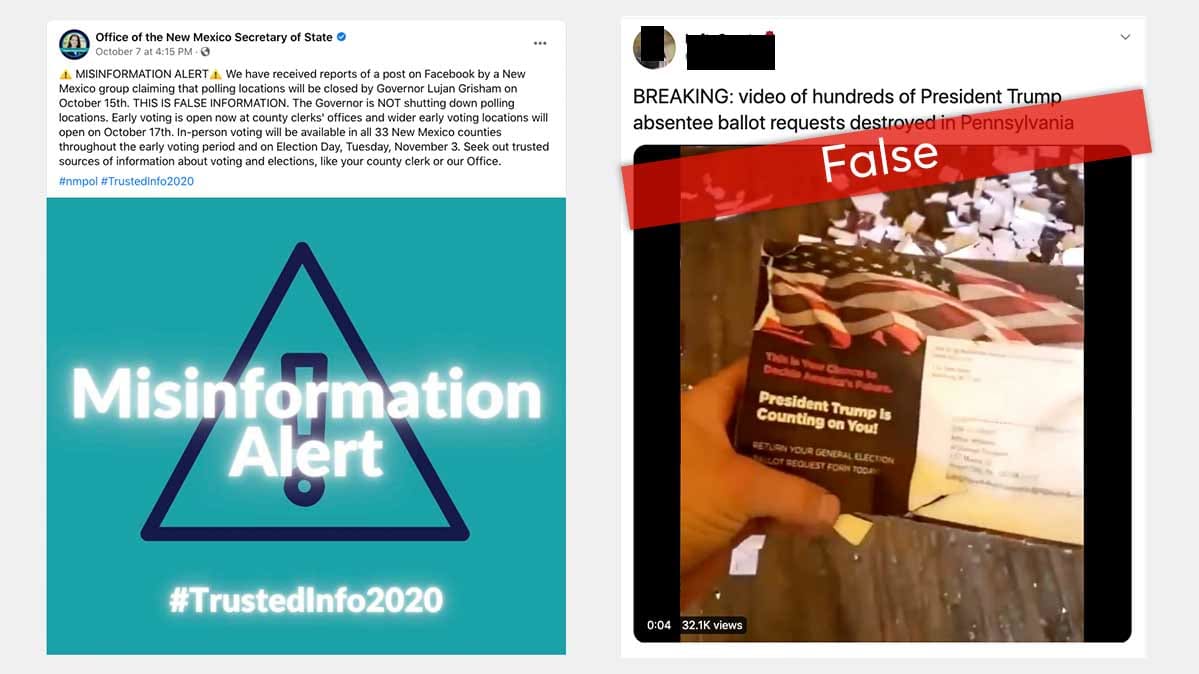 Perhaps the most widespread form of misinformation this year is designed to shake voters' confidence that the coming election will be legitimate. These posts allege widespread voter fraud or corruption without any evidence, or by using distorted or out-of-context information.
"Saying the whole system is rotten or somehow corrupted creates an uncertainty in the body politic and in the minds of voters that ultimately serves as a voter depression strategy," says Littlewood.
The Electoral Information Partnership—a coalition of misinformation researchers at Stanford University, nonpartisan think tank Atlantic Council, social media analysis firm Graphika and the University of Washington—has been tracking major examples of this kind of misinformation. Carly Miller, a researcher with the EIP, says the group has seen many examples of what it calls "procedural interference," including false allegations of double-voting and mail dumping.

Have you seen voting-related misinformation in your social media feeds? Please help CR cover the issue by sharing what you've found. If you work at a social media company and there's something we should know, contact our reporter: kaveh.waddell@consumer.org.

In early October, several posts, including a video that was retweeted more than 1,000 times, claimed to show hundreds of torn-up mail-in ballot applications with Trump campaign branding. "Somebody sabotaged all of these," a narrator says.
In fact, the discarded mailers were extras that the printing company had sent to be recycled, a company spokeswoman told PolitiFact, a nonpartisan fact-checking website. That example, like the Petaluma dumpster, was easily disproved, as was a claim from August that a photograph of mailboxes stacked up behind a chain-link fence demonstrated that the Postal Service was removing boxes to depress mail-in voting. PolitiFact found that the shop in the photo has long provided routine maintenance for the blue mailboxes.
However, there's a subtler shade of misinformation that simply casts doubt on electoral processes without leaning on specific evidence. President Trump, for example, has argued that if election results aren't crystal clear on Nov. 3, it will be because of widespread vote-tampering and other forms of fraud.
But election boards are likely to face an unprecedented volume of mail-in voting this year, driven in part by the pandemic, and a number of key states don't even start counting mailed ballotsuntil the polls close on election day. That means votes may continue to be tallied—legitimately—for days or even weeks.
Efforts to keep this misinformation under control are complicated by the fact that they often come from official sources, including those in government. That makes it extra important to double-check information about voting with state and local election offices, which have the final say on election matters.
Online Calls for Voter Intimidation
This is a category to watch in the coming weeks. As voters head to the polls to vote early—or prepare to do so on election day—calls for aggressive civilian monitoring could spook people into staying home. (Read our story on how to vote safely in person, including the facts on voter intimidation.)
Last month, a campaign ad for Donald Trump called on "able-bodied" followers to join an "army" of poll watchers to oversee voting in a video that was shared widely on social media. In early October, Facebook announced tighter rules against voter intimidation: It said it would no longer allow anyone on the platform to call for poll watching using words that suggest violence, like "army" or "battle." It did not, however, take down the original video.
"The thing that's worrisome about voter intimidation is that it can go offline so quickly," turning into real-world violence, says Melissa Ryan, CEO of CARD Strategies, a misinformation research firm.
Voter intimidation is illegal. If you experience intimidation at the polls, report it to your local election official. You can also call 866-OUR-VOTE (866-687-8683), a national nonpartisan voter-protection hotline, to report the incident and learn more about your rights.
How to Spot False Information
Experts say the first step is to guard against your initial reaction to a piece of news.
"Any time you see something on social media and your immediate response is, 'Oh my God—I have to share this right away,' that should be your signal that you need to take a pause," David Brody, head of the digital justice initiative at the Lawyers' Committee for Civil Rights Under Law, said at a panel discussion in early October hosted by New America, a think tank.
Look out for both extremes: News that seems totally outrageous and makes you angry, as well as news that seems "too good to be true," said Ian Vandewalker, who leads the democracy program at NYU's Brennan Center for Justice, during the event. He and Brody were responding to a question from CR.
When those alarm bells go off, slow down. Search for the very same information somewhere else: Google it and see if reputable news sources are reporting the same thing—or if, instead, it's been debunked by a slew of fact-checkers.
And if you find out that an explosive claim is false, consider letting your friends and family know, says Ryan. "Think about who in your life might be seeing this and who will you actually have influence with," she says.