When you shop through retailer links on our site, we may earn affiliate commissions. 100% of the fees we collect are used to support our nonprofit mission.
Learn more.
The average bride spends more than $1,200 on a wedding dress, according to The Wedding Report, a bridal industry publication. And ritzier options abound, featured prominently throughout glossy bridal websites and magazines.
The implied message to brides seems to be that the more they spend, the closer they'll get to wedding-day perfection.
The spring 2016 issue of "The Knot" magazine, for example, features a voluminous, $21,000 Galia Lahav gown within its "Real Weddings" section. (That's more than many real folks spend on the whole shebang.)
That got us to wondering, when a bride floats down the aisle in a cloud of satin and tulle, can guests really tell whether she paid a lot or a little?
Our Bridal Gown Price Challenge suggests not.
More on Weddings
Fooled by Froufrou
We set out to see whether price and elegance really are connected. In late February 2016 we rented or borrowed five gently used and new, recent-vintage wedding gowns, with estimated retail values of $500 to $10,000, according to the companies that supplied them.
We did our best to control for dresses of similar style so that personal preference wouldn't enter into the judgments. We then asked colleagues at our Yonkers, N.Y., headquarters—regular folks and generally not fashionistas—to match the gowns with their retail values. We let our amateur judges view the gowns and touch their fabric, but not look inside or otherwise handle the garments (we insisted they wash their hands first). Eighty-nine women and 54 men participated.
The only wedding gown that most people properly identified by price was the least expensive: a bright white, polyester David's Bridal dress made in China. Fifty-eight percent matched it with its price: $500. Only 41 percent properly guessed that an all-silk, elaborately pieced, made-in-America Vera Wang design was the most costly, at $10,000. Gowns priced in the middle—the $1,100 Mary's Bridal, $3,200 Winnie Couture, and $6,500 Ines di Santo—stumped our amateur judges. More than half thought the $3,200 dress was $1,100 or less, and 85 percent thought the $1,100 gown—with the most embellishment—cost $3,200 or more. Women were right more often than men, but those who had shopped for a wedding dress were not necessarily better judges. Just two of 143 people got all five prices right.
(Answers: #1: David's Bridal, $500; #2: Vera Wang, $10,000; #3: Ines di Santo, $6,500; #4: Mary's Bridal, $1,100; #5: Winnie Couture, $3,200.)
Bridal Gown Price Challenge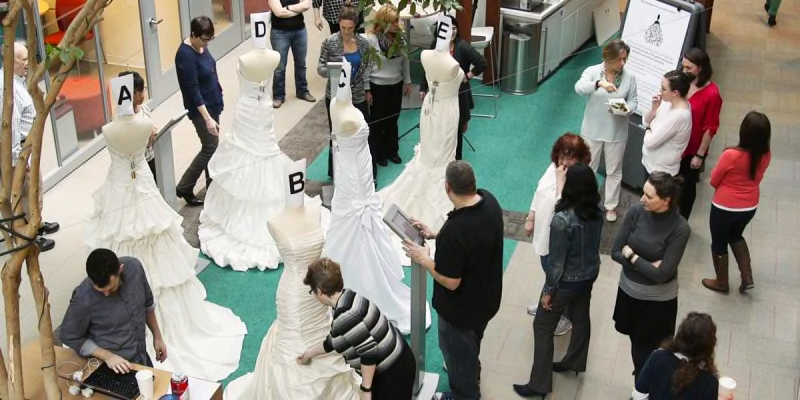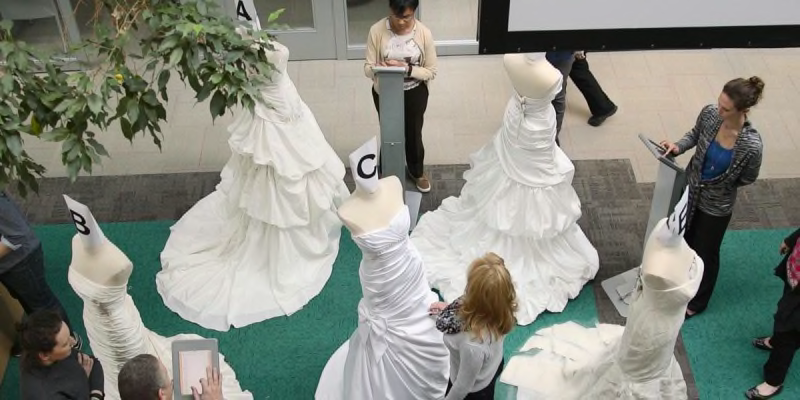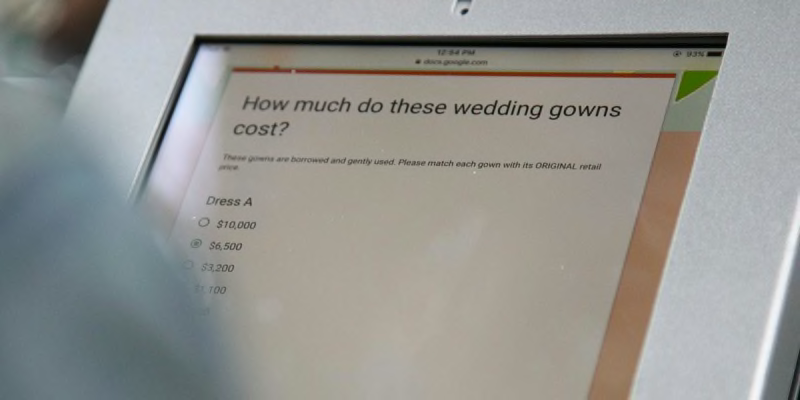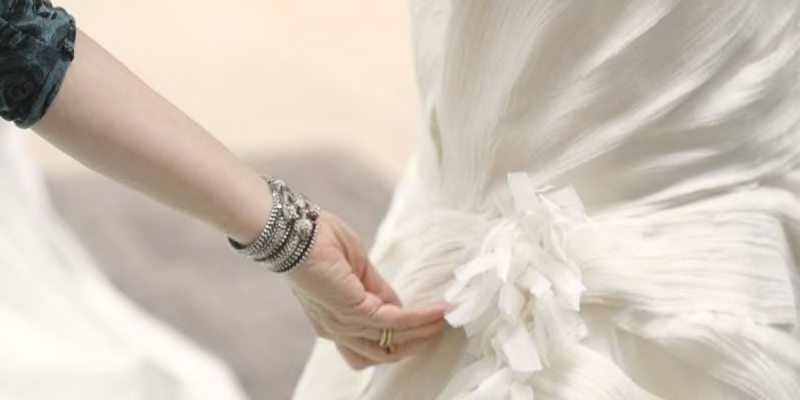 Behind the Seams
There was no question, the higher-priced dresses—both of silk—were better made. Our in-house textile expert Pat Slaven examined each gown and found that the less costly ones had fewer finished edges and skimpier layers of tulle. They also had little or no hand-finishing, didn't feel as luxurious to slip into, and did not feature small luxuries such as invisible zippers.
Nevertheless, our expert concluded that all five of the frocks in our test could hold up for a day and night of revelry.
Be Creative
You can spend less and still look fabulous, and very few people will know what you paid. And if you do fall for a costly designer wedding gown, consider buying or renting one used. Borrowing Magnolia, the online company from which we rented four gowns (based in Athens, Ga.), offers used dresses for sale or rent at a deep discount from their original prices. Recent brides can rent out their own dresses to others; by doing so, they reap an average $535, the company says.
Another online service we used, Nearly Newlywed (based in Brooklyn, N.Y.), sells discounted new and used designer gowns that can be cleaned and resold through the company after the wedding.
Other options: Purchase used from a secondhand shop. Tradesy and eBay also sell used wedding gowns.
Most crucial: Find a skilled seamstress for alterations.
Editor's Note: This article also appeared in the June 2016 issue of Consumer Reports magazine.