When you shop through retailer links on our site, we may earn affiliate commissions. 100% of the fees we collect are used to support our nonprofit mission.
Learn more.
 Sierra Farinas and Freddy Salgado have found clever ways to wed in style without overspending. They've planned a ceremony on Halloween with décor both spooky and sweet, and because the holiday falls on a Monday this year, the caterer was willing to offer them steep discounts. To save even more, a friend's sister will decorate the rented hall for a small fee, and two other friends will DJ at a discount. In that way, the couple had hoped to pull off a party for 80 to 90 guests and still come in under $10,000—well below the average spent in northern New Jersey, where they live.
But lately, as Sierra and her mother, Leslie, have begun filling in the details, there are signs that those early vows of frugality may be weakening.
At a glitzy showcase of wedding services in March, the mother of the bride made an impulse buy—reserving a 1959 Bentley for the couple to ride in at a cost of $500.
"I got inspired," Leslie explains, "and it was on sale."
Values and Perspective
The perfect wedding, circa 2016, can be a dazzling million-dollar blowout at a fancy hotel or a cozy backyard barbecue for a tiny fraction of the cost. It's all about values and perspective, taste, and yes, money.
But no matter what you expect to spend, it's hard even for bargain-hunters to resist all of the shiny extras. Lures are everywhere, from frothy four-figure gowns to aerial views of the day's festivities, shot by drones for hire.
The $60-billion-a-year wedding industry knows how to stoke expectations and drum up sales. So maybe it's no surprise that Americans now spend an average of $27,000 on a wedding, according to The Wedding Report, an industry publication that tracks costs.
That got us to wondering about whether there exists, in this Wedding-Industrial Complex, a secret, hidden surcharge when an event is a wedding and not, say, an anniversary party. So we assigned our secret shoppers to find out.
A Hidden Tax?
The results weren't as straightforward as we had imagined. Among the 25 vendors whose prices we shopped and could compare in five regions, we found a few—particularly limousine companies and photographers—that did charge more for a wedding than for another, similar event. When we did additional reporting, we saw a lot of caterers' wedding menus priced much higher than what they charged for banquets for, say, the annual Lions Club gathering.
But we also found a number of those same vendors willing to work with our shoppers to reduce costs. Some even volunteered money-saving solutions. Yet a survey conducted by the Consumer Reports National Research Center found that consumers usually don't exercise their bargaining clout. Some, the survey found, take on debt to pay for their big day.
As we discovered by talking to wedding industry experts, vendors, and couples themselves, it's still possible to plan a magical wedding even if your budget is modest. It just takes a certain willingness to ask sharp questions, keep talking, and bargain. And it really helps to consider creative, less traditional approaches and options—like scheduling on Halloween.
Lifting the Veil on Markups
Earlier this year Consumer Reports' secret shoppers went on a shopping spree to find out whether wedding couples are being overcharged. We focused on five metro areas—Atlanta; Colorado Springs, Colo.; southeastern Maine; Minneapolis; and Ventura, Calif.,—supplemented with research in several other cities. Pairs of shoppers called the same photographers, florists, caterers, and other party vendors at least a week apart and got comparative estimates for a wedding and a 50th anniversary party that were identical in every other respect. (We told photographers, for instance, that we needed their services only during the reception.) In more than a quarter of cases—28 percent—vendors quoted us prices that were higher for the wedding than for the anniversary party. That kind of wedding surcharge played out more in some areas than in others.
Some photographers inflated their pricing when the affair was a wedding. For instance, photography for a Saturday night wedding in mid-October cost $300 per hour at Angel Wings Photography in Atlanta. For a 50th anniversary party of the same size at the same time with an almost identical package of services, though, the charge was $150 per hour.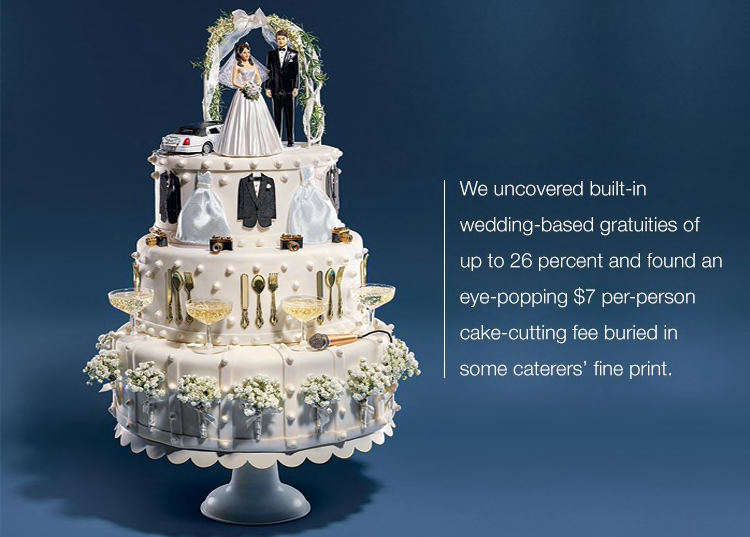 Several limousine companies priced their bridal packages higher than other comparable services or posed restrictions on wedding clients. At DDG Classic Limousines in Colorado Springs, bridal couples reserving a Lincoln Town Car Stretch for 12 can make only round-trip reservations, at $120 per hour, including gratuity. The company won't permit wedding parties to reserve point-to-point trips. DDG says the policy protects both seller and buyer. "We and our customers have been burned before with the 'simple half-hour run' going over by an hour or more and costing everyone more or making us late for our next appointment," the company explains on its website. "So we do not book anyone's special day that way."
We also uncovered built-in wedding-based gratuities of up to 26 percent and found an eye-popping $7 per-person cake-cutting fee buried in some caterers' fine print. The Westin St. Louis, for instance, levies a 24 percent taxable service charge and a 5 percent taxable event fee. Add on the 10.179 percent sales tax that's applicable to any party, and an $18,000 wedding reception becomes a $25,584 affair, an increase of 42 percent.
We couldn't discern differences among prices by florists, photo booth rental companies, or bakeries—where we asked for sheet cakes, not wedding cakes. When our shoppers were vague about their catering budgets—merely asking for a "moderately priced" sit-down banquet for 100—two opening proposals for weddings that we received were similar to those of the anniversary bashes. But comparing catering menus in general shows a huge pricing difference. At Mulino at Lake Isle, in Eastchester, N.Y., wedding banquets start at $125 per person in January and February; May to October weddings start at $140 per person. But for other types of banquets—meetings and parties, for instance—prices per person start at just $55. And those prices don't vary by season.
Bargaining for Brides
In all, we gathered prices from 40 vendors in 12 states. While those data points aren't enough to indict an entire industry, they're a warning to wedding shoppers to read fine print, ask smart questions, and negotiate before signing anything. In fact, in a few cases we found that it wasn't hard to strike good deals with those same vendors.
Caterers, for example, sometimes offer two banquet menus: one for weddings and another for other types of banquets. The wedding menu might share entrée and hors d'oeuvres options—at the same price as the regular banquet menu—but also include more choices and extras.
The Dish on Menus
At Mulino's, the venue in New York, a standard banquet involves nine entrée options of chicken (five choices) and fish (four options). By contrast, the wedding menu offers 17 entrée choices, including beef. When a shopper asked about using the banquet menu instead, the catering manager said that could be done—on a Friday or Sunday. Some items would not be included, but couples could pay to add options. But for a savings of at least $70 per plate, it seemed worth the compromise.
At Doolan's Shore Club in Spring Lake Heights, N.J., co-owner Susan Doolan agreed to provide her three-course, sit-down banquet—$60 per person including full bar and an hour of passed hors d'oeuvres—instead of a full wedding package, which ranges from $70 to $90 per person and includes a lot of extras. The banquet option would require add-on staff costs, though, and as with Mulino's, would be available only on Friday and Sunday. "On a wedding, there have to be some kinds of upcharges," Doolan said. "People are expecting a different level of service and quantity of food."
Even at DDG Classic Limousines, its seemingly airtight wedding ride policy got tweaked. The company permitted our wedding shopper to split the 2-hour minimum stretch limo ride into two 1-hour trips to and from the banquet venue, and not pay for the interim hours.
Helpful Vendors
Some vendors volunteered ways to save without our even asking. When one secret shopper said she didn't know how much to budget for centerpieces, Lori Goede of Skyway Creations, a Colorado Springs, Colo., florist, helpfully suggested an arrangement for just $25: a single flower floating in a glass globe, surrounded by colorful fall leaves. "That's an entry-level price," she explained.
Tiffany Dumas, owner of The Tiffany Studio, a photography vendor in Brunswick, Maine, recommended a contract for just 2 to 3 hours of a 4-hour wedding reception. "By then you've got all your group shots, and some people already have left," she explained.
Still, she defended photographers' pricing. "Before I even begin shooting, I've probably spent 3 to 4 hours getting to know the bride and groom, and planning the itinerary," she explains. Afterward, she could spend 8 to 10 hours fixing shots.

Who's Paying, and How?
In addition to bargaining, couples should try to establish a budget and stick with it.
When the Consumer Reports National Research Center surveyed 464 Americans who'd had a wedding reception in the last five years, 78 percent of those newlyweds reported they had budgeted for their reception. But almost two-thirds said they had overspent by at least 20 percent.
In our survey, couples paid for about half—47 percent—of the reception's cost. Thirty-nine percent of the cost was borne by parents; friends and other relatives covered the rest.
Same-sex couples in our sample—about 20 percent of the newlywed respondents—reported being more likely than heterosexual couples to rely on friends and relatives other than their parents.
To afford the bill, 41 percent of respondents said they withdrew from savings. But 11 percent took out a loan from a bank or credit union, 10 percent borrowed from a 401(k) or 403(b) account, and 10 percent withdrew from other investments. Nine percent, all under age 50, withdrew some money from a 401(k), 403(b), or IRA—a move that generally triggers a tax penalty, not to mention a potential threat to retirement savings.
Say Yes to Less
Two-thirds of respondents took at least three steps to save money on their wedding. Thirty-seven percent bought items on sale or at a discount; 35 percent trimmed the guest list; 35 percent chose a less costly menu; and 34 percent made favors or other items themselves.
In a 2014 study of 3,000 people in the U.S. who had been married for some time in their lives, two economics professors from Emory University found that couples who spent the least on their wedding were less likely to divorce. It was possible, one of the researchers later told The Emory Wheel, the university's student newspaper, that couples with lavish weddings might be the ones "who tend not to be the best match."
Or perhaps it's that tying the knot on a shoestring takes communication, teamwork, and the ability to compromise—all useful skills for a sound marriage.
Once More With Feeling
Spending on second and third weddings is higher than you might expect. And the more times people get married, the more they tend to splurge.
Subsequent chances at love often tug at the heartstrings—and purse strings. The Wedding Report, an industry publication, says the average second wedding costs $14,803, roughly $10,000 less than the average first wedding, but not an insignificant sum.
Notably, costs jump to $38,701 for third and subsequent weddings. How to explain that?
"With third weddings, couples are older and more established, and family may be far-flung," notes Sharon Naylor, author of "1001 Ways to Have a Dazzling Second Wedding" (The Career Press, 2001). "They may plan a five-day event and bring everybody in, or take everyone on a cruise."
Etiquette experts say it's not acceptable for the more-than-once married to ask for cash. But, in some cases, it's okay to set up a registry, target a charity, or seek donations toward the honeymoon via a website such as Honeyfund.
Some, though, still take a modest approach the second time around. When Paul Rothkopf and Elaine Ferreira of Summit, N.J., wed in 2013—a second marriage for both—the party was in the backyard; snacks and desserts were provided mainly by Rothkopf's sister; and the couple served wine and beer, no harder alcohol. "For far less than $5,000, we had a beautiful day for 50 close friends," Rothkopf recalls.—Kenrya Rankin
Editor's Note: This article also appeared in the June 2016 issue of Consumer Reports magazine.