When you shop through retailer links on our site, we may earn affiliate commissions. 100% of the fees we collect are used to support our nonprofit mission.
Learn more.
Amazon celebrated its $13.7 billion acquisition of Whole Foods today by cutting prices on dozens of the grocery items it sells in those stores.
Shoppers were able to save money on foods like rotisserie chickens, eggs, farmed salmon and tilapia and avocados. Some items were discounted by as much as 43 percent.
"Everybody should be able to eat Whole Foods Market quality," Jeff Wilke, CEO of Amazon Worldwide Consumer, said in a statement last week. "We will lower prices without compromising Whole Foods Market's long-held commitment to the highest standards."
But as parents with children in tow ambled through the aisles of the Whole Foods in Yonkers, New York, today, not everyone was impressed.
"I looked at the eggs and the cereal, but I wasn't particularly overwhelmed by the savings," says Thor Mann, a 41-year-old management consultant from Westchester.
Ali Moss, a 34-year-old documentary film producer from Dobbs Ferry, N.Y., says she saved some money—non-organic bananas sold for 49 cents a pound compared to 79 cents a pound a day earlier. But she too wasn't all that enthusiastic about the prices. "I don't think that Whole Foods will ever be affordable for most people," she said.
Pricing has long been an issue for Whole Foods. The grocer, often dubbed "Whole Paycheck," has found it hard to gain market share.
In CR's 2016 supermarket survey of 58,000 readers, 45 percent of respondents said low prices were their top reason for choosing a particular supermarket and only 3 percent of readers told us they shop at Whole Foods.
Even so, Amazon is counting on attracting customers in other ways too. Eventually, the retailer intends to make Whole Foods store brands such as 365, Whole Paws and Whole Catch, available on Amazon.com.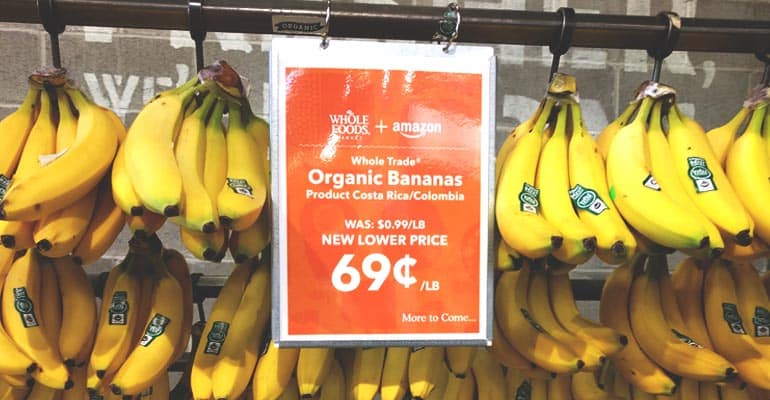 The company also says it will install lockers at Whole Foods stores where customers can pick up their Amazon orders for groceries and even for non-grocery items.
In addition, it plans to unveil an Amazon Prime customer rewards program at Whole Foods, which will give members additional discounts on certain items sold in the stores.
The bottom line, however, is pricing, says Burt Flickinger, founder of consulting firm Strategic Resource Group, which advises the grocery business.
For now, "Whole Foods still appears to be charging more "patrician prices" rather than prices for the poor and working people," he says. Flickinger points out that the bananas at Whole Foods still cost 2 cents more per pound than at than at stores such as Walmart, Wegmans and WinCo.
But Heidi Chapnick says that this is just the beginning of a long running battle for lower prices.
"Now that Amazon has bought Whole Foods it's going to begin a price war with the other lower price retailers that offer organic," said Chapnick, Partner/FreshXperts and CEO/Channalysis, LLC, a retail food analyst.