When you shop through retailer links on our site, we may earn affiliate commissions. 100% of the fees we collect are used to support our nonprofit mission.
Learn more.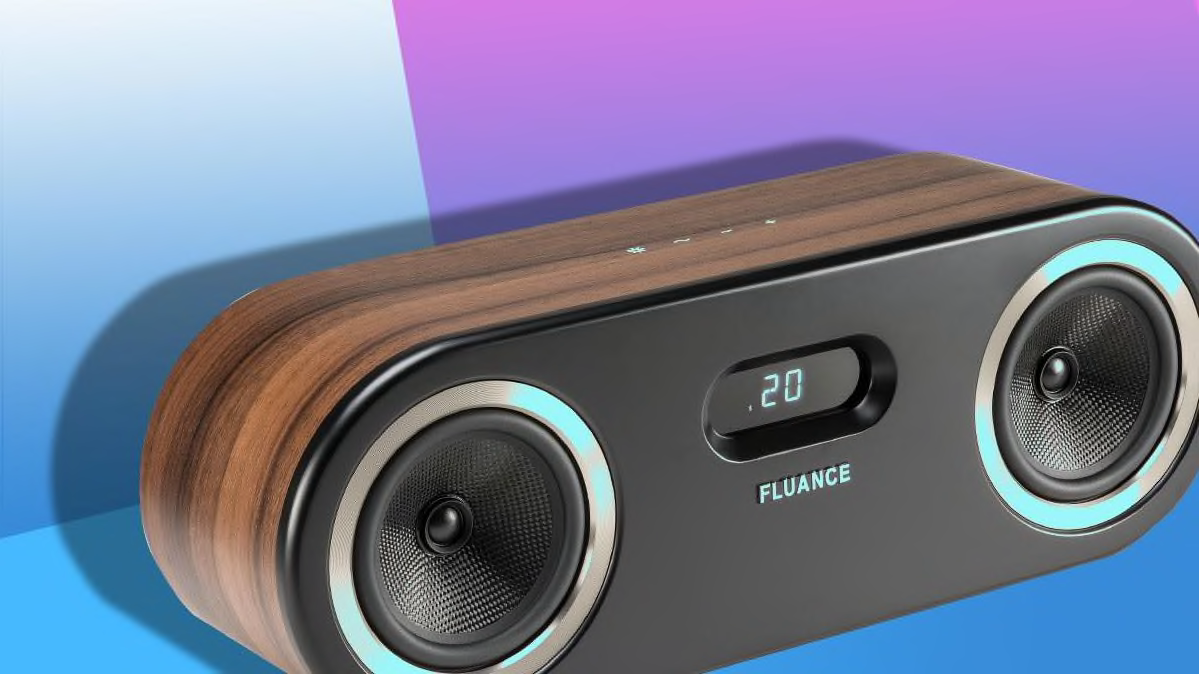 While laptops and televisions tend to look alike, those who design Bluetooth, WiFi, and smart speakers often let their imaginations run free.
In our testing, we've run across numerous models that are truly distinctive in aesthetic terms. Or to put it another way, they just flat out look cool.
But unlike some models that look spiffy but sound lousy (a now-discontinued magnetic floating speaker comes to mind), all of these models perform admirably in our labs.
They're easy to use and offer sound that's satisfying, which makes them attractive gifts or a way to treat yourself and fill your home or office with both music and style.
Fluance Fi50
Sure, the faux-wood finish and retro design may remind you of an Olds Vista Cruiser station wagon from the 1970s. But performance-wise, the retro-cool Fluance Fi50 is very much a creature of the 21st century.
The enclosure of this hefty 13-pound Bluetooth speaker is made of MDF, or medium-density fiberboard, which is often used in high-end speaker cabinets. The manufacturer claims the material damps resonance and allows the twin 5-inch speakers to perform at their best.
Our testers report that the Fi50 delivers very good sound quality and is easy to use. It has analog audio inputs along with Bluetooth, an LCD display, and a remote. Unlike many medium-sized wireless speakers, the Fi50 operates on AC power and is designed solely for indoor use.
ION Tailgater Sport
This is the ultimate tool for tailgating, an outdoor dance party, or any other situation where rugged construction and a low price might be more important than the last degree of sonic sophistication.
This beefy block of a speaker, about a foot in each dimension, is well-suited for pumping out tunes between the grill and the cooler. The sound lacks a little nuance and detail compared with the very best wireless speakers. But if you're blasting music in a parking lot, that's not as important as sheer volume. And that's what the ION delivers.

Our testers also give this modestly priced speaker high marks for versatility and ease of use. It boasts a large and well-labeled volume knob, and it includes a microphone input and the mic itself, which makes it easy to channel your inner DJ.
JBL Pulse 3
What looks a little like a lava lamp and does a great job playing music? The JBL Pulse 3. This Bluetooth speaker channels the look of those groovy 1960s relics but uses LEDs under a plastic dome—instead of heated, waxy blobs—for visual effect.
The Pulse 3 can also do things that no lava lamp can. Using the JBL smartphone app, you can customize the patterns and colors of the light show and even match the color palette to your favorite throw pillow.
JBL claims an IPX7 water-resistance rating for the Pulse 3, which means it should withstand immersion in up to a meter of water for up to 30 minutes. CR, however, doesn't test speakers for water resistance.
The Pulse 3 also performs well in our sound-quality tests, earning a recommendation for its good bass impact, among other attributes. Stereo pairing is an option, but the Pulse 3 can also be synced with up to 100 other Pulse 3s using JBL's Connect+ protocol. Imagine that groovy party.
Marshall Stanmore II Voice
If you're a guitar player—or just a fan of classic rock videos on YouTube—you'll recognize the styling of this smart speaker, which channels the classic good looks of Marshall's iconic guitar amplifiers.
The Stanmore, available with built-in support for Alexa-powered voice commands, draws praise for its impressive ease of use. (There's a Google Assistant version, too, but we didn't test that one.) Like a vintage guitar amp, the unit has three beefy knobs on top for controlling the volume, bass, and treble. They're nicely knurled and turn with a silky feel.
The sound quality of this model is less refined than the very best-sounding smart speakers, with its somewhat boomy bass and a midrange that's slightly congested. However, the unit does provide enough volume to fill a large room.
Monster SuperStar Monster Blaster
The Superstar Monster Blaster will remind you of those giant beat boxes of the 1980s and '90s. But while those behemoths ate D-cell batteries like competitive eaters down Nathan's hot dogs, the Monster features a huge 20,000 mAh rechargeable battery. And instead of those old-school cassettes that were prone to self-destruction, this boombox streams Grandmaster Flash smoothly from your phone via Bluetooth.
The Monster SuperStar Blaster is big and beefy by portable-speaker standards but sports relatively low-key styling. Our testers found the Monster's bass a bit boomy, with good sound overall. And it provides enough volume to fill a large room or a picnic-table gathering in the great outdoors.
The speaker's controls are quite easy to use, but they're a little less flexible than those on some competitors. For example, instead of individual bass and treble controls, the Monster has indoor and outdoor modes that tailor the bass response to the surroundings.
What Makes a Great Speaker?
Do you know the difference between good speakers and excellent speakers? On the "Consumer 101" TV show, Elias Arias, a Consumer Reports' expert, explains to host Jack Rico how to identify quality devices.