When you shop through retailer links on our site, we may earn affiliate commissions. 100% of the fees we collect are used to support our nonprofit mission.
Learn more.
For most consumers, routers remain mysterious little boxes that make the internet possible. In the past, routers have been ugly, confusing to set up, difficult to update with security patches, and often hidden inside a closet or under an end table.
Worst of all, for many consumers, they left dead zones in your home without WiFi reception. But a number of companies at this year's Consumer Electronics Show, the annual trade show held in Las Vegas, are hoping to change that by offering up next-gen routers that are attractive, easy-to-understand and user-friendly.
At the top of the to-do list for most companies: Eliminating those dreaded dead spots by selling sets of two or three small "network" routers that talk to each other.
"Mesh networks have been around for many years on the enterprise side," said Oscar Reyes, associate vice president of marketing at D-Link, which makes devices for connected homes. According to Reyes, the demand for better WiFi coverage throughout the home (fueled by the increasing number of internet-connected devices) is driving much of the innovation in the router industry.
That innovation began in early 2016 when Eero launched the first mainstream mesh network, which is when multiple units talk to each other. It was followed later in the year by similar products, including Google WiFi, Netgear Orbi, and Luma.
Another multi-unit product, the Amped Ally, went on sale in December, and is being shown at CES. Like its competitors, it can be controlled through a smartphone app that seemed, after a demo, to be simple and easy-to-use.
"We expect people to be in that app to change parental controls or to set up schedules a couple of times a week," says marketing manager Lacey Limbrick.
Consumers will no doubt see more entries into the field in 2017. Here are three new routers already making waves coming out of CES.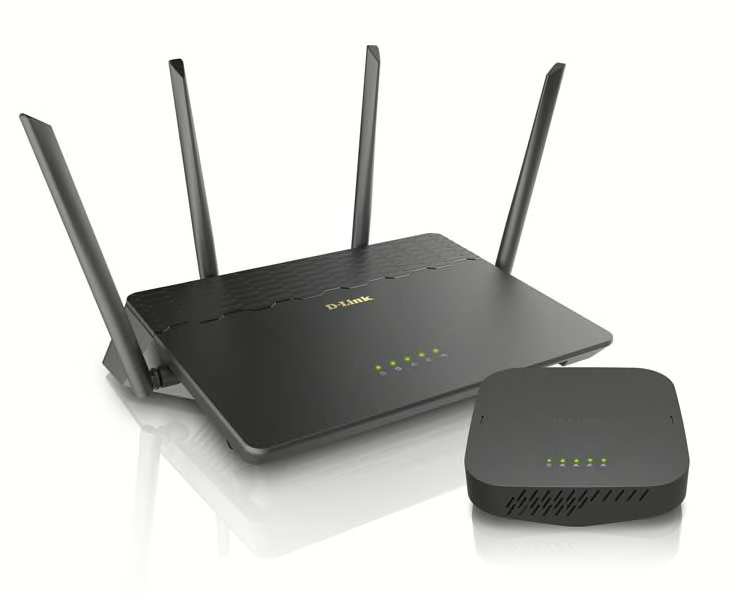 Old-School Style
With its four prominent antennae and black box styling, the D-Link Covr WiFi system looks like the routers that you've known and didn't love very much. But looks can be deceiving. The Covr promises much better performance, with a base unit and extender that should send signal to the farthest reaches of your domicile. The router and the extender ($299) come pre-paired out of the box for simple setup.
D-Link also announced the Covr PowerLine which, in conjunction with an existing router, creates a whole-home WiFi by using your home's existing electrical wiring like a network cable to transfer data. Each system comes with two adapters and will cost $199 when it's released later this year.
Update: On January 5, The Federal Trade Commission (FTC) filed a complaint against D-Link Systems, Inc. alleging that they failed to take reasonable steps to protect their wireless router products from known security risks. A statement from the FTC is here. D-Link has denied the allegations outlined in the complaint and says that the complaint does not allege any breach of any product sold by D-Link Systems in the US.
A Node too Sleek to Hide
Velop, by LinkSys, continues the trend of modular WiFi systems that promise fast and reliable WiFi through a mesh network made up of nodes that are, the company hopes, too pretty to hide.
Like the Eero and the Google WiFi before it, the Velop uses a system of "nodes" that work in unison to blanket your home with signal. Each node is a small, white tower about seven inches in height intended to be strategically placed out in the open, say next to your favorite lamp.
Karen Sohl, director of marketing at Linksys, said that most consumers hid their routers simply because they thought, rightfully, that they were unsightly. Hiding them, however, was detrimental to the signal. Sohl says that the Velop's sleek design allows it to blend in nicely with most decor, and if consumers display it proudly, or at least don't stash it behind the sofa, it should provide better performance.
The Velop is available in three-pack for $499.99, two-pack for $349.99 and individually for $199.99.
Security...with a Monthly Subscription
Norton, best known for its anti-virus software, announced a secure router called Core. Reminiscent of Buckminster Fuller's geodesic domes, think Epcot, the Core certainly looks futuristic. But unlike the other router systems on this list, the Core is a standalone, which means that it needs no extenders or additional modules to extend its coverage.
The Core claims to be a router designed for the Internet of Things, so it features additional security chops to protect your data. The Core will use a combination of solutions, like data encryption and automatic security updates, to keep your home network safe and sound. This level of security may help consumers sleep better given that internet-connected devices at home are becoming a go-to target for hackers.
At $279, however, the Core isn't cheap. And while the first year's subscription to Norton's security plan is complimentary, after that trial period, owners would have to cough up an additional $120 a year to continue receiving updates and new features from Norton.
Home WiFi Mesh Networks
Can't get a decent wireless internet connection in your home? On the 'Consumer 101' TV show, Consumer Reports' expert Nicholas De Leon explains to show host Jack Rico how mesh networks provide faster speeds and better coverage.