Vision
We envision a world where consumers can be confident that automakers' claims about vehicles' safety, sustainability, and privacy are accurate and reflect values important to consumers.
Another day, another auto recall. At least that's how it has felt over the last couple of years as automakers continue to make headlines for defects, false promises, pushing the boundaries of new technologies beyond the limits of safety, and outright deceptions. Today, Consumer Reports' deep expertise and longtime leadership in auto safety is more important than ever, and we continue to work tirelessly to ensure that automakers are accountable, transparent, and focused on safety.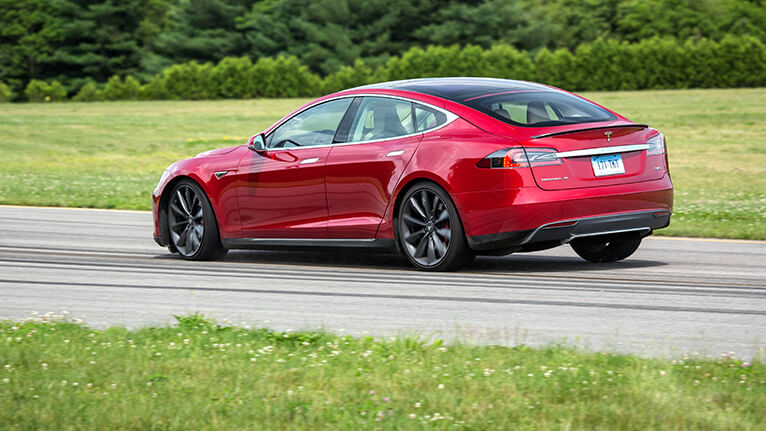 Tesla's "Autopilot" feature can't actually drive the car, yet it allows consumers to have their hands off the steering wheel for minutes at a time.
No automaker came to represent the inadequacy of the present system more over the last year than Volkswagen, which admitted to circumventing the emissions control system in about 500,000 vehicles sold in the U.S. since 2008. In response to the scandal, we became a leading voice for impacted drivers—speaking out in the national media, raising the voices of consumers who had been wronged, providing important data to the Environmental Protection Agency, and fighting for appropriate, meaningful remedies from the automaker.
Our credibility on these matters comes from our long-standing commitment to independent expertise and rigorous auto testing. We engaged automakers this year on their promotion of autonomous, or "hands-free," driving features in order to identify safer solutions for customers as the technology of cars continues to advance. This included taking a strong stand on Tesla's "Autopilot" feature in the wake of multiple accidents, as we called on the company to disable the hands-free operation of its feature until the system could be made safer. Our efforts on this concern also brought about an immediate victory for consumers when we scrutinized Mercedes-Benz's advertising of the erroneously billed "self-driving" feature of its E-Class vehicles. Just a day after Consumer Reports tested the feature, we penned a letter to the Federal Trade Commission and publicly called on Mercedes to take action—ultimately leading the automaker to pull its ads shortly thereafter.
We continue to hold the automotive industry to the highest possible standards via our new Overall Score for vehicles. Our scoring system joins safety, performance, owner satisfaction, and reliability, and we give additional consideration to advanced safety systems, such as automatic emergency braking (AEB). This year, we joined the National Highway Traffic Safety Administration in its announcement that 20 automakers representing 99 percent of the market would make AEB a standard feature on virtually all new cars by 2022, pledging to monitor automakers' compliance with that voluntary agreement and press them to make it standard as soon as possible.
51
million U.S. vehicles were recalled in 2015.
Looking forward
We are continuing to monitor the proposed $14.7 billion Volkswagen settlement to ensure that it adequately compensates car owners and addresses environmental harms caused by the automaker's deception—a solution that we hope will send a clear message to other companies that lying to consumers, defrauding regulators, and harming the environment all carry serious consequences.
Through our rigorous testing, reporting, and advocacy, we will continue to work to ensure that automakers take consumers' needs into account as the marketplace evolves, and that rigorous federal oversight and performance standards help protect consumers from further harm.