No single attribute can make a car truly great. That's why Consumer Reports has always rated each car through a variety of assessments.
Starting this year, Consumer Reports is combining those various attributes into one overall score, which will make it simpler for you to know which vehicle to buy.
Every car we test will earn a score that encapsulates four factors:
1. Our road-test program looks at real-life performance by running 70-plus new cars and trucks each year through more than 50 tests at our 327-acre test facility in Colchester, Conn. Those tests include each vehicle's emergency-handling and braking capabilities.
2. We gauge reliability through annual surveys of our subscribers. The 740,000 vehicles from our 2015 auto survey gave us insight into problem areas for 15 model years of cars on the road.
3. Those same surveys also provide the data for our third major assessment, owner satisfaction, which asks owners of 230,000 vehicles purchased in the past three years whether they would buy their current car again.
4. Our experts incorporate safety data from crash tests performed by the Insurance Institute for Highway Safety and the National Highway Traffic Safety Administration. We give additional consideration to advanced safety systems—offered as standard equipment across all trim levels of a particular model—that can help you avoid an accident or lessen the impact of a crash.
By merging those criteria, we've leveraged our expertise and resources to create the most well-rounded portrait of what makes a good car for you.
After some serious data crunching, we have developed an Overall Score that not only helps car buyers sort the good vehicles from the bad but also holds the automotive industry to the highest possible standards. We want to help you buy a great car today, and we want to make sure an even better, safer, and more reliable car is available the next time you're in the market.
"Our new Overall Score is the only way to see the full picture of how a car stacks up," says Jake Fisher, director of auto testing for Consumer Reports. "This makes it easy to see which cars are the best and the worst."
Although the score is all encompassing, we have weighted the data so that a subpar performance in any critical area—such as below-average reliability or a poor crash-test result—will drop a car significantly further down in the rankings.
As a result of this scoring system, the ranks have shifted somewhat. For instance, the Mercedes-Benz C300 compact luxury sedan is one of the top performers in our road tests, but when we factor in its much-worse-than-average reliability, it can no longer be considered for recommendation.
The Overall Score will not be static. As new testing, reliability, and safety data arrive, the scores will be updated at ConsumerReports.org. That means online subscribers can always access the most current assessment of what makes the best-driving, most reliable, most satisfying, and safest cars.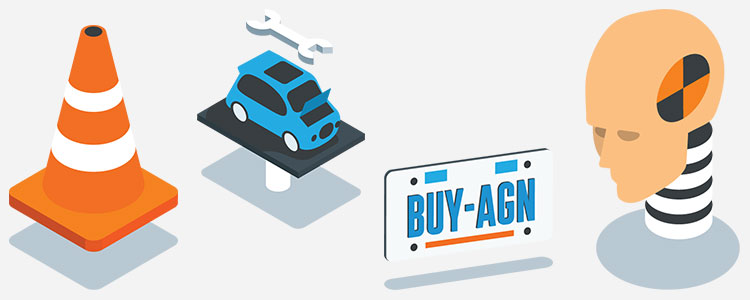 Illustration: Thomas Porostocky
What Goes Into the Overall Score
1. Road Test
We purchase every car we test, just like consumers do. And members of our auto-test team drive each car more than 2,000 miles to gain real-world experience while commuting and living with the vehicle, just as any consumer would. That also allows the vehicle's components to "break in." After that, we put our vehicles through a battery of more than 50 tests at our facility. We test acceleration, braking, handling, and fuel economy, as well as evaluate ergonomic qualities such as seat comfort, cargo capacity, and the usability of controls and info­tainment systems.
Our road test also measures dynamic aspects of vehicle safety—such as braking distances and the speed and confidence with which our test drivers can complete our accident-­avoidance maneuver.
Consumer Reports' Auto Test Center staff has been testing and evaluating vehicle systems and performance for more than six decades. We can tell when an automaker has taken shortcuts, and we pay close attention to improvements and omissions in each new vehicle that may be important to consumers.
2. Reliability
We analyze more than 740,000 vehicles owned by our subscribers as part of our 2015 Annual Auto Survey—regarding every aspect of vehicle reliability. It includes any problem, from electrical gremlins to transmission replacements, that might require a trip to the dealership or mechanic for a repair. That information helps consumers see how troublesome a particular model might be.
We have decades' worth of data to track historical trends, and our annual survey covers cars up to 15 years old—showing which problems can become more prevalent as your car ages.
For a 2016 model, the new-car reliability prediction is calculated by averaging reliability scores for the most recent three years of production, provided the model did not change significantly during that time. If we lack data, we predict its reliability based on the brand's overall history of building good- or poor-quality vehicles, as well as the previous generation of that particular model's reliability. We won't recommend any tested vehicle with below-average reliability.
Our data, combined with our technical knowledge, allows us to expertly predict the reliability of new and redesigned models. For instance, a vehicle that has a long tradition of strong reliability and has many carryover components—such as the Toyota Prius—is likely to get a strong predicted-­reliability score. Conversely, an all-new model—such as the Volvo XC90, with many new components—will probably see a decline in reliability in its first year but may improve over subsequent model years.
3. Owner Satisfaction
Our owner-satisfaction Ratings include data on more than 230,000 vehicles less than three years old. The survey asks owners, in essence, whether they would choose to buy their current car again.
Subcompact cars usually fare poorly because they tend to be unrewarding gateway vehicles for car buyers on a budget. But mainstream vehicles—such as midsized sedans and SUVs—tend to have stronger consumer loyalty. When a vehicle shows poor owner satisfaction, it's a red flag.
Owner satisfaction reflects experience as much as expectations. For example, several luxury brands have moved downmarket into the $30,000 neighborhood. Our most recent data show that many buyers of those "entry luxury" cars are dissatisfied because they feel the brand did not keep its luxury promise with fit and finish, as well as the performance, of that model.
For redesigned and brand-new models, we don't have data on owner satisfaction yet, so we use data about the previous generation and similar models from the same brand or vehicle type to form the owner-satisfaction score.
4. Safety
A well-designed vehicle structure can save your life. That's why we include safety in our overall score.
We factor the results of crash tests performed by the National Highway Traffic Safety Administration and the Insurance Institute for Highway Safety.
Any vehicle with a Marginal or Poor rating in any crash test will have points deducted from its overall score. Those that scored Poor cannot receive a recommendation from Consumer Reports.
We also consider whether a ­vehicle has advanced crash-prevention features as standard items. At Consumer Reports, we believe safety is for every­one. If a ­vehicle offers forward-­collision warning and/or auto­matic emergency braking as a standard feature across the model line, we give extra credit for that technology.
We believe FCW and AEB are the most important safety breakthroughs since the advent of electronic stability control. However, those vehicles that offer the features as an option or only on upscale trim levels won't see their score change.
Bonuses to our safety scoring apply to systems that warn at any speed or apply the brakes automatically without a warning, for systems that warn and apply auto­nomous braking at city speeds below 55 mph, and for systems that warn of a potential crash and automatically apply the brakes at city and highway speeds.

Shopping links are provided by eBay Commerce Network and Amazon, which makes it easy to find the right product from a variety of online retailers. Clicking any of the links will take you to the retailer's website to shop for this product. Please note that Consumer Reports collects fees from both eBay Commerce Network and Amazon for referring users. We use 100% of these fees to fund our testing programs.