When you shop through retailer links on our site, we may earn affiliate commissions. 100% of the fees we collect are used to support our nonprofit mission.
Learn more.
Right from the trailhead, the redesigned Compass comes up short in the white-hot small SUV market, earning the dubious distinction as the lowest-rated model in its class. It doesn't measure up in several ways. Factor in a price that's no lower than other Jeep models yet is higher than some larger and better competitors, and the result is that shoppers should be driven in another direction.
Most Compasses are equipped with a 180-hp, 2.4-liter four-cylinder engine teamed with a nine-speed automatic transmission. This disappointing pairing results in slow acceleration, with delayed downshifts and a lackadaisical response. Performance feels even slower than the numbers suggest. Fuel economy, at 24 mpg overall, is par for the class.
The Compass falls short in road manners as well. Handling is ultimately secure when pushed, but slow and light steering make the Jeep feel reluctant to corner. The ride is an incessant pattern of jitters, which gets under your skin, and larger bumps can bounce the Compass around. The brake pedal is overly sensitive, making it hard to stop smoothly.
The cabin has a few token soft surfaces but is otherwise austere. The driver's seat lacks support, and the rear seat forces passengers to sit awkwardly. Forward-collision warning and automatic braking are optional only on upper trims. CR believes that these features should be standard on all trim levels of every vehicle.
Read the complete Jeep Compass road test.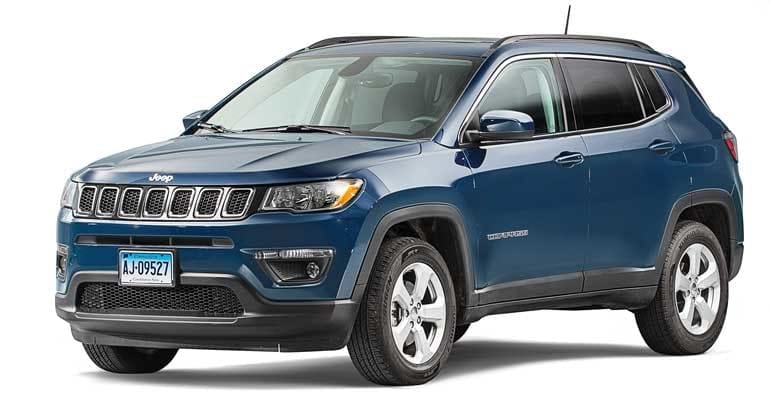 HIGHS: Controls, access
LOWS: Feels underpowered, touchy brake pedal, lacks agility, ride, engine noise, rear seat
POWERTRAIN: 180-hp, 2.4-liter four-cylinder engine; 9-speed automatic transmission; all-wheel drive
FUEL: 24 mpg
PRICE AS TESTED: $30,870
More Recent Reviews
Editor's Note: This article also appeared in the August 2017 issue of Consumer Reports magazine.