When you shop through retailer links on our site, we may earn affiliate commissions. 100% of the fees we collect are used to support our nonprofit mission.
Learn more.
Kia is attempting something that no other automaker has done successfully: challenge Toyota in the dedicated hybrid market.
But unlike the Toyota Prius, the 2017 Kia Niro hybrid is doing it without styling that screams, "Look at me! I'm driving a green machine."
In fact, only a discreet "ECO/hybrid" badge on the hatchback's liftgate gives away its true hybrid identity. Otherwise, it looks like a fairly nondescript four-door hatchback.
The Niro is slightly shorter than the regular Prius (and quite a bit smaller than the family-sized Prius V), but it stands 2 inches taller and boasts an SUV-like profile.
Plus, with a starting price of $23,785, the Niro costs about $1,700 less than the Prius. We bought a midlevel EX model, which came to a reasonable $26,805. You can also count the Niro's corporate sibling, the upcoming Hyundai Ioniq, which uses the same running gear, as part of the two-pronged Korean attack on the Prius.
The Niro is powered by a 1.6-liter, four-cylinder engine matched to a six-speed dual-clutch automatic transmission—an unusual choice because most hybrids use a continuously variable transmission. And fulfilling its hybrid mission is a 43-hp electric motor, which lets the car move at low speeds on strictly electric power. Total system output is 139 hp.
Fuel efficiency is a key goal here for Kia, and the Environmental Protection Agency estimates that the Niro will return 43 to 50 mpg combined, depending on the trim line. So far, we've seen around 42 mpg in mixed driving with the EX model, falling well short of the Toyota Prius we tested, which delivered 52 mpg in our tests.
All hybrids have some sort of transition between electric and gas-engine power, and the Niro feels pretty smooth. With a light throttle foot, you can glide along on EV power to about 40 mph.
The ride is a bit choppy but not objectionable. Handling, however, is certainly not sporty or engaging. If your priorities are to save gas but have some fun doing it, given the Niro's mundane driving experience, we'd suggest looking at the Ford C-Max or Fusion Hybrid.
Kia offers a full complement of high-tech driver aids, including blind-spot and lane departure warning, automatic emergency braking, and adaptive cruise control. This technology typically comes on high-end versions that ring in well into the $30,000s.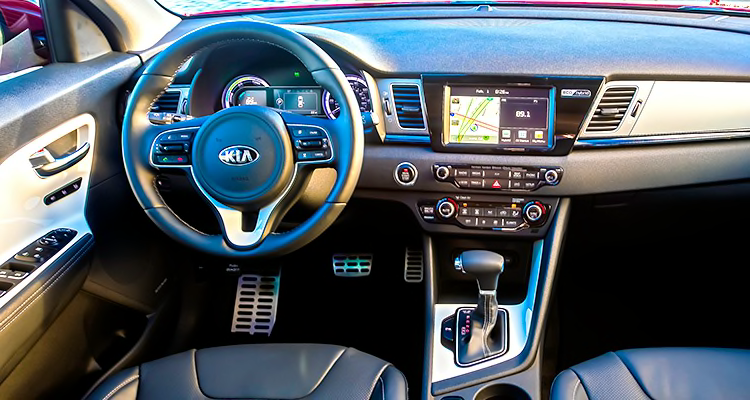 The Niro is fairly sedate on the inside—which really isn't a bad thing. There's a simple and functional design to the Niro that we've come to admire from other Kia products: easy-to-master controls and lots of handy bins and cubbies to hold a wallet or cell phone.
The cloth-and-partial-leather seats are supportive, but we'd opt for the optional power seats to get the two-way power lumbar support.
The cargo bay is slightly larger than the Prius', and it offers a low, flat floor with fold-down rear seats.
The infotainment system comes with standard Apple CarPlay and Android Auto compatibility, and offers a slightly bigger 8-inch screen with a navigation system and Harman Kardon audio system. A dual-zone automatic climate control system is standard; a heated steering wheel and heated and cooled front seats are optional.
Low gas prices and Toyota's dominance of the hybrid segment mean the Kia Niro is facing an uphill battle. Still, the Niro looks like it will be a useful and efficient hybrid, offering shoppers an alternative to the ever-popular Prius.
We'll know more as we rack up the miles and put our Niro through a full battery of tests.